posted on January 9, 2020
Support NRA American Rifleman
DONATE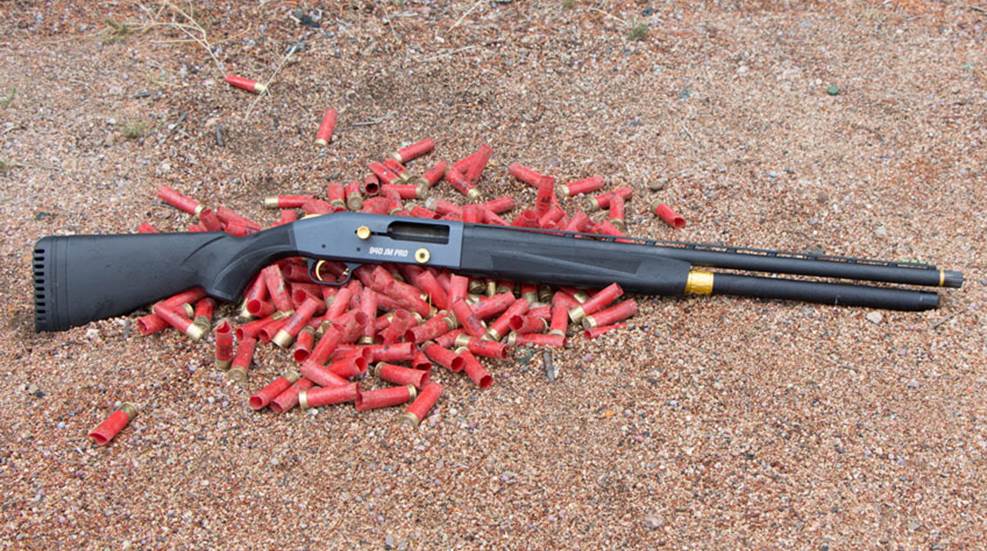 It's pretty rare that a firearm bearing a custom moniker is *actually* designed by the person whose name it bears. While it will often look somewhat similar to the guns shot by the pros, its mechanical makeup is generally quite different. For the Mossberg 940 JM Pro however, this couldn't be further from the truth. 
The lineal successor of Mossberg's popular 930 JM (Jerry Miculek) Pro, the 940 JM Pro is a competition-ready shotgun that essentially took the changes Jerry made to his own personal 930, and institutes almost every one of them. As a result, the improvements over its predecessor are not simply aesthetic, but are born from firsthand experience in the rough and-tumble world of competitive shooting's highest level.
The main modifications come in the gas system and loading port. A major complaint with the 930 was its need of an accelerated cleaning regimen to prevent jamming and malfunctions. As a result, the 940 boasts a gas system with a stepped and vented spacer component, which sheds moisture and gas every cycle. This keeps cleaning to a minimum, allowing the gun to run more rounds without issue between cleanings. Mossberg itself put 1,500 rounds through the 940 JM Pro without experiencing issues.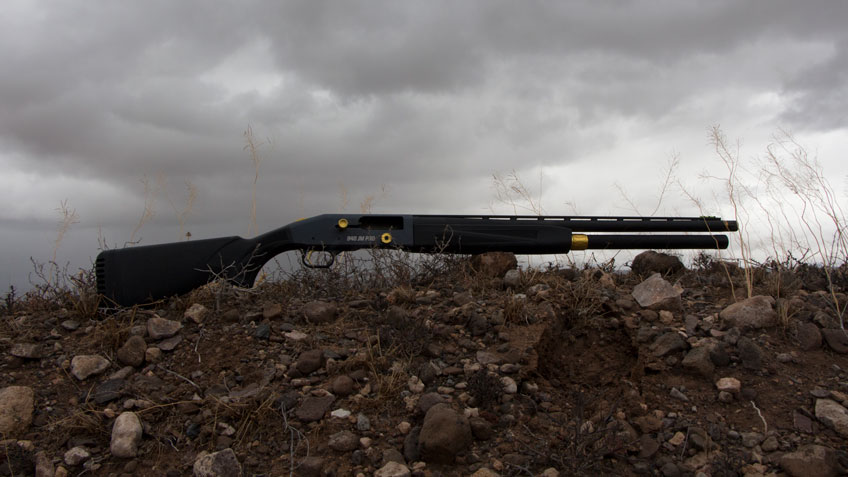 As far as the loading port is concerned, there weren't many complaints about the port on the 930 JM because, well, most people cant quad- (or even twin-) load. Instead, the "complaint" that spurred this particular change came in the form of Jerry and Lena Miculek's own 930 JMs, the loading ports of which they hogged out themselves to complement their preferred loading styles. Further, there is no shotgun on the market with a wide enough port from the factory to be consistently quad loaded—before the 940 JM Pro, that is. Enlarged, beveled and with a pinch-free elevator, the 940 JM Pro makes quad-loading seem almost easy, even for your humble author, who had never quad-loaded a single gun in his life before picking up the 940. 
If that sounds a little preposterous, don't worry, there's a reasonable explanation. I had the pleasure of trying this new shotgun out at a private release with some other writers late last year, at the renowned Gunsite Academy. There we were joined by none other than Lena and Jerry Miculek, who were kind enough to explain the design of Jerry's signature firearm, while also giving tips on how to run it. Thus under the watchful eye of the Miculeks and Gunsite's own knowledgeable instructors, we put the gun through its paces, and learned a few new skills in the process.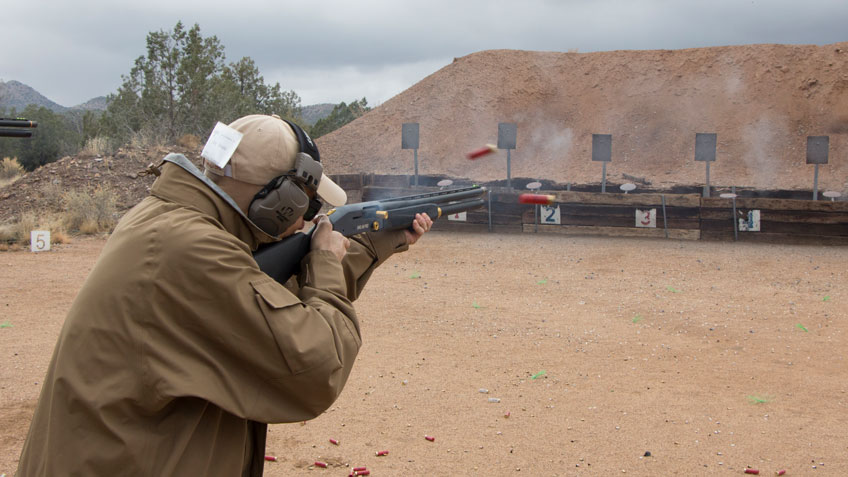 For myself, who lacks any kind of competitive shotgunning background, this was a dream come true. But skills we learned aside, we discovered quite a few things about the 940 itself, all of which can be summed up in a single phrase: the gun will run. Through several hundred rounds of birdshot, buckshot and slugs (without any cleaning), the durable scattergun ran without a word of complaint. The oversized charging handle and bolt release eliminate any ambiguity in working the controls, while the aforementioned loading port makes even a rank amateur capable of twin- or quad-loading (and if you're an experienced professional, God help your competition).
Of interest to those less competition-minded readers, the 940 JM Pro is not a standalone product, but instead heralds a whole new line of semi-automatic shotguns to come, including tactical and hunting variants. For more information on the 940 JM, and its siblings in the future, check out mossberg.com.   
Mossberg 940 JM Pro Specifications
Manufacturer: Mossberg
Model: 940 JM Pro
Action Type: Semi-Automatic
Gauge: 12
Barrel: 24"
Sights: HIVIZ Fiber-Optic Front
Magazine: Tube
Capacity: 9+1
Stock: Synthetic
Finish: Black or MultiCam
Weight: 7.75
MSRP: $1,015