by
posted on February 10, 2014
Support NRA American Rifleman
DONATE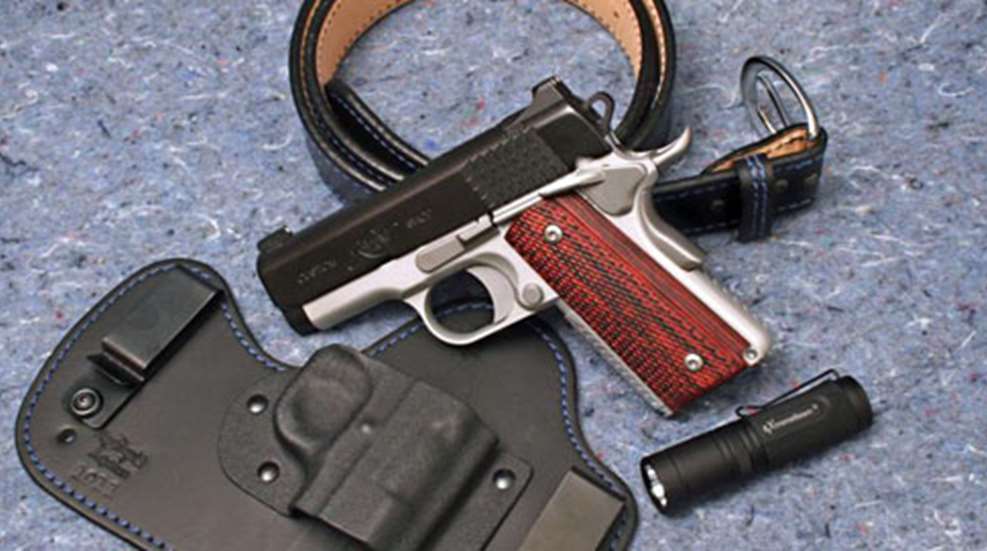 The defensive handgun market is subject to changing trends as various handgun styles, calibers and materials fall into and out of vogue. But two customer-driven design factors have remained fairly constant for some time now. First, the market for concealable defensive pistols is strong, if not still growing. Second, the devotion to the venerable 1911 semi-auto pistol seems to be unflagging. Recognizing that plenty of folks are looking for reliable 1911s that carry comfortably, Kimber provides several models from which to choose.
The Kimber Custom Shop Super Carry Ultra is a compact .45 ACP semi-auto pistol with a 3-inch barrel and lightweight frame. The entire pistol has received a carry melt to remove all of the sharp or squared-off edges. The flat-top slide is constructed of stainless steel and coated with a KimPro II matte-black finish, which is self-lubricating and resistant to water and salt. The usual straight-cut slide serrations at the back of the slide have been replaced with the Super Carry scallop cuts, which have also been milled in along the top of the slide. The metallic, three-dot Tritium night sights provide a 4.88-inch sight radius and feature a cocking ledge on the rear sight to assist in one-handed reloads.
The ramped match-grade bull barrel contains traditional land-and-groove rifling with a left-hand 1:16-inch twist. The barrel is supported by a full-length, all-steel dual recoil spring assembly with a recoil spring plug in place of a barrel bushing. The two recoil springs provide 18-pounds of recoil resistance. In order to remove the assembly, a takedown tool (i.e. a bent paperclip) is inserted into a small hole drilled in the guide rod while the slide is retracted.
The Super Carry's 1.28-inch wide aluminum frame has a rounded dust cover (no tactical rail) and a high-cut rounded trigger guard. The frame has been treated with a clear KimPro II finish, giving it a satin silver appearance. The grip frame's frontstrap and mainspring housing are textured with the same overlapping scallops as those found on the top of the slide. The base of the mainspring housing and the grip have been rounded off as part of the frame melting process.
The external controls of the Super Carry, including the slide release, thumb safety, round-checkered magazine release button and grip safety are constructed of satin-finished stainless steel. The thumb safety is ambidextrous with narrow serrated paddles. The checkered grip panels are made of a Micarta and wood laminate, and held in place with stainless-steel, torx-head screws.
The skeletonized hammer, which has a matte-black finish to match the slide, is paired with a beavertail grip safety. The aluminum match-grade trigger has a serrated face and is fitted with an adjustable over-travel stop. According to a Lyman's digital trigger gauge it required 4 pounds, 14 ounces of pull to cycle the trigger, which fits with the company's listed factory set trigger weight of 4 to 5 pounds. The pistol arrived with one seven-round stainless-steel KimPro Tac-Mag magazine, which has a base plate that is drilled and tapped for the addition of a bumper pad.
For concealed carry, the Super Carry pistol was matched with a Looper's Flashbang Prohibition Series carry system and a S.A.R. 7 ExtremeBeam flashlight from Alpha-TAC. The folks at Looper Holsters take the needs of their customers seriously, while having a sense of humor that shows in the product names. The Capone inside-the-waistband holster features a soft leather back piece, a fitted thermoplastic front and tuck-around steel support clips. This holster is sized for appendix carry, as well as strong side and behind-the-hip placement. This sleek, black holster, along with the matching belt and magazine pouch, feature a signature "pinstripe" stitching, available in red or blue. The open bottom design of the 1911 version of the Capone holster accommodates different barrel lengths, so it will also fit Commander and full-size pistols.
Plenty of self-defense instructors promote having a source of illumination on hand for an emergency situation. With the compact nature of the Super Carry, the simple, lightweight, 3.25-inch long aluminum-bodied SAR7 flashlight was good to have along for the ride. The SAR7 has a 450-foot range, providing 130-lumens of brightness using one CR 123 battery. The orange end cap button offers just two settings, "on" and "off," which is all that many users need. At just 2.1 ounces, it was so light as to be nearly forgotten when carried in a pocket or with the provided belt pouch.
At the shooting range, the Super Carry proved to be reliable and very shootable for a compact 1911. As a Custom Shop pistol, the careful attention paid to fit, finish and detail was clearly apparent. Shaving a pistol's weight down to just 25 ounces and then stuffing it with .45 ACP cartridges means the shooter is in for a bit of a ride, that's just the nature of the physics involved. However, the Super Carry's custom features make the bumpy recoil road much more comfortable.
The rounded grip with its scalloped texturing and checkered grip panels, while effective, was non-abrasive. As a result, testing was completed without the need for shooting gloves. The trigger had a short, crisp stroke with a creep-free break. The full-size night sights were a refreshing addition to the pistol, providing a clear and useful sight picture.
The Super Carry was fed a variety of .45 ACP loads, ranging from affordable bulk rounds to hopped-up defensive hollow-point loads. The pistol ran reliably without any malfunctions throughout informal and formal testing. Accuracy was checked by firing five, five-shot groups using three different loads into paper targets at 15 yards from a benchrest. The best single group of 1.98 inches was produced using Winchester Supreme Elite PDX1 230-grain bonded-jacket hollow points. It also produced the best five group average of 2.25 inches, followed by Hornady Critical Defense 185-grain FTX at 2.36 inches and Federal Personal Defense 230-grain jacketed hollow points at 2.62 inches.
If you like the idea of carrying a trim, lightweight 1911 for personal protection, you are not alone. One thing I've found to be common among my friends and associates who choose to pack compact 1911s is their loyalty to their pistols. One of them says he has been carrying his 1911 for 7 years, while another says he has had his for 15 years. The features and finish of the Kimber Custom Shop Super Carry Ultra cost a bit more up front, but there's no need to "fix" it after it's been purchased. It is a pay once, carry it for years to come, kind of pistol.
Manufacturer: Kimber; Kimberamerica.com
Model: Super Carry Ultra
Action: Single-action semi-auto
Caliber: .45 ACP
Slide: Matte black stainless steel
Frame: Satin silver aluminum
Grips: Checkered micarta/wood laminate
Sights: Three-dot Tritium night sights
Trigger Pull: 4 to 5 lbs.
Barrel Length: 3"
Overall Length: 6.8"
Height: 4.75"
Width: 1.28"
Weight: 25 ozs./empty magazine
Capacity: 7+1 rounds
Twist: 1:16" LH
Rifle Grooves: 6
Accessories: One seven-round magazine,
Suggested Retail Price: $1,596