by
posted on December 28, 2020
Support NRA American Rifleman
DONATE
Will Rogers once said, "You never get a second chance to make a first impression." But that may not be the case with Kimber's top-notch series of Rapide fullsize M1911 pistols. Launched in 2019, the first version of the Rapide featured a golden-hued, titanium nitride-coated barrel that contrasts nicely with the slide and frame's matte-black finish. It's a handsome handgun that has sold well for the company.
While the first Rapide made me take note, it was the second version—launched at the 2020 SHOT Show—that caused me to swerve into the Kimber booth and stay for a longer conversation. Called the Rapide Black Ice, this model has a three-tone color scheme that sets off the pistol's premium cosmetic features quite nicely. The barrel is treated with a durable, black diamond-like-carbon (DLC) coating that matches the sights, stocks and magazine base. The stainless steel slide and frame are treated with a gray KimPro II finish with an aluminum trigger that's anodized to match. The shade of gray used is just slightly darker than the natural silver color of the stainless steel controls and appointments. Some of the accents on the slide appear to be milled through the KimPro II finish so that they stand out while tastefully matching the other stainless components.
Admittedly, I was smitten with this pistol, so I was sincerely hoping for an opportunity to work with it, especially when I learned that a version chambered for 10 mm Auto would be available. I'm happy to report that my appreciation for this version of the Rapide has only increased with added exposure.
Like other fullsize semi-automatic pistols in Kimber's extensive catalog, the Rapide takes its core design cues from the John Browning-designed Colt Government Model. The slide is a classic round-top configuration with a variety of modifications, including a flared ejection port. Between the front and rear sights, the top of the slide has been flattened, and three sets of rounded rectangular weight-reduction cutouts are just behind the front cocking serrations along the sides and top of the slide. The cocking serrations at the front and back of the slide are wide, easy-to-grasp and accented with decorative straight-line grooves.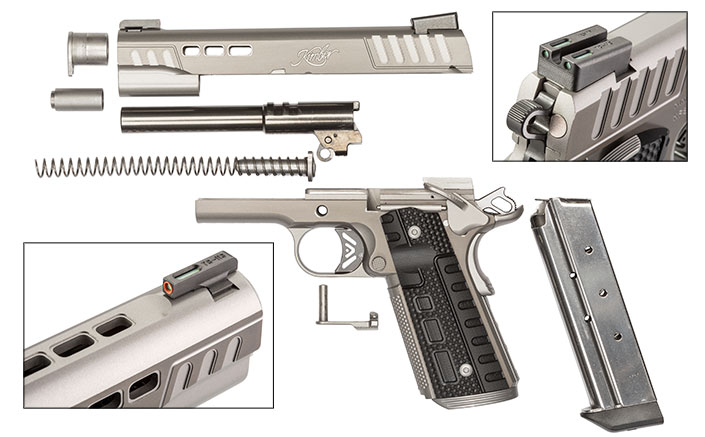 The front and rear metallic sights, TruGlo's TFX Pro units, are dovetailed into the slide with an adjustment screw that allows the rear sight to be fixed once it is drifted to dial in windage. Both sights are outfitted with green fiber-optic pipes for improved visibility in daylight, along with tritium lamps for low-light conditions. The front's round orange outline matches up nicely with the rear's U-notch for quick sight acquisition. The rear sight block also has a ledge that can be used for one-handed cocking during emergency situations. The match-grade linked barrel features traditional six-groove rifling; it is supported by a barrel bushing, and features a witness hole along the top of the chamber. The recoil assembly consists of a traditional, short G.I. spring guide and a single round-wire recoil spring topped with a smooth-faced plug.
The stainless steel frame has a traditional M1911 outline, with a rounded trigger guard and nonrailed dustcover. The skeletonized aluminum trigger has a curved, serrated face and an overtravel screw. The frame is beveled behind the trigger for a more comfortable reach. The single-action trigger exhibited the smooth, crisp feel that one expects to find on a quality M1911. It had just a suggestion of take-up before breaking cleanly. According to a Lyman digital trigger pull gauge, it weighed in at 5 lbs. even—but the trigger pull was clean enough that in the hand it felt more like 3 lbs., 8 ozs. to 4 lbs.
The left-side slide stop and round-button magazine release are checkered for improved purchase. The bilateral thumb safeties have grooved extensions of just the right size, allowing them to be manipulated with ease without being so large as to interfere with typical belt holsters. The long-loop, skeletonized hammer is paired with an extended beavertail grip safety with a grooved memory bump.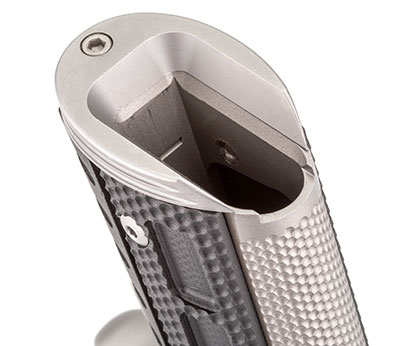 The grip frame's frontstrap has an uncommon straight line undercut that's about 0.25" wide. The rest of the frontstrap is covered with Kimber's dimpled Stiplex pattern texturing, which provides solid purchase without being abrasive to the shooting hand. The straight mainspring housing is grooved with three indentations patterned after the slide's weight-reduction cutouts. The base of the grip frame is outfitted with a beveled, low-profile aluminum magazine well extension fitted to the base of the stock panels for a uniform rounded profile.
The customized, black G10 stock panels are a thoughtful addition to this pistol that deserve a nod for being both clever and functional. Instead of a random-cut course texturing (which is popular with G10 stocks) the panels display a mix of the three surface treatments found on the frame and slide, including rounded rectangular cutouts, the slide serrations and the front strap's Stiplex texture. The result is a grip frame the feels rock solid with or without shooting gloves, all while unifying the appearance of the pistol.
The Black Ice ships with one stainless steel, single-stack magazine that holds eight rounds of 10 mm Auto ammunition. I continue to chafe at high-end M1911 pistols shipping with just one magazine. For the .45 ACP competition crowd, it's likely that the stock magazine will be tossed aside in favor of a preferred model—but with the 10 mm Auto, the magazines are not a stock item that can be found dangling from a wall hook at every local sporting goods store. For this reason, the inclusion of at least two magazines would be appreciated. A magazine baseplate kit is provided, and it includes a flush-fit steel plate, a short polymer bumper and a tall bumper. The tall bumper is the best fit for this model's magazine well extension.
Overall, the Rapide Black Ice demonstrated a neat, clean, professional level of fit and finish inside and out. The slide-to-frame fit was smooth right out of the box. All of the controls worked properly, and the magazines dropped free just like they are supposed to. With an empty magazine, the unloaded pistol weighs in at 40.8 ozs. with a nice balance and handy feel.
The 10 mm is a terrific pistol cartridge, no matter which type of platform you may choose to shoot it from, but I've found that well-made, all-steel M1911s are a particular pleasure to work with in this chambering. Although this pistol and cartridge were developed more than 70 years apart, it seems like they were made for each other. Years ago, a staff member at a local gun shop advised me to buy a Glock G20 instead of an M1911, since that pistol was built specifically for this cartridge. More recent advances in metallurgy have supported the resurgence of the 10 mm Auto's popularity in a variety of platforms, and today's M1911s are made of stronger stuff—which makes them a better fit for this cartridge than the .45 ACP models that were converted to 10 mm in the 1980s and '90s.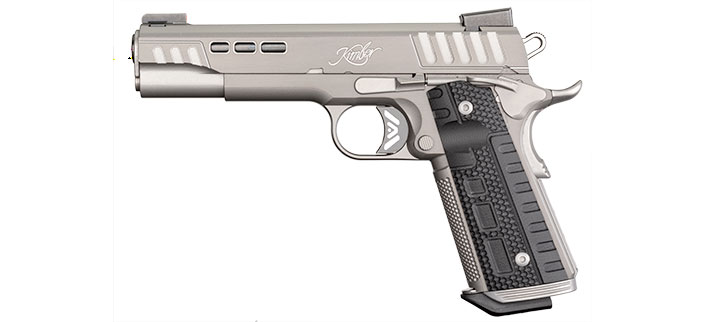 Because the 10 mm Auto cartridge has garnered an increased (and well-deserved) level of shooter interest during the past few years, the selection of factory-produced ammunition is as diverse as it's ever been. Heavy 200- to 230-gr. bullets designed for deep penetration are available for handgun hunting, lighter 125- to 135-gr. defensive rounds are loaded to sizzling listed velocities of 1600 f.p.s. and mid-weight 180-gr. bullets loaded to around 1200 f.p.s. are available for general-purpose use and target shooting.
The hunting loads fired from this pistol were a handful, with recoil that can reasonably be described as stout. The middle- and lightweight loads, though, produced moderate levels of recoil that were more in line with M1911s chambered for .45 ACP or .40 S&W. As with any firearm, a constant regimen of the hottest 10 mm loads available will wear out springs and other components more quickly than firing a mix of rounds that include middle-of-the-road options. 
The Black Ice's weight, grip configuration and clean trigger contribute to solid shot placement and a manageable feel, even with harder-hitting loads. This pistol and ammunition combination provide a just-right shooting experience for those who like handguns with a bit more get up and go. The recoil is invigorating without being uncomfortable to deal with.
I have worked with all-steel pistols that need a break-in period of 50 to 200 rounds in order to properly mate the slide to the frame and smooth out their operation before they will run reliably. However, the Rapide cycled reliably throughout the informal and formal testing processes from start to finish with no break-in required.
At the range, this pistol demonstrated a level of function and bench-rested 25-yd. accuracy that were right where they should be for a premium pistol. There were no failures to feed, jams or malfunctions of any kind. Various loads of ammunition were test-fired using a total of four factory magazines, all of which also performed flawlessly. Be sure to keep an eye on the stock screws during your first trip to the range; all four of these factory-fresh screws needed tightening during my initial excursion, which is pretty typical for brand-new, big-bore M1911s.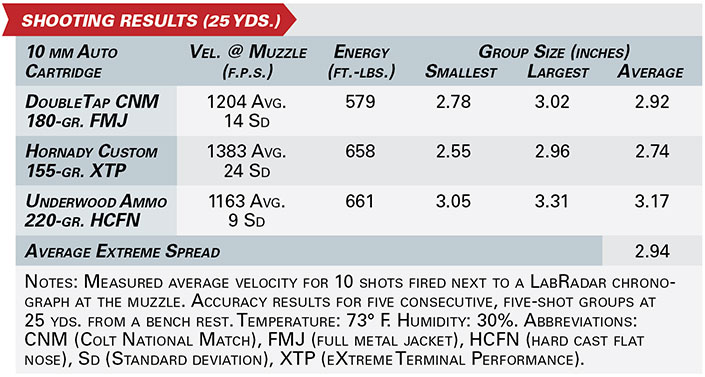 As a fan of custom guns, I can appreciate the willingness of shooting sports enthusiasts to pay more for the look-at-me features that custom guns have to offer. But the line between tacky and tasteful is sometimes hard to define because individual tastes vary so greatly. In the case of the Kimber Rapide Black Ice pistol, the company struck an ideal balance between a subdued color scheme, eye-catching custom touches and surface textures that are useful in the field.
Kimber made its way onto the M1911 marketplace by offering in-house upgrades often reserved for expensive hand-built or small-lot custom guns. The Rapide Black Ice continues that tradition by offering what could be a $3,000 or more custom build at a suggested price of $1,510. The 10 mm Auto model comes as close to a just-one-gun M1911 configuration as I've seen. It's suitable for handgun hunting and useful as a potent self-defense option, and it's a handsome showpiece—all rolled into one.