by
posted on January 28, 2021
Support NRA American Rifleman
DONATE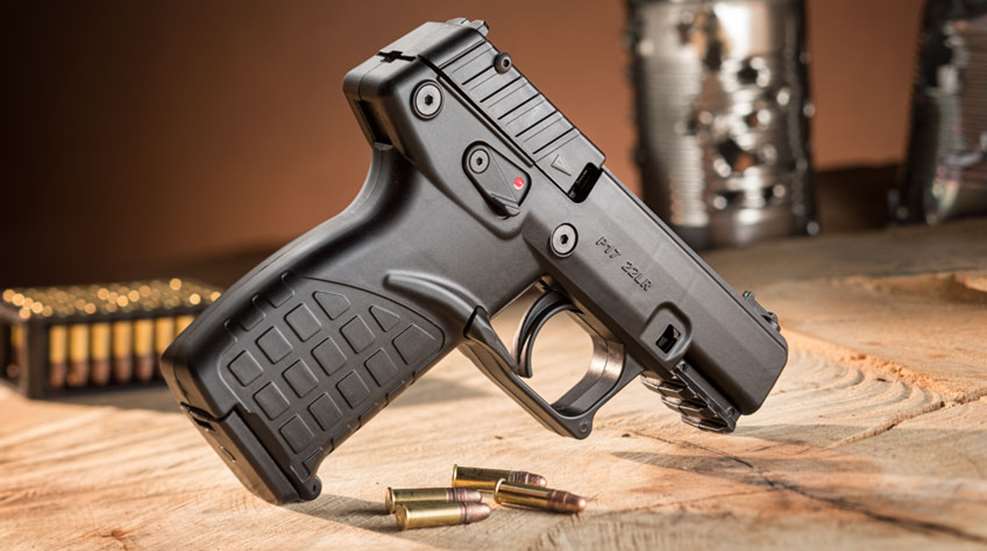 Recently we've seen several new rimfire pistols chambered for .22 Long Rifle arrive on the market, many of which are competing for enthusiasts' attention at around the $300 price point. In 2020, Kel-Tec undercut the competition with the P17, a compact semi-automatic that doesn't skimp on features while sporting an eye-catching price of $199.
The P17 is a blowback-operated semi-automatic pistol that employs a hammer-fired ignition system. Weighing in at 11 ozs., its designation is derived from its 16-plus-one-round ammunition capacity. Overall, its design has been simplified with the extensive use of polymer components in order to reduce both weight and production costs.
Instead of a molded, one-piece frame, Kel-Tec opted for a clamshell design. The metallic internal components are sandwiched between the two frame halves, which are secured to each other using two bolts and eight frame screws. The company has previously used clamshell frames with some of its other rimfire pistol models—including the PMR-30 and the CP33—and they've proven to be both durable and reliable.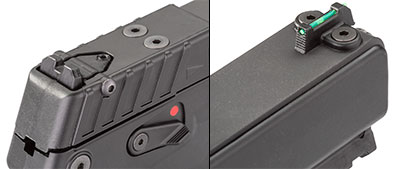 The slide is an exercise in minimalism, consisting of three major components. A flat, one-piece steel stamping, a pinned breechblock and a wraparound polymer housing are secured to each other using two top-mounted, hex-head screws.

The steel topstrap, which has a matte-black finish, is bent and ported to fit over the muzzle end of the barrel, with the fiber-optic front sight mounted to it with a pair of screws. The breechblock has grooves on both sides that match up with two short frame-mounted rails located at the top of the magazine well. The wraparound polymer housing acts as a cover for the breechblock, providing canted cocking serrations and support for a fully adjustable, square-notch rear sight.
The 3.8" threaded barrel is fixed onto the frame, allowing it to serve double-duty as the pistol's guide rod, with a single, round-wire recoil spring fitted over it and secured in place by a flush-fit barrel nut. A special wrench is shipped with the pistol to remove the barrel nut for cleaning or to install the provided threaded barrel extension. This extension is threaded 1/2x28 TPI for compatibility with muzzle accessories such as flash hiders, muzzle brakes and sound suppressors.
The styling of the P17 trigger guard and grip frame follow Kel-Tec's typical M.O., with clean lines and waffle-pattern grip texturing. The dustcover sports a molded-in 1.25", three-slot Picatinny accessory rail for light and laser modules. The front of the trigger guard is textured to act as a finger rest; pull-down, Glock-type takedown levers are located just above this rest.
Like Kel-Tec's other rimfire pistols, the P17's trigger is quite good, especially given the gun's low price. The single-action pull is listed at 3 lbs.; the pistol tested for this review exhibited smooth feel with some take-up and a bit of added resistance before breaking on average at 2 lbs., 13 ozs., of pressure. When handguns are featherweights like this one, a lighter trigger pull helps contribute to keeping the pistol on target.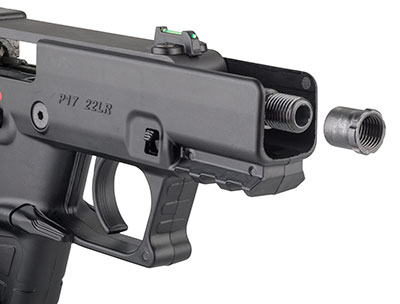 The bilateral thumb safety levers swing up into the safe position and down, revealing bright red warning dots, into the fire position. The safeties are easy to operate and provide an audible click as they lock into either position. At the rear of the frame, below the rear sight, is a small port that acts as a cocked-hammer indicator. When the hammer is cocked, the top, which is painted red, is visible; when the hammer is forward, the port is empty.
The heel-mounted magazine release button found on previous Kel-Tec rimfire models has been replaced with bilateral levers mounted at the rear of the trigger guard. The levers, reminiscent of those found on H&K polymer pistols, swing down to drop the magazine out of the grip frame.

Technically, the 16-round magazines are considered single-stack because the cartridges rest directly on top of each other. However, the spine of the magazine is designed to allow the cartridge rims to kick out to the left and right sides. This allows these polymer magazines to hold six additional rounds without being significantly longer or wider than typical 10-round single-stack rimfire pistol magazines.
Ammunition selection is important with any semi-automatic, but .22 Long Rifle pistols tend to be more ammunition-sensitive than center-fire models. This is due to the fact that .22 rimfire ammunition is available in a wide variety of velocities, bullet styles and quality levels—ranging from bulk-box, practice-grade loads to premium hollow points for small-game hunting. The P17 owner's manual states the pistol should be fired with high-velocity ammunition, meaning .22 Long Rifle loads with listed rifle velocities between 1200 and 1310 f.p.s.
Thus, our range test was conducted using only high-velocity ammunition with bullet weights ranging from 36 to 40 grs. The pistol ran well with all of the ammunition tested; it did experience two failures to feed, but they occurred during the last 50 rounds of a 300-round range session, so the gun likely just needed to be cleaned. Accuracy was consistent as well, with average group sizes of roughly 2.25" at 15 yds. The configuration of the controls, sights and soft-shooting characteristics of this pistol made it a real pleasure to work with.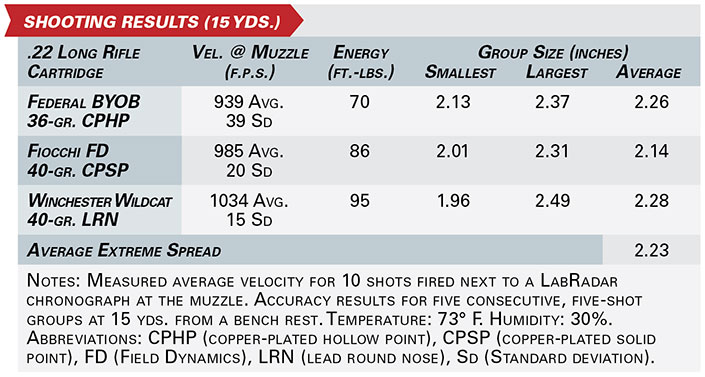 The Kel-Tec P17 ships with three magazines, a lockable hard case and a threaded muzzle adapter. Although the pistol itself is mechanically simple, it's loaded with features usually reserved for more expensive models, including an adjustable fiber-optic sight system, a tuned trigger and a 16-round magazine capacity. This rimfire pistol can fill a variety of roles; it's a great fit for first-time pistol owners just learning the ropes, as well as those who are looking for a low-recoil option with a slide and magazines that don't require excessive amounts of pressure to operate.