by
posted on December 25, 2021
Support NRA American Rifleman
DONATE
The .380 ACP cartridge is seldom associated with recreational use. Whenever this pint-sized 9mm comes up in conversation it is almost always concerning self-defense and the tiny pistols that are commonly chambered to fire it. These guns are typically uncomfortable to shoot and are so snappy that you wouldn't know that the .380 ACP generates less energy and what should feel like less recoil. However, if you happen to try that same cartridge through a gun with a little meat on its bones, you are bound to have an altogether different opinion of the shooting experience. The Browning Black Label 1911-380 seems to have been built to deliver this promise and during the closing months of 2021, I had the opportunity to spend some time on the range with one.
The Browning 1911-380 line is built on the same footprint as the company's successful 1911-22, which is scaled down to be 85-percent of a standard Government-Profile 1911. By using a composite and aluminum frame, Browning (the company) was able to keep true to Browning's (the inventor) original proportions while shaving a good bit of weight off at the same time. This specialized frame is topped off with a satin-finished slide and heat-treated, stainless-steel barrel for a gun that is both rugged and attractive. My test model was the Black Label Pro American Flag version, which just so happened to be this year's SHOT show release. Aside from the brilliant two-toned pattern, this version features rosewood-colored laminate grips that were adorned with a distressed American flag design.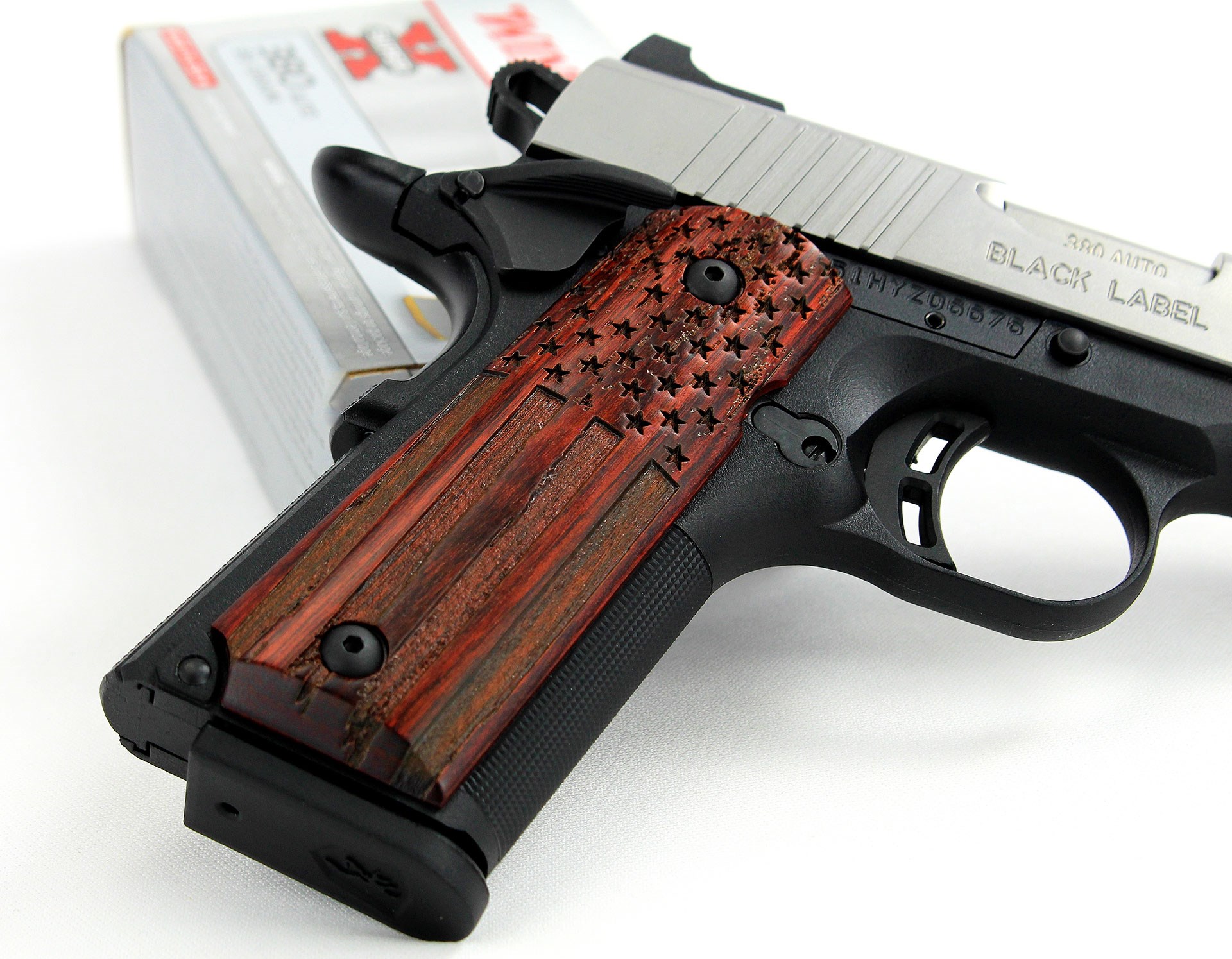 Upon initially handling the 1911-380, I appreciated its functionality quite a bit as I found that it mirrored that of its older, larger brother. The smaller pistol even had a few features that are typically only home to custom-grade 1911s, such as an ambidextrous safety and an elongated beavertail. Because of the smaller diameter grip, this is arguably even more useful in stopping hammer bite than when installed on a fullsize 1911. I also appreciated that the magazine release and slide stop were right where they should be, indicating that internal construction was the same as a standard 1911 as well.
A quick field strip confirmed this to be relatively true and the only suspect parts were the plastic guide rod and a slightly redesigned barrel. Interestingly enough, Browning built the 1911-380 on a locked-breech system that typically isn't required to harness the.380 ACP. However, it is certainly advantageous with respect to recoil reduction and is another nod to the perception that this thing is going to be fun to shoot. A Lyman Digital trigger gauge confirmed an average trigger break of 6-lbs, 10 oz., which isn't terribly heavy for a production gun and broke with little to no creep. This measurement would conclude my tabletop analysis because, let's be honest, we're both thinking about shooting this thing by now.
Even though compact, the Browning 1911-380 still fits into the "box" for the testing protocol of a full-size pistol, so we placed some Allen's EZ aim targets at the appropriate distance of 25 yards. I had two 95-gr. loads to work with for the test, Winchester's Winclean target-grade ammunition and Browning's BXP -X-Point defensive fodder. After filling the single-stack, eight-round magazine and assuming a proper two-handed grip, I noticed one feature that I wish wasn't carried over from the original, the grip safety. My hands were a tad too large for the gun so my normal "thumbs along the side" style grip didn't close the gap tight enough to depress it. I solved this problem by overlapping my support thumb over my shooting thumb to get the job done.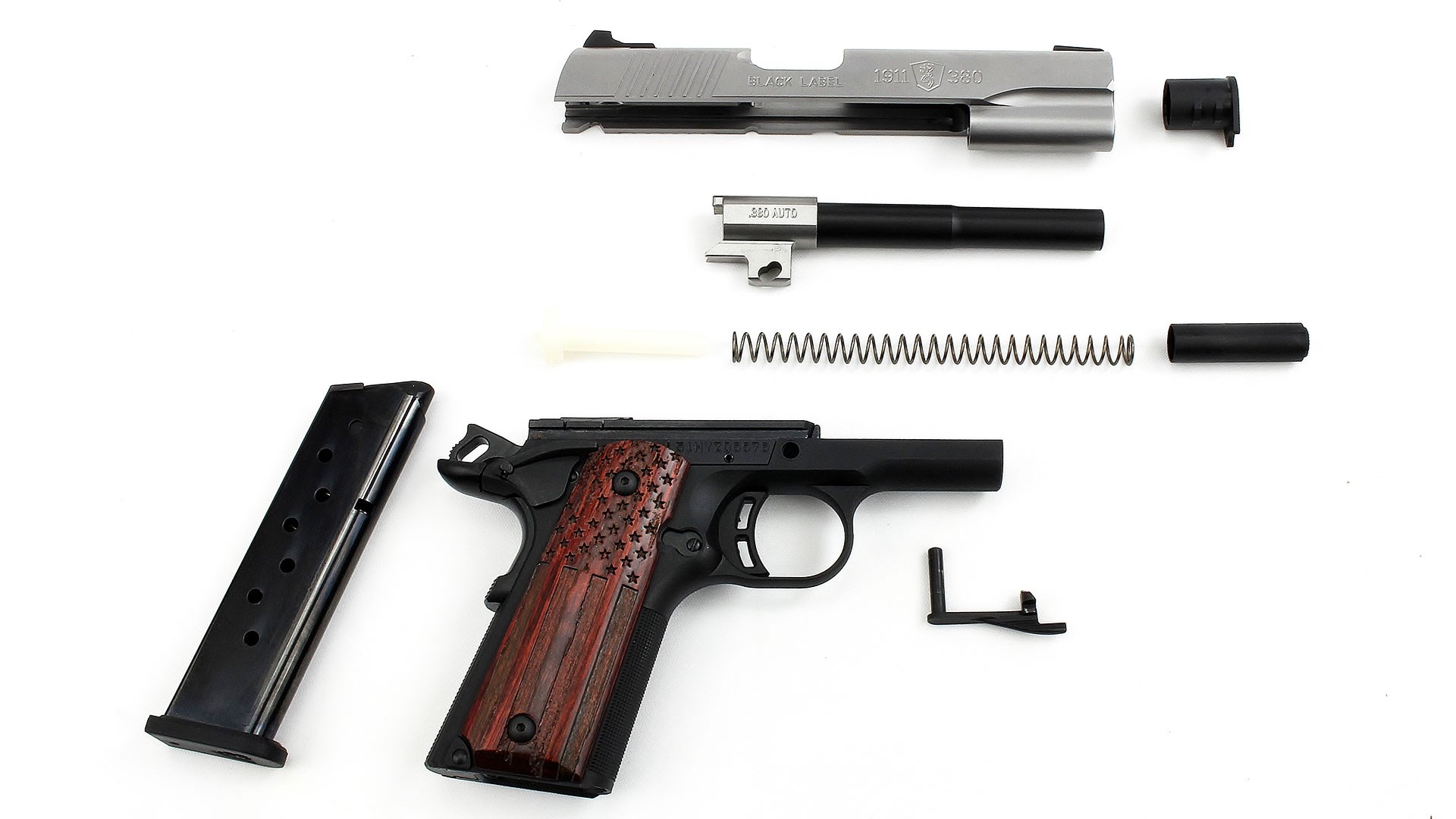 If I really wanted to do something about it, and there are ways to reduce the needed pressure to deactivate that safety. However I wouldn't attempt that without the help of a competent gunsmith, let alone on a gun that I was borrowing for a test. After adjusting my grip and conducting a few successful dry-fires, I was ready to send live rounds downrange. The oversized sights made it effortless to align and their deep-black luster brilliantly contrasted the yellow complexion of the center-ring of our Allen's EZ Aim target. My first group was fired with the BXP ammunition, and the impacts landed about 3" to the right. As the rear sight is drift adjustable, I loosened the retaining screw and tapped it just a tad.
Subsequent groups with these rounds were centered and a tabulation of five, five-round groups left us with an average accuracy of 4.21" with the best group measuring 3.56". Moving over to the Winclean ammunition, we saw a stark increase in accuracy as our best group measured just 2.96", with an average group size of 3.49". It is safe to say that this pistol liked the Winchester rounds better and it exhibited significantly reduced recoil as well. When selecting a pair of rounds for a given firearm these results are exactly what I want to see. I want an easy-to-shoot, highly accurate training round for practice and defensive ammunition that sacrifices an inch or two in group size to make downrange energy its top priority.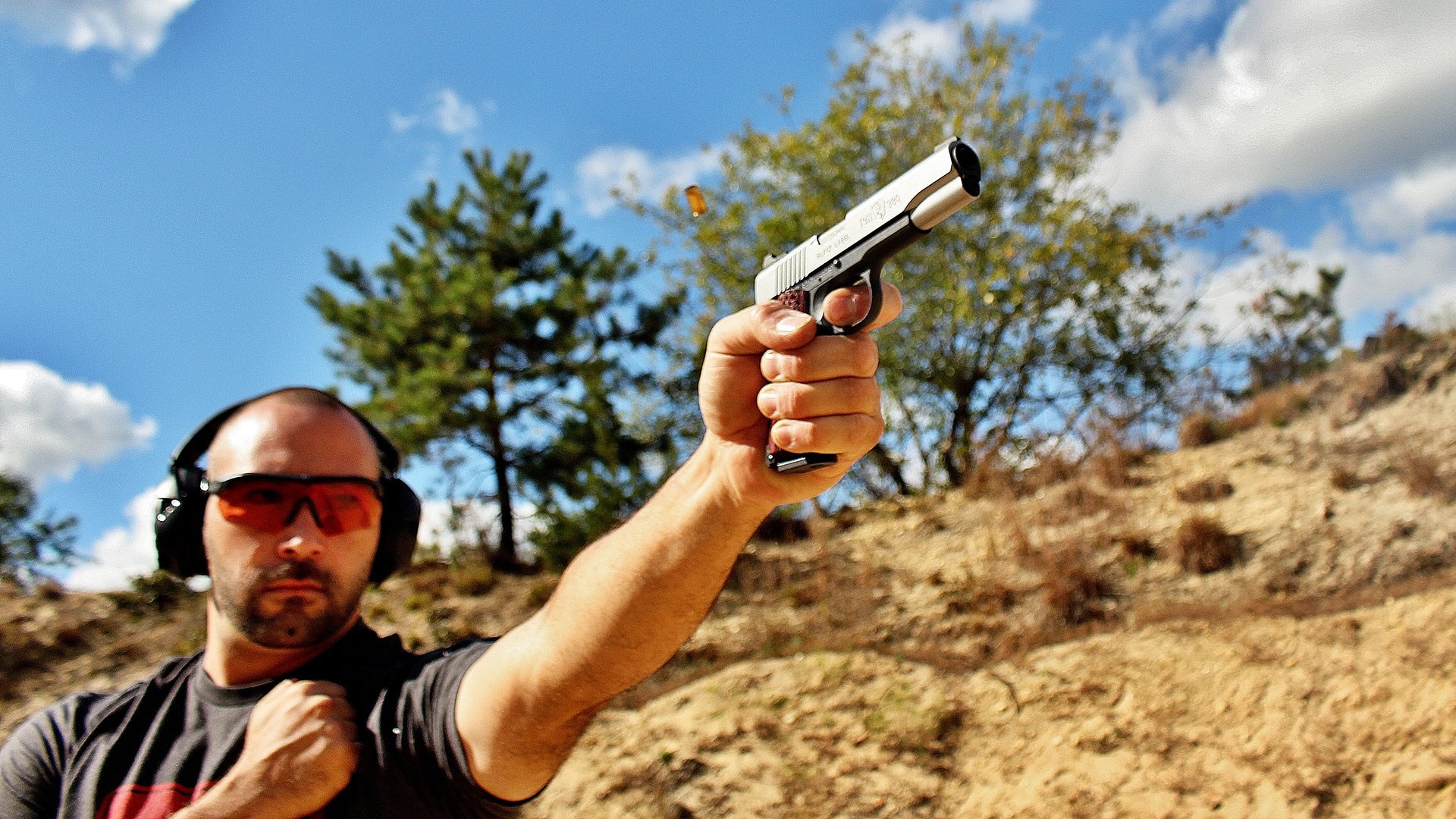 Punching paper from a bench-rested position is fun and all but it is far from a complete exploration of what this miniature Browning had to offer. Moving over to our fullsized IPSC target, I enjoyed double-tapping it without any use of the sights and performing failure to stop drills nearly as fast as I could with the same gun chambered in .22LR. Speaking of failure to stop, my test pistol didn't run into a single malfunction, even though we had windy, sandy conditions to deal with on this particular test day. Moving over to our 10" gong, I practiced my one-handed shooting and gained a thorough appreciation for how easy this gun is to control, as even with only half the purchase I had the sights back on target while the brass was still in the air.
As I added it all up, I thought of a plethora of good uses for the Browning 1911-380, with training new shooters squarely at the top of the list. Yes, the .22LR will forever remain my bread and butter in these scenarios but I'm always looking for something to better bridge the gap between that and say, a 9 mm Luger. Sure, .38 Spl. fired from of a larger-sized revolver might fill that role but this scantly represents today's modern pistol. Using the 1911-380 teaches a novice gun owner the functionality of a semi-automatic, and gently prepares them for the next level of recoil. Aside from that, there is no shame in saying that you own a gun because you just plain love to shoot it, and I can safely say I think that is how you are going to feel about this one.
For more information visit browning.com.
Caliber: .380 ACP
Barrel Length: 4.25"
Overall Length: 7.5"
Weight: 18 oz
Magazine Capacity: 8
Sight Radius: 5.37"
Barrel Finish: Matte
Receiver Finish: Matte
Front Sight: Combat White Dot
Rear Sight: Combat White Dot
Barrel Material: Steel
Receiver Material: Black Composite
Trigger Finish: Matte Black
Trigger Guard Finish: Matte Black
Magazine Type: Single Stack
Trigger Material: Alloy
Trigger Guard Material: Composite
MSRP: $830