The Chevrolet Colorado is a mid-size pickup that originally was outfitted with an inline five-cylinder gasoline engine, a power plant that didn't garner many fans. The 2015 four-wheel-drive (4WD) model is refitted with a 3.6L DOHC V-6 gasoline engine mated to a six-speed automatic transmission. The drivetrain is a much-needed upgrade. The new engine boasts 305 h.p. at 6,800 r.p.m., and 269 lb.-ft. of torque at 4,000 r.p.m. Those numbers, according to Chevy, add up to more horsepower and torque than the 3.5L V-6 in the full-size Ford F-150. But the powertrain is only the beginning. Chevy has reconfigured the Colorado top to bottom. Included with the powertrain improvement are an improved interior design and a raft of creature comforts.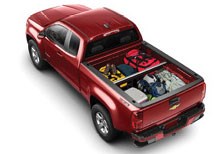 For testing, I received a four-door, extended-cab Z71 Off Road edition, built in Wentzville, Mo., just in time to finish up hunting seasons for deer and waterfowl. The truck was loaded and included the aforementioned 3.6L V-6, six-speed automatic transmission and 4WD. Fuel mileage as configured with the V-6 is rated at 17 m.p.g. city, 24 m.p.g. highway. I experienced about 20 m.p.g. in combo driving. Our vehicle's 5-ft., 2" bed (a 6-ft., 2" bed is available) was sufficient for anything one might haul in a mid-size truck. There are plenty of steps, grab points and tie-downs in and around the bed.
Performance upgrades on our test vehicle included an automatically locking rear differential, downhill descent control, electronic trailer controller, anti-sway on/off, electronically locking hubs and an electric, two-speed transfer case. Other highlights included an EZ Lift-and-Lower locking tailgate, factory-installed bed liner, backup camera, keyless entry, remote vehicle start, dual power side mirrors, fog lamps, heated seats, telescoping/tilting wheel with controls and more.
The vehicle provides decent space, with four doors allowing the driver to quickly dump off a load of gear onto the front or rear seats on either side. Likely it's a bit small for many hunters' tastes, highlighting the tradeoffs made with the choice of a mid-size pickup.
Ergonomics are pretty good. The back seat folds down quickly and easily to provide a flat platform for gear. Some folks may wish for more room back there—a bit of tough-to-get-at space exists on the floor beneath the folded seats. Nonetheless, the area looks better suited for our gear when the seats are folded.
All this is good if only two hunters are riding. The truck will hold four hunters, but, in that case, most men wouldn't want to be the guys in back on a long drive or while bundled up in heavy clothing. If four passengers are present, everyone's gear would have to go in the bed when driving to deer camp. Kids would find the back seat plenty roomy.
Interior amenities include a touch screen with Wi-Fi that provides satellite radio, navigation, weather, traffic help and OnStar, a couple of DC connections and four USB ports. The vehicle is its own hotspot: Within 150 ft., your phone or laptop doesn't lack for connection to the outside world. Most hunters could get used to all this.
I drove the Colorado for two days while deer hunting in Virginia, and Editorial Director John Zent drove the truck from Virginia to New Jersey and back for a weekend waterfowl excursion. Although we tested the truck in different conditions, we came to similar conclusions.
I'm used to a full-size pickup, so it's hard to accept less room at this point. But the view across the hood is expansive. And while there's plenty of engine power off the line and for passing on the highway, the transmission searches and lurches through its six gears trying to find the right one for the driver's needs at the moment, whether it's getting out of the mud or zipping along in the left lane on the interstate. Translation: It upshifts too quickly, never allowing the driver enough torque to reach the full potential of the horsepower available in the engine within a certain gear. All that can be fixed by shifting the transmission to manual, so the driver shifts when he wants. Also, all that could be fixed by re-programming, something I bet Chevy will do in subsequent model years.
Torque is sufficient, though, to rate the pickup to tow up to 7,000 lbs. But I wouldn't want to tow that much weight. The Colorado doesn't have enough heft, in my view, to do so. You'd always be wanting more weight in your tow vehicle and more accompanying horsepower/torque. It would, however, be excellent to tow a light utility trailer with ATVs, motorcycles, snow machines and watercraft, and it would easily pull a lightweight pop-up or travel trailer for camping.
The Colorado is nimble around town; you won't have any problem parking it at the mall or weaving in and out of traffic. I like the downhill descent control, but I'm not accustomed to such a feature so I'd need more time to become proficient with its use. Approach and departure angles with the super-low front spoiler on the Z71 package are insufficient for steep terrain. 
Zent's spin in the Colorado followed a scenario common for hunters who don't live in rural America: "To reach a much-anticipated hunt, I would have to endure infamous east-coast traffic between Washington and Philadelphia before heading east through small towns and produce farms to the Jersey shore. There I planned to enjoy a day of big-water hunting with my friend, Joe Ruggieri, whose duck boat we towed to legendary Barnegat Bay.
"Along with our hope of intercepting flocks of broadbills, buffleheads, Canada geese and black ducks, we rated how well the mid-size Chevy pulled the boat trailer compared to Joe's big one-ton diesel.
"Joe owns a 1980s-vintage Maine Duck Boat (MDB) in the rare 14-ft. length. The prized MDBs transform into super floating blinds, in no small measure because they were practically crafted like tanks to withstand years of hunting waterfowl in pounding surf.
"Joe says he hardly notices the MDB behind his pickup, and hitched to the Colorado, the little duck boat likewise made for an easy tow job over the flat, coastal roadways. There was no drag on the engine or the handling whatsoever. Joe observed that the Chevy runs through its gear progressions faster than he's accustomed to, which made him wonder if it would have enough low-end torque to pull heavier loads in hilly terrain. Nonetheless, the trim rig did just fine moving the boat and trailer up and down a steep boat ramp. We concluded that transporting duck boats, ATVs and small to mid-size trailers loaded with camp gear or firewood is easily within the new Colorado's capabilities.
"On my return trip through torrential rain and fog, the low-slung Colorado gave a sense of stability I just don't feel in my Sierra 1500, which is prone to rear wheel hop," said Zent. "The mid-size model hugged the wet interstate at speeds that were probably unwise given the conditions, and what might have been a white-knuckle ordeal really wasn't one."  
The Colorado is aimed at urban/suburban hunters who need a hunting vehicle but because of price or fuel mileage don't want a full-size pickup. It's been reported that Chevy expects up to a third of its market to come from current car and SUV owners who recognize a need/desire to move to a pickup. That seems to make sense given interior design.
It offers good engine/transmission performance, 4WD, an open bed for light hauling plus solid interior design to accommodate up to four people. It capably accommodates two hunters and all the gear they would need for a week at camp. It is not a truck for a tradesman, farmer/rancher or anyone who thinks he/she absolutely needs a pickup that oozes brute strength. But the Chevy Colorado is a good choice for many hunters these days.
2015 Chevy Colorado
Drivetrain: 3.6L SIDI DOHC V-6 w/305 h.p., 269 lb.-ft. torque; six-speed automatic transmission; 4WD, two-speed transfer case; automatic locking rear differential
Suspension: front independent coil-over w/twin-tube shocks; rear solid axle w/semi-elliptical multi-leaf springs, twin-tube shocks
Brakes: four-wheel anti-lock discs
Dimensions/Capacities: overall length 212.7" (62" bed); wheelbase 128.3"; width 74.3"; height 70.6"; ground clearance 8.3"; GVWR 6,000 lbs.; curb weight 4,380 lbs.; payload 1,590 lbs.; towing up to 7,000 lbs.
Price as Tested: $36,535 (base $35,415, delivery $875)