Support NRA American Rifleman
DONATE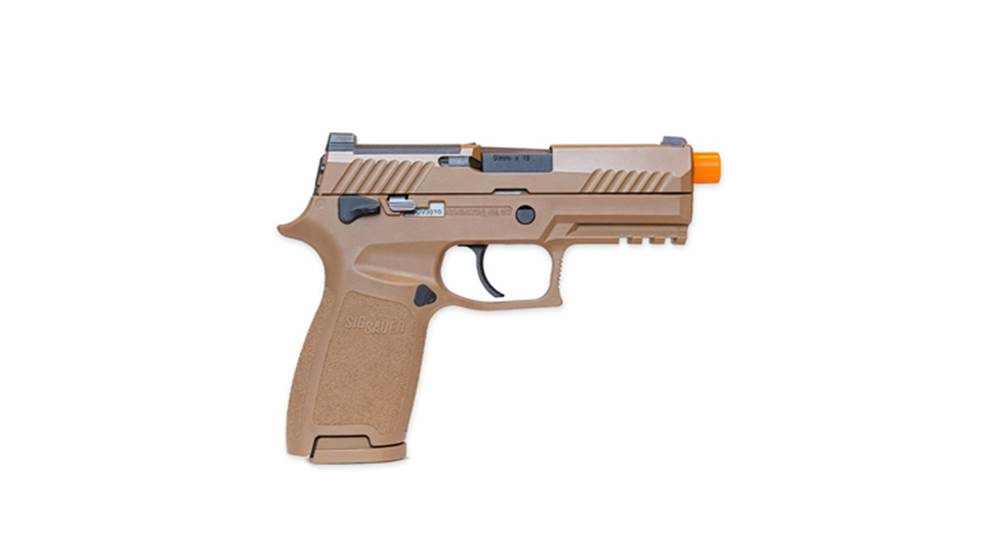 SIG Sauer's
M18 Proforce is an airsoft pistol designed to mimic the look, feel and operation of the current
U.S. Army contract
pistol. This offer consumers an indoor-friendly crossover training gun that is also useful for plinking in confined areas.
The gas-operated 6 mm M18 Proforce pistol is configured to accommodate optics and accessories. As well, holsters designed for SIG's M18 9 mm are compatible for use with with the company's latest airsoft pistol.
The semi-automatic M18 Proforce features a coyote tan polymer frame and reciprocating metal slide that is powered by Green Gas via rechargeable and detachable magazines. Green Gas is a propane mixture that is found to be lubricious and stable, which has become a go-to propellant in the airsoft arena. The Green Gas has the capacity to consistently fire 6 mm airsoft rounds up to 320 f.p.s.
Removing the slide the from the frame for service is the same as the U.S. Army's M18 pistol, a lever mounted on the left side of the frame requires rotation to unlock. The replica airsoft pistol weighs in at 24 ounces and measures 7.7" long, which mirrors the center-fire variant in nearly every aspect.
The M18 Proforce provides safety and slide-release levers that exhibit ambidextrous function. A section of M1913 Picatinny rail is included for mounting accessories such as electronic training systems, lasers and lights. SIG Sauer includes a flush-fit, 21-round magazine with its Proforce pistol. The M18 replica sights are fixed.
Whether you're looking to familiarize yourself with the M18 platform, or needing to train for an upcoming competition in an inexpensive and fun way, SIG Sauer's M18 Proforce 6 mm airsoft pistol is up to task. SIG Sauer commands a MSRP of $179.99 for its M18 Proforce airsoft pistol. For more information, please visit the company website
HERE
.
Have you heard about the National Rifle Association's recreational shooting program designed to introduce shooters to world of 3 Gun? NRA 3GE was designed to do just that by providing new, and returning shooters with a safe activity that is family friendly and competitive. Head over to 3ge.nra.org to find an NRA 3GE event near you!