Hunting elk can be one of the most difficult and rewarding pursuits for the American sportsman. Whether the chase takes you to tall mountains, thick timber or soggy creek bottoms, the time and effort required to scout, stalk and harvest an elk is often enough to wear out both the hunter and his gear. I filled my freezer with a great bull taken in northern Utah using the new 33 Nosler cartridge (225-gr. Accubond) and Nosler's M48 Liberty rifle (nosler.com). The new rifle and ammunition will be fully reviewed later this year, but I wanted to call out a few pieces of kit that really performed.
It's no secret that elk hunting in big country involves a lot of time in the glass, and I've tried a lot of products that are designed to carry a binocular in such a way that it is both secure and accessible. The Optics Suspension System ($79) from Tenzing (tenzingoutdoors.com) is probably the best solution I've found to date. The padded yoke and harness system are very comfortable and capable of holding the optic close to the body to prevent dangling, swinging or snagging. The pouch itself fully encloses the optic, protecting it from environmental hazards. To use, one needs only lift the top flap and pull the binocular out, and replacement is just as easy, a simple tuck-and-cover process. The system also includes two pockets for calls or gear, an integrated, tethered lens cloth and, for security, the binocular is secured directly to the harness.
Speaking of optics, the Wildlife XP 10X 44 mm binocular ($2,415) from Steiner (steiner-optics.com) is worthy of praise. It's not uncommon to spend hours each day scanning for elk through magnified optics. In such conditions, good glass is critical not only for judging animals, but for reducing eye fatigue. Steiners command a hefty price, but when it comes to optics, usually you get what you pay for, and the Wildlife XP 10X 42 mm binocular is among the best for clarity and fidelity.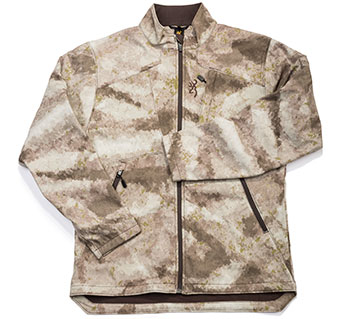 Another standout was the Hell's Canyon Speed series of camouflage apparel from Browning (browning.com). The A-Tacs pattern is ideal for Western hunting, blending well with the sage, aspen and thick scrub I encountered in Utah. The Speed line features athletic-style cuts and features, and I found it to be flexible and breathable, providing comfort during long days on the hoof. I also found it to be quite durable, standing up to barbed wire crossings and high desert stickers. One warning though, the "Hero Cut" is not for everyone. This apparel should be tried on in advance of purchase if possible, and exchanged for appropriate sizes if necessary. For example, the Backcountry pants fit me well, but the Javelin pants, in the same size, were a bit snug.
Finally, the Grovtec Padded Sling (grovtec.com) is the most comfortable hunting sling I've ever used, bar none. I've had mixed experiences with slings made from a combination of synthetic materials, those that attempt to be stretchy, tacky and still sturdy. But I can say with confidence that Grovtec got the recipe just right. I found the pad to be comfortable and slip-free when bearing an approximately 10 lb. load of rifle and scope on my shoulder, and the integrated thumb loop made for a great hand rest and load stabilizer.