Top: Leupold's VX-6HD 3-18X riflescope
Distinguished by high daytime temperatures and rolling dunes of sugar-fine red sand, the southern portion of the Kalahari Desert in South Africa's Northern Cape is home to a diverse population of African plains game, and offers hunters, and their gear, a unique challenge. I had the opportunity to hunt with
Chapungu-Kambako Safaris
 out of its Kalahari Oryx lodge in order to push the limits of
Hornady
's 6.5 mm Creedmoor cartridge and to help beta test the company's forthcoming (at writing) Doppler-data-powered 4DOF ballistic app. While those topics will be covered in upcoming feature articles, it's only right to highlight some of the gear that made the whole trip an overwhelming success.
The Kalahari's dunes are a double-edged sword in that they easily conceal nearby animals within their folds, but they can also be scaled to serve as observation points over vast expanses of terrain. The 6.5 mm Creedmoor is a cartridge that excels in the wide-open, but a good optic makes all the difference for accurate shooting at extended range.
Leupold
's VX-6HD 3-18X 44 mm scope proved to be ideally suited to the task, though, if I'm honest, I can't think of a situation where this scope would not excel, save close-range encounters with dangerous game ($2,209). Featuring excellent glass, precise adjustments and the rugged construction Leupold is famous for, the
VX-6HD
also possessed plenty of magnification—game was taken at more than 500 yds., and app testing included the use of a field-expedient 680-yd. range—and the illuminated T-MOA reticle came in handy on dark-colored targets, and for making wind and elevation holds. Make no mistake, the scope not only survived and retained its zero during the trans-Atlantic flight and rough handling en route to the lodge, it remained true throughout a week's worth of dialing up and zeroing out, shot after shot, not to mention being bucked around in the Land Cruiser's gun rack for hours each day. I came away truly in awe of this American-made riflescope.
As well as the gun, scope and ammunition performed, the red sand could easy have fouled the works if not for proper care and protection. For some perspective, as I write this I've been home for more than a week and I'm still trying to clean the grit out of my sunglasses. Thankfully I came prepared with
Sentry
's Armadillo long gun cover ($50). Constructed from stretchable, water-resistant material, and adjustable via an integral bungee cord, the Armadillo covered my scoped rifle from buttstock to muzzle, could be used even when the gun was slung on my shoulder, and successfully repelled the notorious Kalahari red sand, and the far-less-known and, frankly, somewhat baffling Kalahari downpour—unbelievably, we got drenched in the desert on our last hunting day, but the gun and scope remained dry.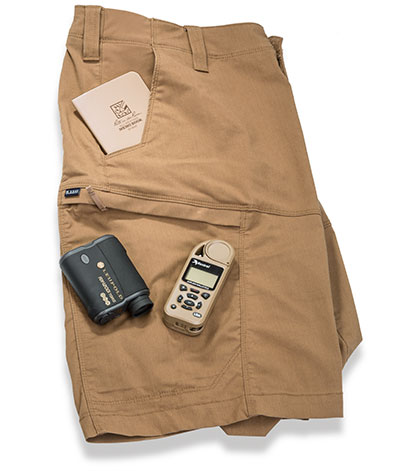 Finally, despite several days with temperatures in excess of 100° F, I remained relatively comfortable and well-equipped thanks to the Apex Shorts from
5.11 Tactical
($70). Light, breathable and durable, the shorts provided a level of on-board organization I was not previously accustomed to. Most useful to me were the zippered cargo pockets, which featured internal pouches that, though sized for AR-15 magazines, perfectly stored and secured my cell phone, Kestrel weather gauge, Leupold rangefinder and a small notebook. Traditional cargo pockets would have made a mess of things, particularly during one memorable running stalk that covered nearly a mile. I was satisfied and impressed after the chase when I realized that all my gear was still in place and had not been banging around, hindering my pursuit.
See more of these products in this
NRA Gun Gear of the Week video
.