Support NRA American Rifleman
DONATE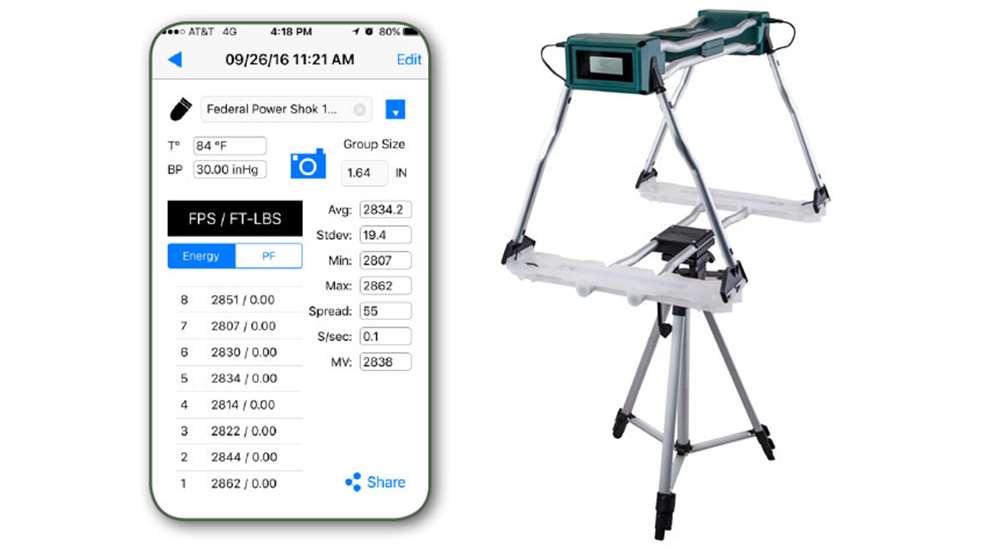 Catching the speed of a bullet is simple in theory, yet involves relatively complex calculations, like a stopwatch starting and stopping in fractions of a second triggered by the bullet's passing. As shooters we rely on chronographs for accurate information that we then use to compute ballistics, adjust handloads or compare one load to another.
Caldwell's Ballistic Precision Chronograph G2 offers accuracy, simplicity and, with an MSRP of just $270, affordability. Caldwell took the portable chronograph's familiar V-shape design and made it better. Such chronographs rely on ambient light, sensors and the shadows cast by a passing bullet to register a measurement. For these, testing indoors, on overly bright days or in low-light conditions can prove problematic. As a remedy, the company inverted the arrangement and added onboard LEDs to ensure accurate measurements from the G2's 18 sensors, regardless of lighting conditions. 
A Bluetooth wireless function allows for connection to a smartphone through a free app from Caldwell. Captured ballistic data can be saved, analyzed and shared through SMS or email. The unit also displays velocity readings on an LCD screen for manual recording. An onboard rechargeable battery further increases its wireless capability, and the G2 comes in a handy carry bag with a lightweight tripod. 
Sure, there are more-sophisticated systems available, but for a portable, affordable and easy-to-use wireless system, the Caldwell G2 is hard to beat. btibrands.com