by
posted on February 22, 2021
Support NRA American Rifleman
DONATE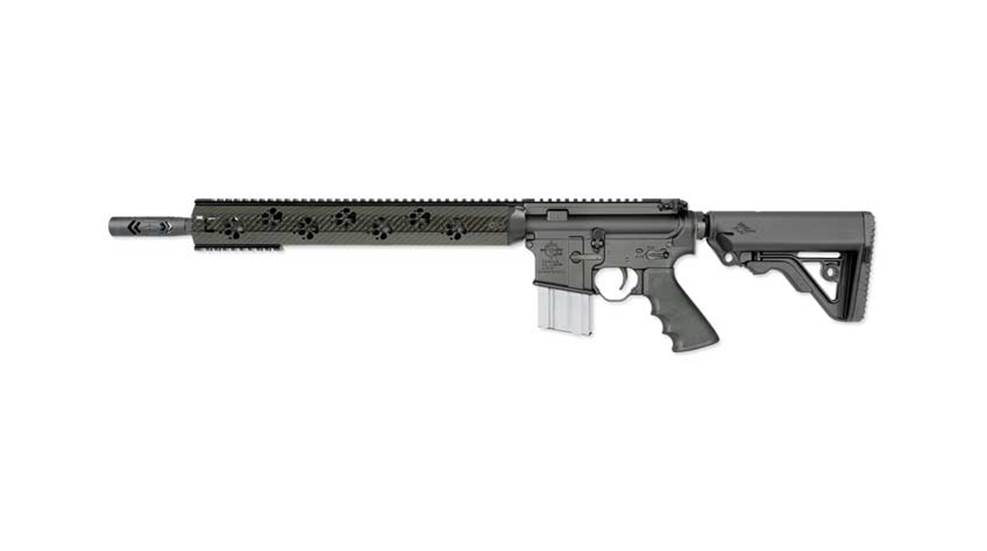 New for 2021,
Rock River Arms (RRA)
continues an industry partnership that created the latest Fred Eichler Series (FES) rifle — the Light Predator2L. This culmination of RRA's manufacturing ability and working relationship with Eichler bolsters a tried-and-true platform to provide sportsmen and sportswomen with a great predator-hunting tool. Fred Eichler is a conservation steward as well as a successful bowhunter and host of Predator Nation TV.
RRA builds its Light Predator2L on forged receivers; the lower unit comes patterned after the company's LAR-15M blueprint and the upper is of the A4 style. RRA pairs its upper receiver with a 16" stainless steel, lightweight profile that is further fluted and cryogenically treated. The RRA FES Light Predator2L is chambered for .223 Wylde, a match-grade chambering that blends .223 Rem. with 5.56x45 mm NATO for a chamber dimension that safely allows the use of both ammunition types. Rifling is twisted one turn in 8", a middle-of-the-road measurement that further allows hunters and target shooters to enjoy myriad bullet offerings with sufficient accuracy. A RRA FES muzzle brake comes standard to mitigate recoil for follow-up shots on wily game. RRA notes that the FES Light Predator2L will provide at least 1-m.o.a. accuracy at 100 yds.
The versatility of the AR-15 blueprint allows companies such as RRA to design and market niche-specific alterations that can further be tailored to a users needs. With the help of Fred Eichler, this latest iteration features a FES carbon fiber handguard that is free floating and ventilated by way of animal paw prints along its sides. The full-length handguard features Picatinny rail along the top's entirety with a section below for additional accessories such a bipod.
Black is the standard color option, but users can opt to dress the Predator2L from the factory in a Gunmetal Gray finish for a nominal up-charge. RRA sources Bravo Company MFG, Inc., for its BCMGUNFIGHTER charging handle. An adjustable RRA Operator CAR buttstock is included with appointments for slings and storage. A rubber pad caps the butt.
RRA's two-stage varmint trigger comes standard. This trigger is known to provide crisp and consistent breaking points between 3.5 and 4 lbs. The chrome trigger also has a non-reflective shoe. In addition, the continued use of matte finishes throughout is thoughtful. Ambushing nature's predators requires supreme camouflaging, which usually includes the use of gloves, so RRA includes its winter trigger guard to accommodate gloved hands and uninterrupted transition to the trigger. RRA provides its Star Safety selector here, too.
For more information on the RRA FES Light Predator2L, please visit the company website
HERE
.