Support NRA American Rifleman
DONATE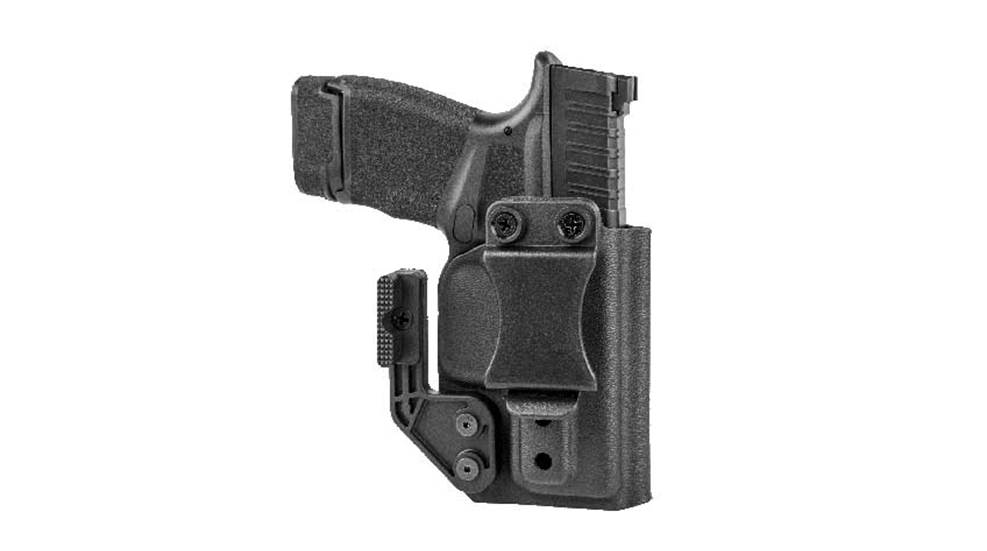 N8 Tactical
, known for its lineup of comfortable everyday-carry holsters, announced the addition of a small, form-fitted, all-Kydex holster designed for many of today's popular concealed-carry guns. The KO-1 holster is slim and customizable, ensuring that wearers can easily mount their CCW pistol and carry all day safely and comfortably.
The N8 Tactical KO-1, the company's first all-Kydex holster design, is purpose-built for inside-the-waistband carry and is formed from a single sheet of Kydex to specific models of handguns. The goal of the KO-1 was to reduce the size and bulk of a CCW holster as much as possible, leaving little material that can print or cause discomfort while also providing a safe, easily accessible holster for defensive use.
Each N8 Tactical KO-1 is adjustable for ride height and cant, and users can also fine-tune the friction-retention fit of the holster. This ability to adjust retention enables users to determine how snugly the holster fits around their chosen carry gun, giving them more security during daily carry or enabling easier release during a draw.
N8 Tactical offers two clip options with its KO-1 holster. A low-ride clip moves mounting hardware below the user's waistline, allowing shirts to be tucked inside the pants behind the clip. This lower mounting solution also allows the gun to ride lower inside the waistband, enabling deep concealment. However, this arrangement can make it harder to access the gun in a defensive situation.
The high-ride clip is a second option available for the N8 Tactical KO-1. This clip attaches to the top of the Kydex holster pocket, which moves the pistol up higher, enabling easier access. This setup is ideal for those who plan to use an untucked cover garment over their personal-defense gun. An optional Mod-Wing design is also available for the KO-1, which puts outward tension on the belt, pushing the handgun into the torso. This reduces any chance of printing, while also providing better stability for the gun during movement.
The N8 Tactical KO-1 holster is available for popular
Glock
,
SIG Sauer
,
Smith & Wesson
,
Ruger
and
Springfield Armory
models, including the SIG P365, the Glock G43 and the Springfield Armory Hellcat. Both left- and right-handed models are available, and the holster comes with a two-week guarantee, as well as a lifetime warranty. The suggested retail price on the holster is $34.95. For more information, visit
n8tactical.com.