Support NRA American Rifleman
DONATE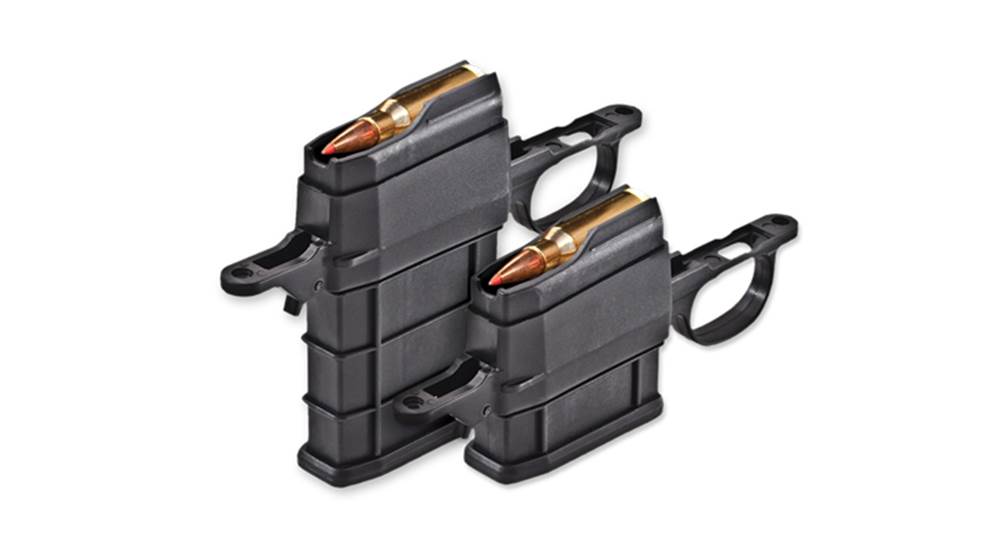 Legacy Sports Int'l.
has announced its offering of detachable box magazine kits for Howa 1500 and Remington 700 BDL rifles—Ammo Boost. By simply replacing the action's "bottom metal," at-home gunsmiths and DIYers can easily upgrade from factory-configured closed-box or blind magazines to American-made detachable-box units through a simple conversion process.
Affordable, easy and practical, the Legacy Sports Int'l. Ammo Boost kits support a variety of market options, such as the
Howa 1500
and
Remington
700 BDL, long- or short-action configurations. In addition, Ammo Boost kit fits
Weatherby
Vanguard rifles, as well as
Smith & Wesson
1500 and
Mossberg
1500 bolt-action rifles. Kits will accommodate both standard and magnum chamberings, and are available for either five- or 10-round configurations. Supplementary magazines may be purchased separately.
MSRP starts at $69 for the complete kit, and installation time is just minutes. Legacy Sports Int'l. includes a new polymer floorplate with each American-made unit. An extended magazine release is ahead of the magazine well and articulates forward to release. Some applications may require minor inlet fitting.
To learn more about Ammo Boost from Legacy Sports Int'l, visit
legacysports.com
.
About Legacy Sports Int'l.
:
Legacy Sports International is an importer and exporter of firearms and optics based out of Reno, Nev. For more than 20 years, Legacy Sports has supplied distribution, independent dealers and shooting enthusiasts with quality rifles, shotguns, handguns and optics at a superior value. Some of the top brands that Legacy Sports imports are the renowned HOWA rifles from Japan, POINTER shotguns, CITADEL brands, HARDY rifles, SIG SAUER product and NIKKO STIRLING Optics. For more information about the company and product line and to request a new FREE 2020 catalog visit the company's website at legacysports.com.