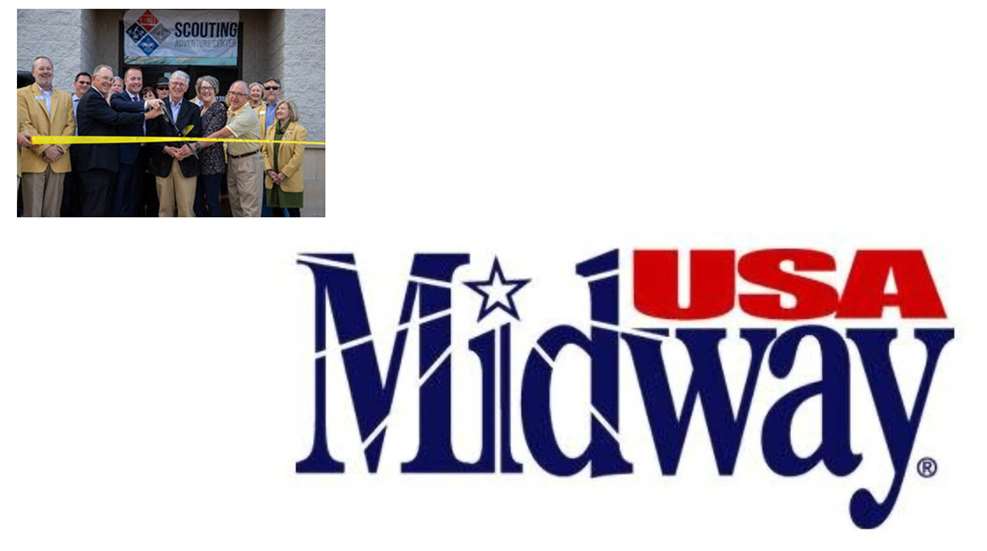 MidwayUSA co-founders Larry and Brenda Potterfield have donated a building that will soon serve as the Boy Scouts of America (BSA), Great Rivers Council office and activity center. The official ribbon-cutting ceremony took place on Dec. 15, although the decision to help the organization was quietly announced last year.
"This building has served us well but is no longer a part of our future," said Larry Potterfield, MidwayUSA founder and executive chair of board of directors. "We are fortunate and pleased to be able to donate it to one of our favorite organizations." 
The Potterfields announced their decision to donate the Lincoln Building during a scouts board meeting in 2020. MidwayUSA's customer support operations—former occupants of the 13,000 sq.-ft. building—recently moved to the company's new distribution center.
Plans are to move the council office and Scout Shop to the Lincoln building on the MidwayUSA campus and utilizing the open space nearby for the organization's programs and activities. Council leaders said they envision the opportunity to create a program center for youth that could include a climbing wall, invention lab and many other activities.
"The Great Rivers Council, Boy Scouts of America is excited to receive this transformative gift," said Scout Executive John Fabsits. "We are elated Larry and Brenda Potterfield considered the mission, programs, and activities of the BSA when contemplating who should benefit from this donation. This contribution not only works into our strategic plan, but allows us to expand our vision for the future in ways we did not consider possible."
The Potterfields established MidwayUSA as a small gun shop in 1977, but it has grown into one of todays largest on-line and mail-order outlets specializing in shooting, hunting and outdoor-related gear. That growth is due, in part, to the family values that laid the firm's foundation more than four decades ago.