Support NRA American Rifleman
DONATE
The notion that military veterans, many of whom had defended our nation during times of war, were sleeping in their cars in order to keep doctors appointments without facing hours of grueling northern California commutes, or to avoid exorbitant costs at nearby hotels, did not sit well with VA Palo Alto Health Care System (VAPAHCS) Director Lisa Freeman.
Although the hospital then offered a free-of-charge "Hometel" for patients undergoing treatment, space was limited, the facility was old, it was always booked, and new patients—many of the 1,000 veterans who traveled long distances to the hospital—were frequently turned away. That was in 2011.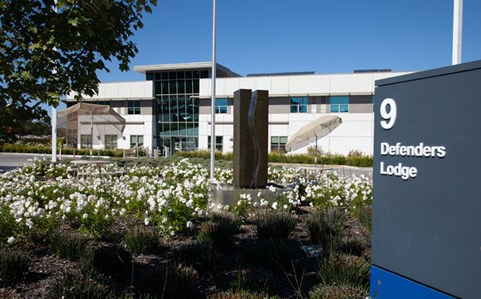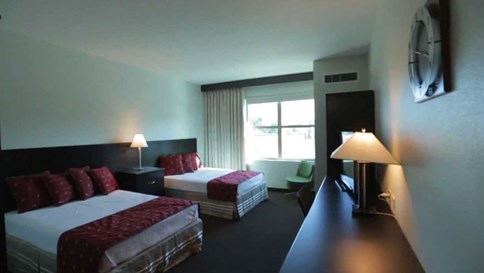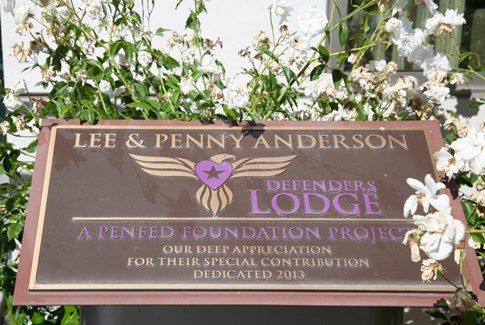 Three years later in 2014, thanks to the efforts of Freeman and the donation of the PenFed Federal Credit Union Foundation, ground broke on the new Lee & Penny Defenders Lodge, a $12.5 million 104-bed hotel, that would solve the housing issue for patients and their families, who are able to stay with their loved ones as they undergo treatment.
On Oct. 8, 2018, the PenFed Foundation honored three leaders who played critical roles in building the Lodge, which has provided veterans more than 115,000 free nights of healing at the VA Palo Alto Medical Center and saved Veterans' families more than $34.5 million in lodging costs. The awards dinner took place at the Four Seasons Hotel in Silicon Valley.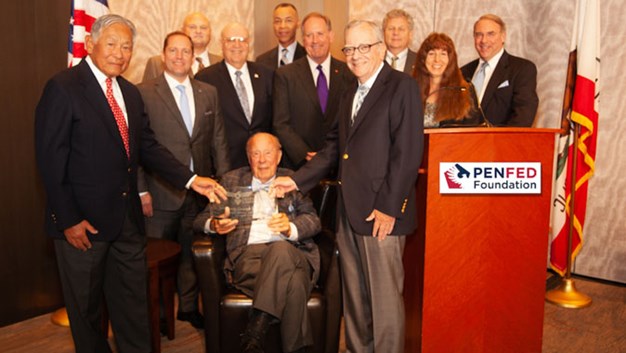 "Our nation's defenders deserve the best because they earned it. Here at the Palo Alto VA Center they receive the best treatments in the world from the best doctors in the world," said James Schenck, PenFed Credit Union president and CEO. "We honor Lisa Freeman, the visionary who first raised the issue of veterans sleeping in their cars or forgoing outpatient treatment due to the high cost of hotels close to the medical center. We honor the champions—Secretary George Shultz and Secretary Condoleezza Rice—for stepping up alongside the PenFed Foundation to raise the funds needed to build a home away from home where Veterans and their families can stay free of charge, with dignity and respect."
Former U.S. Secretaries of State George Shultz and Condoleezza Rice were instrumental in helping to establish the Lee & Penny Anderson Defenders Lodge to facilitate critical health care for our nation's veterans, after former VA Palo Alto Health Care System Director/CEO Lisa Freeman conceived the idea.
"Defenders are magnificent people, they protect our nation and our ideals all over the world and deserve the best medical care," said Schultz. "Anyone that has been in the hospital knows that having your family there makes a gigantic difference —when you see them, you know everything is going to be ok. The Lee & Penny Defenders Lodge is a brilliant idea that works and helping Veterans is a great privilege—it's part of the American spirit."
"Back in 2008, I shared with the PenFed Foundation the need for a home for veterans and their families to stay during outpatient treatments in Palo Alto, Calif. Historically, Veterans would drive many hours in awful traffic to get to an appointment. Some would even choose to not come or get treatment at all," said Freeman. "We receive severely injured service members from all over the world and it's critically important to provide them with world-class care. I want to thank all of the Veterans, their families and loved ones—it's an honor and privilege to serve them. The debt we owe them is inmeasureable."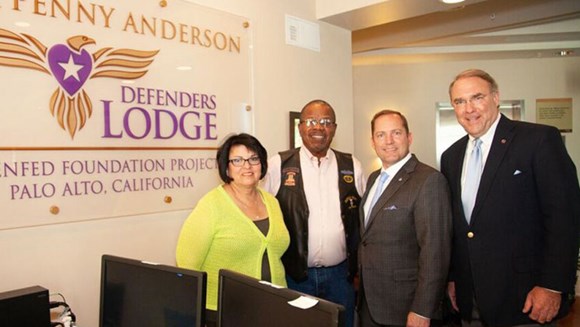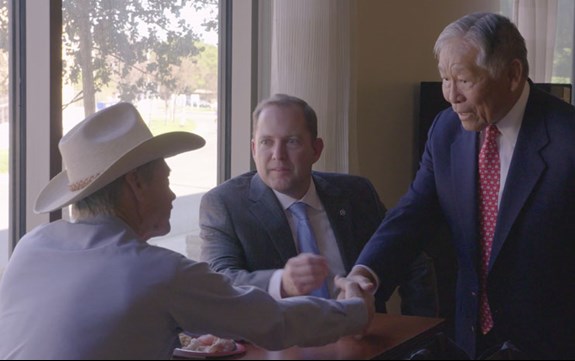 The Lee & Penny Anderson Defenders Lodge is a public-private partnership between the VA and the PenFed Foundation. The PenFed Foundation raised $11 million in private donations to fund the construction of the lodge that includes 52 guest rooms, a dining room, library and private outdoor spaces, providing an experience much like a four-star hotel—at no cost to Veterans, their caregivers or families.
The Palo Alto VA is one of five Level One Polytrauma Centers in the nation and accommodates nearly 1 million outpatient visits per year. It offers specialized programs such as a Polytrauma Rehabilitation Center, a Spinal Cord Injury Center, a Comprehensive Rehabilitation Center and a Traumatic Brain Injury Center.
The awards dinner guests and press attended a tour of the Lee & Penny Anderson Defenders Lodge with Schenck prior to the dinner and experienced the impact of the lodge first-hand as dozens of Veterans and their families checked in ahead of their treatments.
Palo Alto Mayor Liz Kniss and Assembly member Marc Berman (California's 24th District) attended the awards dinner as special guests. Attendees had the opportunity to meet some of the resilient Veterans and caregivers who are staying at the lodge. 
"I'm so impressed by the Lee & Penny Anderson Defenders Lodge," said Mayor Liz Kniss. "It's a great example of an entrepreneurial public-private partnership. There is nothing more important than making Veterans feel comfortable and I'm so honored to know someone like Lisa who can have such an impact on the lives of so many Veterans.
Take a virtual tour of the Lee and Penny Anderson Defenders Lodge, and learn more about the PenFed Foundation.