by
posted on July 12, 2021
Support NRA American Rifleman
DONATE
The idea of pairing a handgun and a rifle around a common cartridge is an American tradition. Some of the earliest, self-contained-cartridge, repeating firearms, such as the Henry rifle, used a pistol-size chambering. The short overall length of these cartridges allowed plenty of rounds to be stacked within a tubular magazine, and their low power wasn't overly taxing on the locking mechanisms of early repeaters. Colt, Smith & Wesson and many other manufacturers would eventually offer revolvers chambered in .44 Henry rimfire.
The system had its advantages in the frontier days of the republic, with revolvers made by Colt, Merwin Hulbert and Remington using the same cartridges as rifle designs by Marlin, Remington and Winchester. The lawman or settler had a single supply of cartridges for both his rifle and handgun. The handgun provided a conveniently carried arm, while the longer barrel of the carbine gave slightly more power out of the same cartridge, along with the increased accuracy, range and capacity of a longarm.
In the 20th century, pistol-size cartridges were adapted to designs beyond the traditional lever-action and revolvers. One of the earliest American sporting semi-automatic rifles was the Winchester Model 1905. Its simple blowback action fired what was basically a pistol cartridge with a straight-wall case that launched a .32-cal., 165-gr. bullet to just under 1400 f.p.s. from its 22" barrel—very close to the performance I got from the modern .40 S&W rifle I tested here.
The past decade has seen a resurgence in the semi-automatic form of what is now known as "pistol-caliber carbines" (PCCs). These newer firearms have often taken things one step further, by adding compatibility with not only a pistol's ammunition, but also its feeding device. Glock magazines have become the predominant choice, but for nearly every popular semi-automatic handgun there is a rifle that uses the same magazine.
The 16" barrel that most PCCs use stretches the performance of pistol cartridges. For this evaluation, I compared the ballistics of the same cartridge fired from one of our test carbines and a "service-size" handgun. The results are shown in the accompanying table (p. 74). The extra 11.5" of barrel netted a velocity gain of between 13 and 19 percent and a gain in muzzle energy of between 27 and 40 percent.
To survey the current PCC world, I looked at four very different long guns, each of which highlights a unique aspect of the market, as well as the four most popular chamberings for semi-automatic PCCs.
---
Omnivorous Budget Backpacker
Kel-Tec SUB-2000—9 mm luger
One advantage of pistol-caliber carbines is that they offer an affordable option for a self-defense long gun, with companies such as Hi-Point and Kel-Tec selling PCCs for less than the cost of a base-model AR. PCCs provide a savings on ammunition as well, since, in a normal market, cartridges such as 9 mm Luger are less expensive than rifle cartridges, allowing for more practice time on the range.
Kel-Tec's take on the PCC is to give it a folding format. The company started with the SUB-9 in 1997 and followed up with the SUB-2000 in 2001. Like its predecessor, the SUB-2000 uses a blowback action, wherein the bolt operates in a metal tube that functions as both the receiver and the mounting point for the stock. Pulling down on the trigger guard lets the rifle hinge in the middle and fold in half to the length of its 16.25" barrel. A catch at the heel of the buttstock unlocks the rifle so that it can be folded back into action. With a weight just under 4 lbs., 8 ozs., and a length under 31" when ready to fire, the SUB-2000 was the lightest and most compact of the PCCs I tested—an ideal size for being tucked into a backpack or survival bag.
The SUB-2000, available in 9 mm Luger and .40 S&W, is in its second generation, with updates including molded-in rails on the top and bottom of the fore-end, as well as M-Lok slots. Other updates include a buttstock adjustable for length of pull and a threaded muzzle. With its affordable price and unique features, the SUB-2000 has become one of the most popular PCCs, a fact affirmed by the size of the rifle's aftermarket support.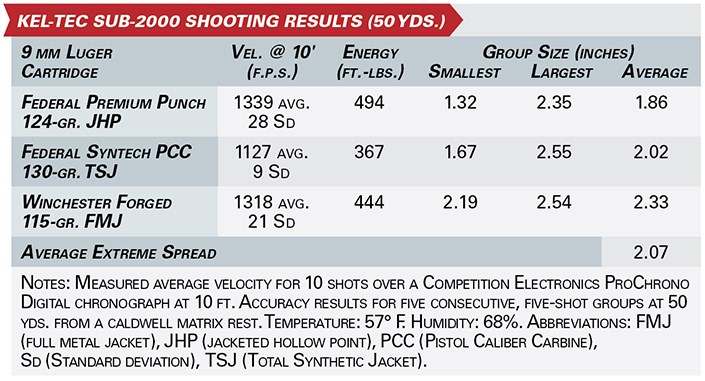 Kel-Tec takes the versatility of the PCC one step further. While the SUB-2000 can be had in models that accept either compact or fullsize Glock magazines, it is also available in a "Multi-Mag" version that can be made compatible with many popular double-column, metal-body pistol magazines. These include the Beretta 92, CZ 75/85, Canik TP9, Smith & Wesson Model 59-series and M&P fullsize, and SIG Sauer P320 and P226, by simply switching the magazine catch.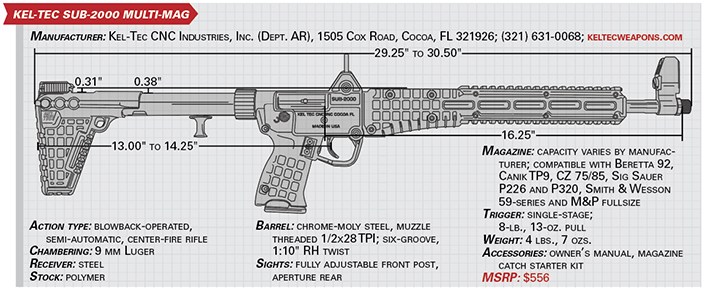 ---
Traditionalist Favorite

Ruger PC Carbine—.40 S&W
The first rifle made by Sturm, Ruger & Co. was the 44 Carbine. Introduced in 1961, it was a semi-automatic rifle chambered for a revolver cartridge (.44 Mag.) that fed from a tubular magazine. Like the Winchester 1905 of a half-century prior, the Ruger Carbine cut a traditional profile with its wood stock and blued metal.
Ruger never really got out of the "rifle-chambered-in-a- handgun-cartridge" market, offering pistol chamberings in everything from its No. 3 single-shot to its Model 77 bolt-action. In 1996, it re-entered the semi-automatic PCC world with its line of "Police Carbines." The PC9 (9 mm Luger) and PC40 (.40 S&W) used magazines from the company's P-series pistols, and were manufactured for a decade.
In 2018, Ruger introduced its new, and appropriately named, PC Carbine, in both 9 mm Luger (February 2018, p. 42) and .40 S&W. The PC Carbine I tested was chambered in the latter. While handgun options in .40 S&W are dwindling these days, the cartridge is being kept alive in the PCC world by companies such as Just Right, CMMG, Kel-Tec, KRISS USA, Hi-Point and TNW.
While the PC Carbine somewhat maintains the traditional look of a big 10/22, it is packed with modern features that make it versatile. Machined into its aluminum receiver is a Picatinny rail for mounting optics. Its magazine release and charging handle are reversible. The carbine's fluted barrel is capped with a threaded muzzle. The polymer stock has molded-in sling points and a short section of universal rail on the forearm, and the length of pull is adjustable with three provided spacers. The PC Carbine utilizes a takedown system similar to that used in Ruger's takedown 10/22. A lever in the fore-end unlocks the barrel to twist free of the action, making for a package little more than 20" in length. It comes supplied with a magazine from the Ruger's SR/Security-series pistols and with an adapter to use Glock magazines (an adapter for Ruger American magazines is available as an accessory).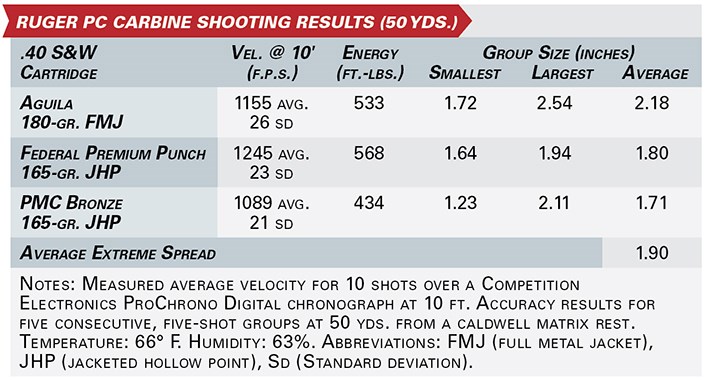 A PCC in a more traditional form gives an option to those looking for a semi-automatic rifle for plinking or self-defense in states that restrict certain firearm features (the PC Carbine is available in a version with a 10-round magazine and non-threaded barrel). Combining classic lines with modern conveniences, the Ruger PC Carbine proves that "traditional" does not have to mean "primitive."

---
Semi-Automatic Subgun

Heckler & Koch USC—.45 ACP
Just as submachine guns continue to hold their place within military and law enforcement circles, their semi-automatic siblings also occupy a niche in the civilian market. The semi-automatic SMG category of contemporary PCCs includes designs like the Beretta CX4 Storm, CZ Scorpion, FN PS90, Kalashnikov USA KR9, KRISS Vector, PTR9R, SIG Sauer MPX and Thompson Model 1927A1. These firearms have the rugged simplicity and proven reliability that comes from their military lineages. This pedigree comes at a price, as they also tend to be the more expensive firearms on the PCC market, and typically use their own proprietary magazines.
In 1999, Heckler & Koch released its UMP (Universal Machine Pistol) submachine gun. It differed from the company's legacy MP5 in several ways. It replaced metal with polymer in many areas, including the magazine and receiver, to reduce weight and cost. The MP5 rear diopter sight was changed to a simple adjustable rear sight with both aperture and open-notch leafs. The UMP also dispensed with H&K's famous roller-delayed-blowback action and used a simple blowback mechanism. A modular design, the UMP is made in 9 mm Luger, .40 S&W and .45 ACP, and the basic firearm has the ability to be converted to any of the three chamberings by swapping barrel, magazine and bolt.
The following year, the company introduced its Universal Self-loading Carbine (USC), a semi-automatic-only version of the UMP for civilians. Available only in .45 ACP, the USC was in production until 2013. Due to popular demand, in 2018 it was re-introduced by H&K as a "limited production" item. Beyond the fact that it sports a 16" barrel and is semi-automatic-only, the USC has several other changes from its UMP sibling so that it can be manufactured in Germany and imported into the United States. The stock is fixed and of a one-piece "thumbhole" configuration. The rifle's 10-round magazine holds its cartridges in a single stack and is not compatible with UMP magazines.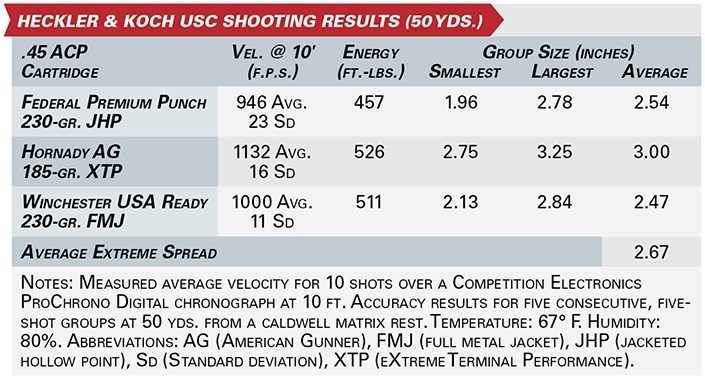 PCCs based on submachine gun designs offer civilians a well-engineered rifle with battle-proven credentials. In the case of the H&K USC, modern European design combines with a classic American handgun cartridge.
---
Glock-Mag AR With A Twist

Angstadt Arms/Macon Armory—10 mm auto
In 1982, Colt introduced a 9 mm submachine gun version of the M16. Three years later, it brought out a semi-automatic 16"-barreled carbine version, and the AR-15 pistol-caliber carbine was born. They were soon joined by AR-15 innovator Olympic Arms, which expanded the pistol-caliber-AR market beyond 9 mm to include .40 S&W, .45 ACP and 10 mm Auto. Though Olympic started out using modified Uzi magazines in its PCCs, by the late 1990s it was making AR-15 lowers compatible with common pistol magazines, including the Glock.
While the 10 mm Auto cartridge has traditionally been somewhat of a rarity in rifles, the recent resurgence in interest in the cartridge has crossed over into the PCC world. Pistol-caliber carbines in 10 mm Auto are now available from companies such as CMMG, KRISS USA, Just Right, TNW and Hi-Point. A 16" barrel wrings the maximum performance out of the high-strung 10 mm Auto, with several of the cartridges I tested producing more than 700 ft.-lbs. of muzzle energy. A PCC in 10 mm takes a pistol cartridge into the realm of close-range hunting for medium-size game.
In AR-15 rifle form, though, the 10 mm is still uncommon. While the aforementioned 10 mm PCCs have plenty of room in their receivers to house a bolt with enough mass to handle the pressures developed by the 10 mm cartridge, the AR-15 presents its own problems when trying to fit a blowback system within the confines of a 5.56 mm-sized receiver. Even when chambered in 9 mm, an AR-15-type rifle must be adapted to a blowback action, with extra weight added to the bolt, a reinforced hammer and heavier buffer.
A solution to this problem is offered by Georgia-based Macon Armory. Known for its AR-45 .45 ACP AR-15 conversions, Macon builds an upper chambered in 10 mm Auto that is a locked-breech design with direct-impingement (DI) gas operation. Starting with a standard upper receiver, that includes a forward assist, a case deflector and a dustcover, Macon modifies a standard AR bolt and carrier to accommodate the 10 mm cartridge. Under the upper's free-float handguard, a low-profile gas block routes a custom-length gas tube back into the receiver. The system works exactly like a standard rifle-caliber AR-15. When a cartridge is fired, a small amount of gas is bled off the barrel. It travels back the gas tube into the receiver where it causes the carrier to move rearward, unlocking the multi-lug, rotating bolt.
The 10 mm carbine I tested illustrates another popular trend in the PCC world: build your own. Just like rifle-caliber ARs, those who want to build their own pistol-caliber AR-15s are faced with an aftermarket that is overwhelming in its options. Macon Armory recommends pairing its upper with an Angstadt Arms lower. We followed its advice, sourcing Angstadt's large-frame, Glock-magazine-compatible 1045 lower receiver. The billet receiver comes stripped, except for its proprietary parts, including the magazine release and bolt hold-open lever. We completed the build with a standard AR-15 lower parts kit and a VLTOR EMOD stock. Because of its direct-impingement operation, the Macon Armory upper is compatible with standard AR hammers and a carbine-weight buffer system.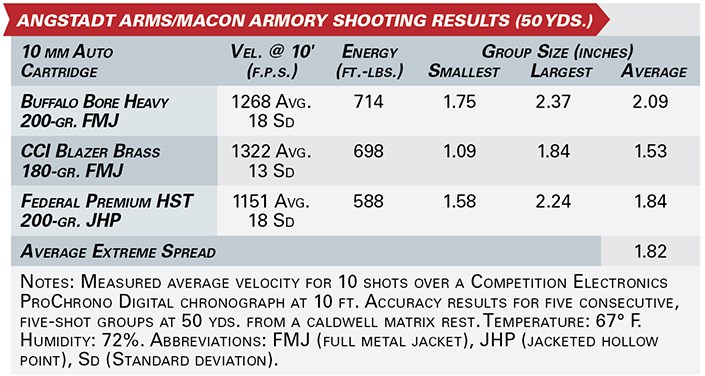 Pistol-caliber AR-15s bring many advantages to the PCC world. They combine the familiarity of America's most popular rifle with DIY-friendly aftermarket support. Toss in the 10 mm cartridge and our Macon Armory/Angstadt Arms build pushes AR PCC performance to the max.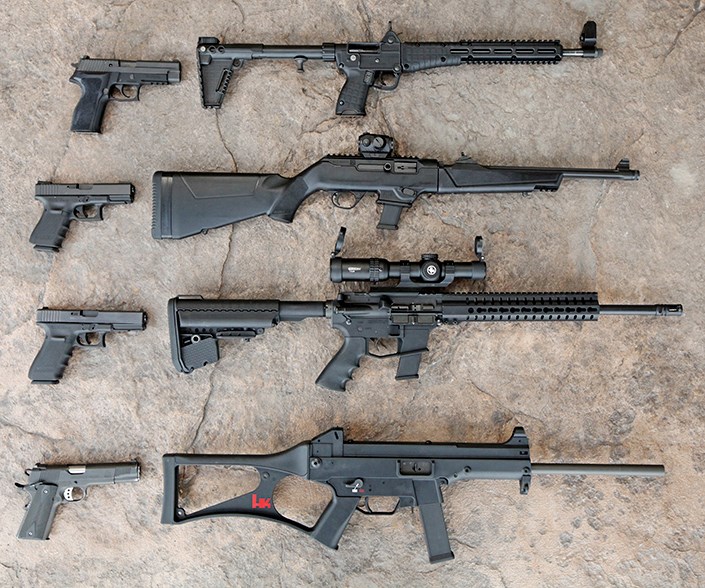 Conclusion
Nearly 150 years after Colt decided to chamber its famed Frontier Six-Shooter in the .44-40 round used by Winchester's Model 1873, pistol-caliber carbines still offer many of the same advantages. Pistol-caliber long guns are an affordable, compact, lightweight and low-recoiling option when compared with carbines or rifles chambered for rifle cartridges. In addition, they offer greater effective accuracy and increased power over a handgun chambered for the same cartridge. In times when some cartridges may be in short supply, having a rifle and a handgun use the same ammunition can simplify a shooter's logistics. The modern development of having both feed from the same magazine multiplies the value of that simplification. Whether for hunting, home defense, plinking or competitive shooting, pistol-caliber carbines represent a practical choice.
One rifle, one handgun, one cartridge.