Support NRA American Rifleman
DONATE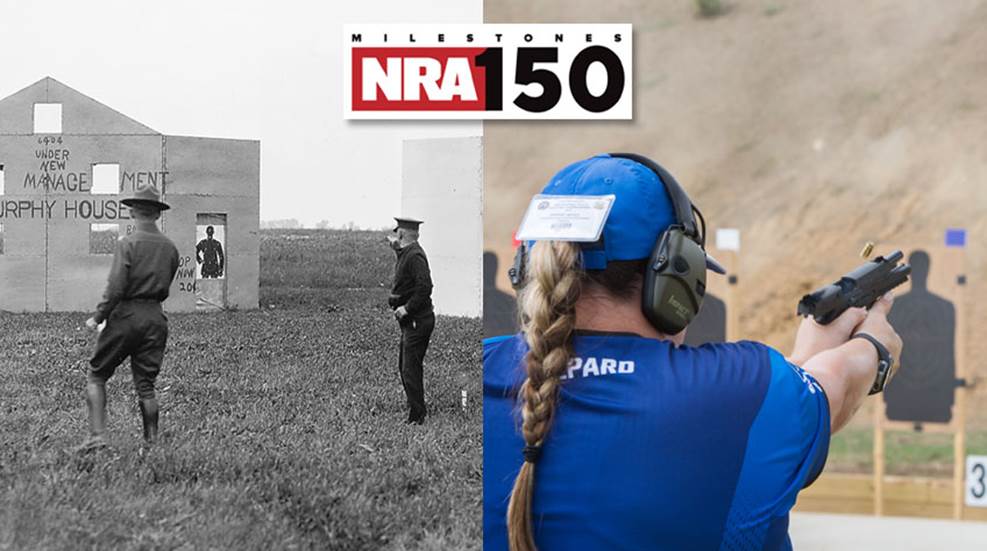 Arms & The Man, this magazine's predecessor, published a landmark article by Frank J. Kahrs in 1916 calling for marksmanship training for our nation's police. In 1923, the magazine would become The American Rifleman. Organized police training with firearms and marksmanship qualification simply did not exist at that time. Seeing a need, Kahrs developed a systematic training program and called for live-fire practice "at least once a month." As always, NRA heeded the call, putting its time, money and resources into addressing the issue.
It wasn't until after World War I that NRA was able to increase its efforts to provide firearm training to the police. In 1920, an NRA-commissioned survey revealed that, of American cities with more than 25,000 people, only 13 had a firearm training program. A "Special Police School" was set up at Camp Perry, Ohio, the home of the NRA National Matches at the time. An interactive course of fire simulating tactical situations that officers might encounter on the street was created and dubbed "Hogan's Alley." That name is used today at the FBI Training Academy in Quantico, Va.
Not long after that, NRA invited police departments to send teams to compete in the pistol phase of the National Matches and attend the Special Police School. By 1929, there were 140 officers present, and that number would only rise. Police teams—in particular the Detroit Police Dept., the U.S. Border Patrol and the LAPD—became dominant forces at the NRA National Pistol Matches.

Winning officers, such as Detroit's Harry Reeves and the Border Patrol's Charles Askins, were seen at the top of the podium and were often pictured in advertisements in these pages from companies such as Colt and Peters. One of the champions of police training was NYPD Lt. Frank McGee, who ensured that cops in the nation's largest department were properly educated using plans developed in cooperation with NRA.
But 1960 was a watershed year for NRA and the police, as the Association developed a program in which officers could be certified as NRA Police Firearms Instructors. It was the advent of the NRA Law Enforcement Activities Division that has served our nation's "thin blue line" now for 60 years. Note that then, as now, NRA "trains the trainers," and then sends them back to their departments to teach individual officers. And it wasn't limited to just municipal officers, as the training was soon extended to private security officers as well.
In 1962, NRA and its role in teaching officers lifesaving skills was expanded to include the NRA National Police Championships. NRA developed Police Pistol Combat (PPC) competition to allow officers to not only practice safety and to become more proficient with their sidearms, but also to compete under pressure. More recently, NRA police competition has been extended and expanded with a newer Tactical Police Match—think of it as 3 Gun for those who put their lives on the line for us every day.
It was through competition that NRA helped break the gender barrier for police, too. A young officer by the name of Jeannie E. Bray demonstrated excellence with a revolver (then the predominant sidearm) in NRA PPC competition and eventually became a homicide detective with her department in Columbus, Ohio.

Bray was also one of the first women to become an NRA Director, and today there is a scholarship in her name available for the children of NRA police members. There are other privileges offered to NRA police members, including a death benefit, agency affiliation and assistance with ranges. You can find out more at le.nra.org.
For NRA Police Firearms Instructors, NRA produces constantly updated lesson plans, manuals and even PowerPoints, for handgun, tactical shotgun, patrol rifle, select-fire, precision rifle and tactical shooting, as well as conducting Law Enforcement Instructor Development Schools.
Since the department's founding in 1960, NRA has trained more than 59,000 NRA Law Enforcement instructors, and there are more than 13,000 active today. Even as COVID-19 has shut down much of NRA's in-person training, NRA Law Enforcement Division Director Glenn Hoyer has personally stepped up to make sure that local retired law enforcement officers needing to re-qualify under the Law Enforcement Officers Safety Act (LEOSA) have an opportunity to do so at the NRA Range in Fairfax, Va.

It is small part of NRA's service to our nation's law enforcement, one that your Association has been performing for more than a century.