by
posted on June 12, 2020
Support NRA American Rifleman
DONATE
When the U.S. Army released a Request for Proposal looking for a new firearm to replace Beretta's M9, a new family of handguns was developed at
Fabrique Nationale
—the Model 509. Even though FN's submission was not selected in the
XM17 Modular Handgun System
trials, the Belgian-based company provided the commercial market with a field-worthy design based off of its previously-successful FNS pistol. The FN 509 immediately gained acceptance with target shooters and home defenders, line extensions of the striker-fired, double-action pistol followed. Moreover, a compact-size variant was unveiled tailored for concealed carry with enhanced features.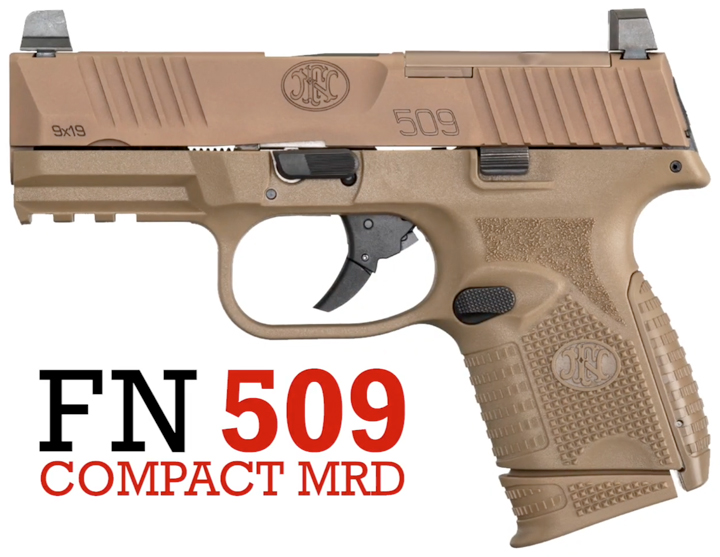 FN's 509 Compact Miniature Red Dot (MRD) FDE features the company's patented Low-Profile Optics Mounting System, a unique setup designed to accommodate the industry's most-trusted red-dot and reflex optics. Weighing in at 22.7 ozs. empty and measuring 5.2"-tall, 1.35"-wide and 6.75" long, the 509 Compact MRD holds up to 15 rounds of 9 mm Luger; 24-round magazines borrowed from the
full-size variant
also fit.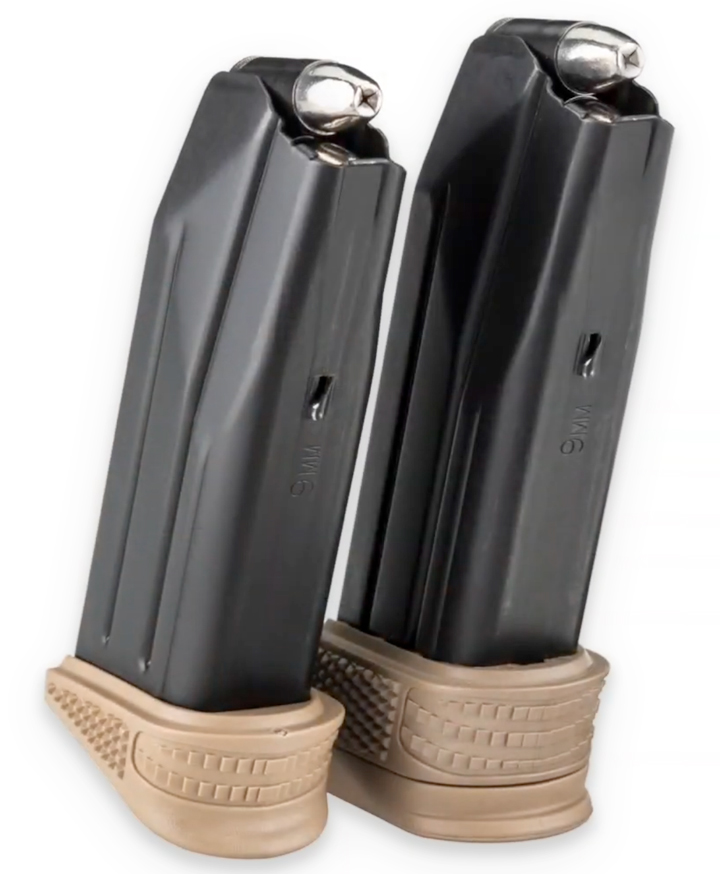 A modular polymer frame is provided with the 509 Compact MRD, and our test sample arrived in Flat Dark Earth (FDE). FN provides interchangeable backstraps to accommodate various hand sizes and shooting grips its users require. Additionally, improved patterns of texturing combine to help manage recoil and stability.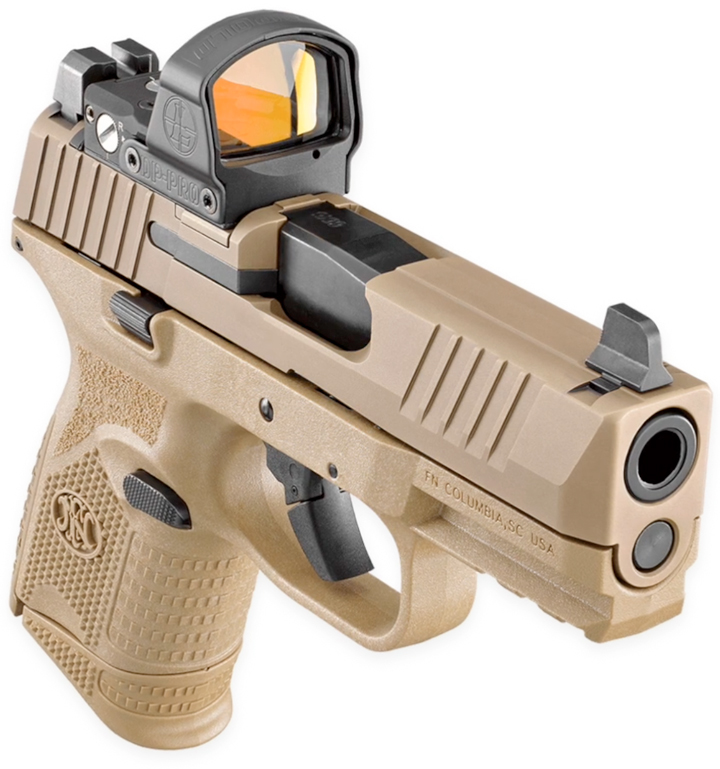 Users of the FN 509 Compact MRD FDE pistol will find its controls, slide stop and magazine release, to be bilateral for strong- and weak-hand operation. An improved trigger that includes a passive safety mechanism is included—our test sample required a 7-lb., 1-oz. pull to release the sear.
Topping the frame is a steel slide fitted with a 3.7", cold-hammer-forged, stainless steel barrel. FN includes deep- and wide-cut serrations fore and aft for an enhanced experience when manipulating the slide. The tactical sights provided are designed to cowitness with mounted optics, and just forward of the rear sight is the company's optic-mounting system and provided cover plate.
FN ships its 509 Compact MRD FDE in a soft-sided, zipper case that includes a FN Low-Profile Optics-Mounting System™ plate kit, one 12-round magazine with pinky extender and one 15-round magazine with grip sleeve—10-round units are provided for restricted-capacity localities.
To learn more about the
FN 509 Compact MRD FDE
, watch our
NRA Gun of the Week
video above.
FN 509 Compact MRD FDE SpecificationsMake
:
FN America
Model
: 509 Compact MRD FDE
Action
Type
: recoil-operated, semi-automatic, center-fire pistol
Chambering
: 9 mm Luger
Frame
: modular polymer
Barrel
: 3.7" cold-hammer-forged, stainless steel
Slide
: Low-Profile Optics Mounting System
Sights
: dovetailed, raised square-notch rear, post front
Trigger
: double-action, 7-lb., 1-oz. pull
Magazine
: 10-, 12-, and 15-round detachable box
Length
: 6.75"
Height
: 5.2"
Width
: 1.35"
Weight
: 22.7 ozs. empty
MSRP
: $799
Further Reading:Tested: The FN 509 PistolTested: FN's 509 Tactical PistolAn Inside Look At The FNS Compact PistolFN Browning Model 1922 PistolFN: The First 125 Years
---
Extras
: