by
posted on December 9, 2022
Support NRA American Rifleman
DONATE
Founded in 1932 as an auto-parts supplier, Davidson's expanded into the firearm industry in the 1980s and is one of the largest firearm distributors in the country. Due to its prominent position in the marketplace, Davidson's can work with manufacturers across the nation to create unique offerings that you won't be able to buy anywhere else. The Weatherby Vanguard First Lite Cipher is one such offering. Watch the video above to see it in use on the NRA Tech Range.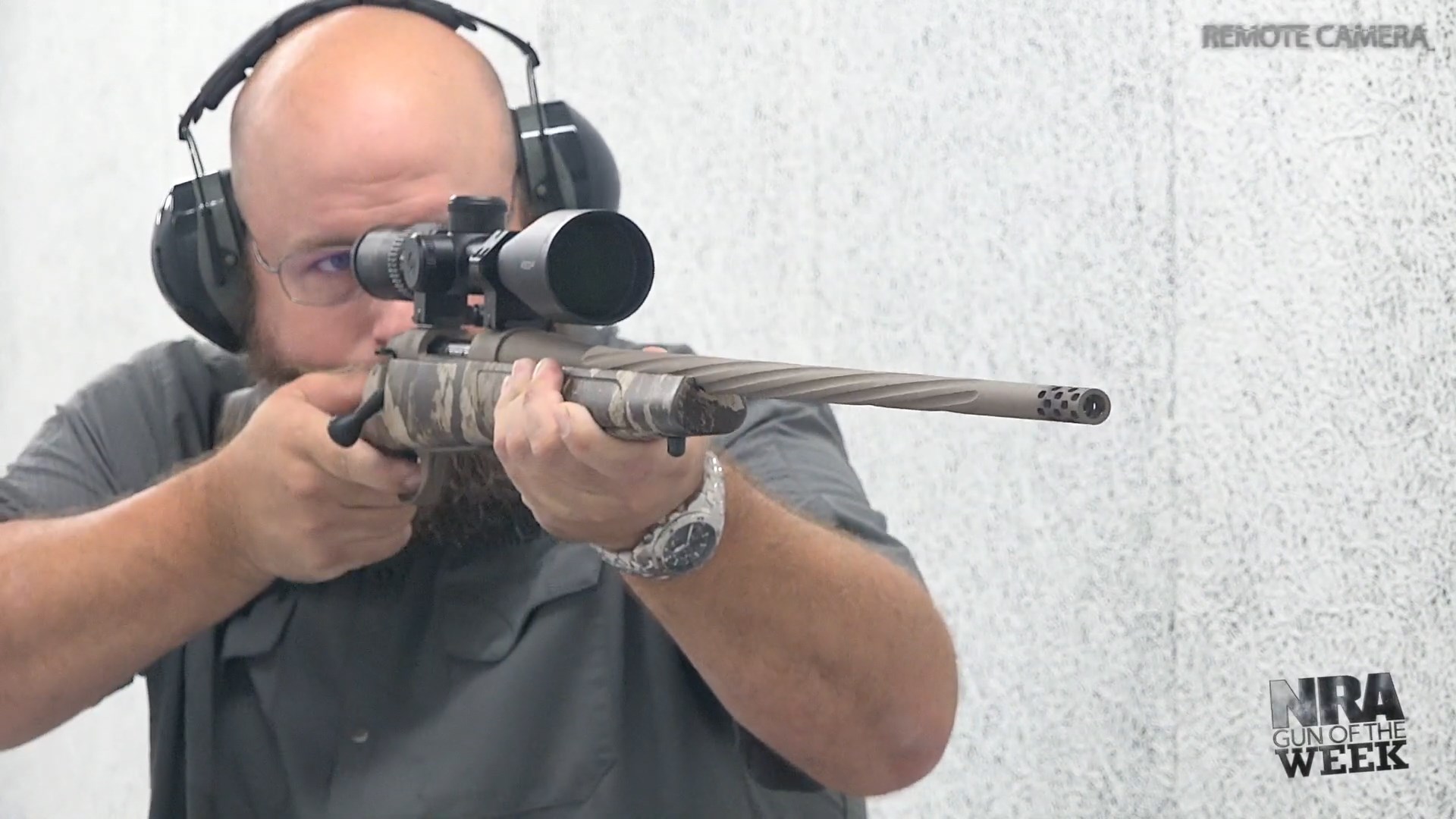 While Weatherby's premium Mark V rifles are produced here in the USA, the company's affordably priced Vanguard rifles are made by Howa Machinery in Japan. The gun is built around a forged, machined-steel receiver with an integral recoil lug, and inside the receiver is a cylindrical, two-lug bolt with an internal plunger ejector and an AR-15-style extractor. Mated to the steel action is a cold-hammer-forged barrel, and on the First Lite model we have chambered for 6.5-300 Wby. Mag., this 26" barrel has a sleek, #2 contour and is fluted. This provides greater rigidity while also increasing surface area for quicker cooling.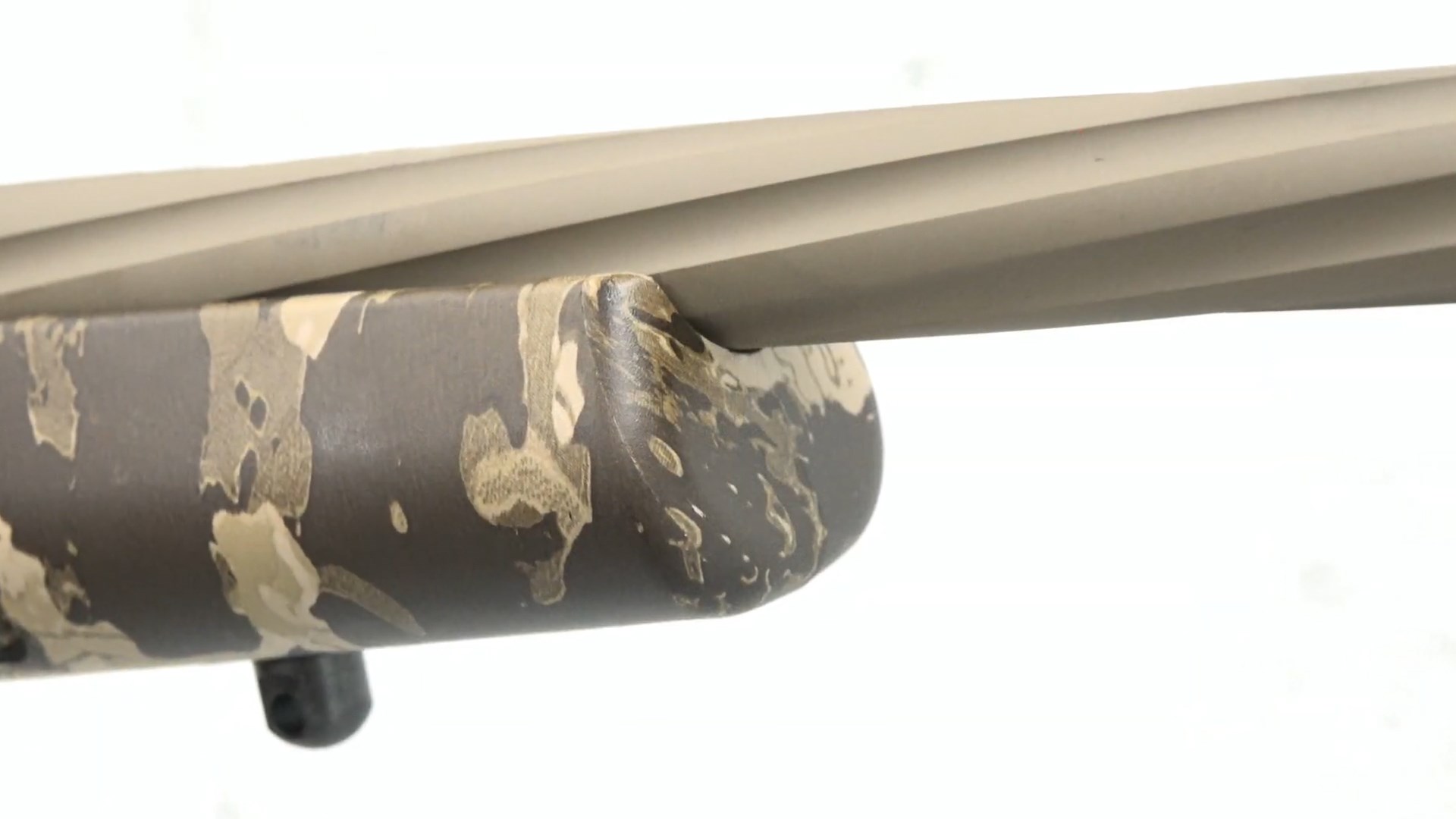 The well-built barreled action sits inside a Monte Carlo stock that incorporates unique camouflage that you won't find anywhere except on Davidson's Gallery of Guns. The stock is finished with what's called the First Lite Cipher camo, a special pattern that builds off Weatherby's well-known Fusion camo. This unique pattern is especially suited for hunting during the fall and winter months, as well as in the terrain of the western United States, thanks to its narrower color palette. Complementing the stock pattern is a Flat Dark Earth Cerakote finish on the barrel and receiver. A hinged floorplate allows hunters to quickly empty the magazine without cycling the bolt. A three-position safety makes it easy to cycle the action on safe or lock it entirely while trekking into the deer woods. When you're ready to fire, an adjustable, two-stage trigger offers a match-quality trigger pull.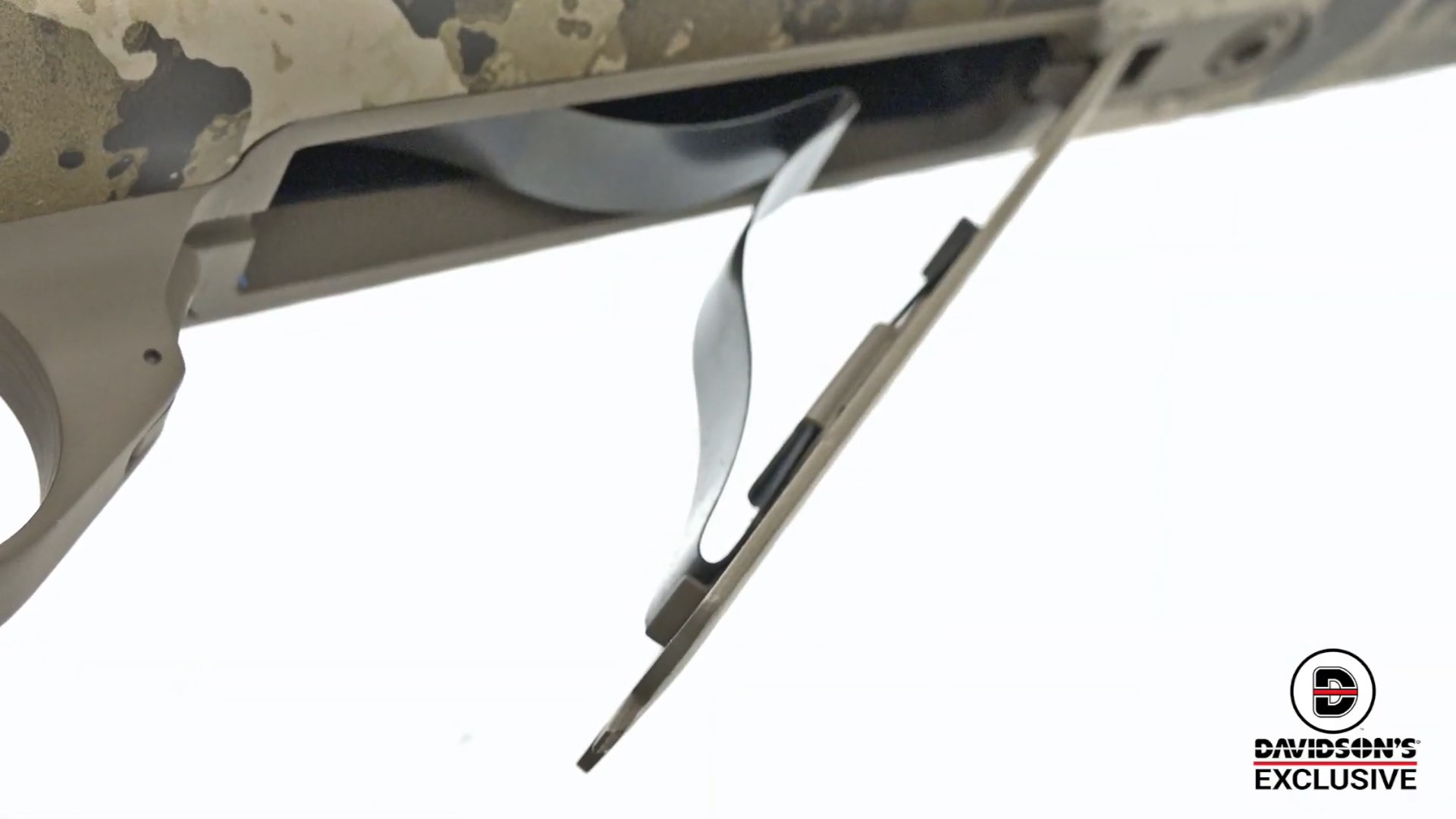 Weighing in at 7 lbs., 4 ozs., unloaded and without an optic, this Weatherby Vanguard First Lite Cipher is light enough for easy carry, while also providing enough weight to soak up the recoil of the 6.5-300 Wby. Mag. cartridge. Recoil is also softened by the included and removable Accubrake, though this will certainly make for a substantially louder muzzle report. The Vanguard First Lite is outfitted with several ergonomic elements that aid in handling. Of course, with the Monte Carlo stock design, there's a generous cheek pad on the left side of the butt, which provides ample lift to position a shooter's eye just behind a mounted optic. We also appreciated the generous Vanguard recoil pad, making the rifle even softer on the shoulder. The receiver comes drilled and tapped for optic mounts. Additionally, the fore-end and palm swell are textured for greater purchase.
Specifications
Distributor: GalleryOfGuns.com
Action Type: bolt-action, repeating, centerfire rifle
Chambering: 6.5-300 Wby. Mag.
Receiver: steel; Flat Dark Earth Cerakote finish
Barrel: 26"; Flat Dark Earth Cerakote finish
Magazine: three-round internal box, hinged floorplate
Stock: composite; First Lite Cipher camouflage finish
Sights: none; drilled-and-tapped receiver
Trigger: two-stage, adjustable
Overall Length: 48.5"
Weight: 7 lbs., 4 ozs.
MSRP: $1,100