Support NRA American Rifleman
DONATE
In addition to more than 125 free seminars, this weekend's NRA Carry Guard Expo also offers a handful of fee-based workshops that provide specialized, hands-on instruction. Basic Hemorrhage Control, taught by Michael "Doc" Rohan of Dark Angel Medical, is one such program focusing on traumatic wound care and emergency preparedness. Doc Rohan is a former Independent Duty Medical Technician for the U.S. Air Force, with training in austere medicine and trauma, and three years of experience serving in Air Force Special Operations.
Basic Hemorrhage Control focuses on the basics of immediate wound care that can be implemented prior to the arrival of paramedics. To Rohan, this is information that every responsible citizen should have.
"What's the need for this type of training? In the dangerous world that we live in today, I think we all need to be ready for whatever comes our way," Rohan said. "We all want to be an asset to society and not a liability, and a med kit is something that we can all take everywhere we go—so that we're ready to help, even in those places where we're not expecting to find trouble."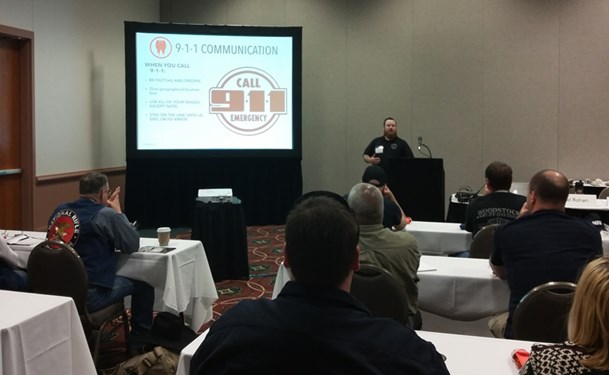 Rohan said the order of treatment, upon encountering a person in need, is: hemorrhage, airway, breathing, circulation, the brain and exposure. Approximately 80 percent of combat deaths and 50 percent of civilian trauma deaths are the result of hemorrhage, so Rohan teaches that addressing blood loss is the single greatest priority in emergency medical situations.
"Hemorrhage is the most preventable cause of death in compressible injuries. Blood is the priority. All bleeding is bad, and needs to be stopped," he said. "We used to think that oxygen was the priority, but it doesn't matter how much oxygen you have in your system if you don't have the blood necessary to circulate it throughout the body."
The average body contains only about five liters of blood, and a human can bleed out in less than five minutes. But the situation can be even more dire than that, as loss of blood can quickly lead to loss of consciousness—which is why Rohan advocates carrying a med kit with you anytime you interact with a firearm. 
Basic Hemorrhage Control provides an overview of basic anatomy and physiology, focusing on the effects of trauma on the circulatory, respiratory, skeletal and neurological systems—with special emphasis given to gunshot wounds.


Rohan spends time discussing and demonstrating multiple different bandage types, and also teaches proper utilization of a tourniquet, even conducting surprise tourniquet installation drills throughout the class. He, likewise, goes into great detail regarding what supplies are, and are not, necessary in a personal med kit.
"A med kit needs to be lightweight, durable, compact and easy to use. You don't need to have a mobile trauma room on your drop leg kit, you just need to have access to the basic items necessary to save a life," Rohan said.

Additional sessions of Basic Hemorrhage Control will be held at the NRA Carry Guard Expo from 9:30 a.m. to 1 p.m. on Saturday, Aug. 26, 2017 and from 2 p.m. to 5:30 p.m. on Sunday, Aug. 27, 2017. As a word of warning, the class is not for the faint of heart, as Rohan uses several graphic photographs and videos of wounds as part of the presentation.
"No one should ever bleed out—bleeding control is super simple and its easy to learn and its training that everyone should have," Rohan said. "We want to make this as easy as possible, so our motto in teaching it is "Simplicity under stress."
For more information on Dark Angel Medical, visit darkangelmedical.com