by
posted on October 23, 2014
Support NRA American Rifleman
DONATE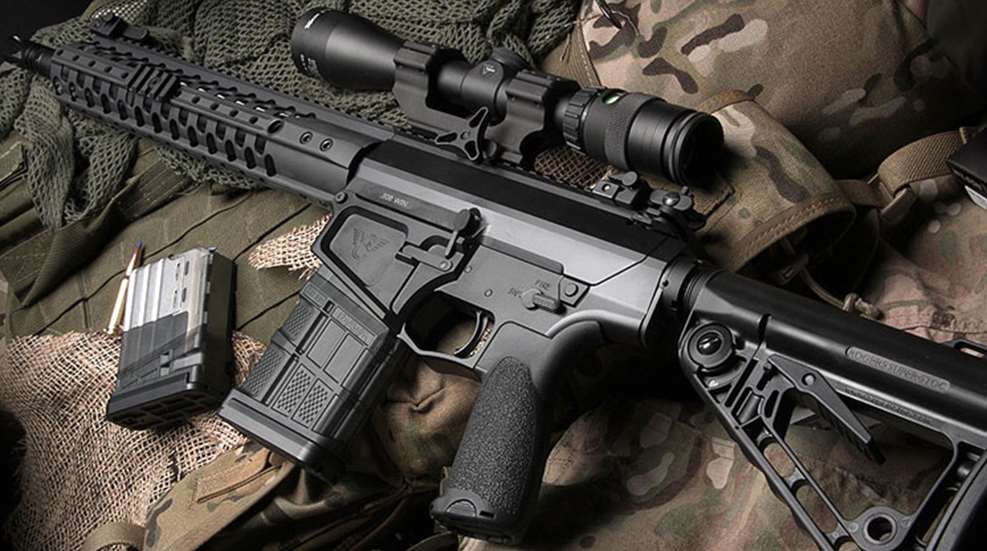 Wilson Combat has announced its new, large-format BILLet-AR rifles in .308 Winchester, suitable for a variety of tactical and outdoor roles. This rifle has been enhanced with custom features such as precision machined Match Grade barrels, a T.R.I.M hand guard rail and crisp Tactical Trigger Units.
The rigid but lightweight BILLet-AR receiver has allowed the company to build the lightest .308 frame AR on the market—a 7.7-pound Tactical Lightweight Model that has a lightweight 14.7" barrel and pinned muzzle device as standard.
Medium, Recon profile 16" and 18" fluted or standard barrel models are also available for shooters seeking maximum precision and all around long-range performance in a slightly heavier, but still portable, package.
The BILLet-AR receivers have been designed to accept commonly available metal or polymer "SR-25" pattern magazines, and are offered in numerous finish options, muzzle device, various rail lengths and with other custom features. MSRP for the basic model starts at $2,995.
A note from Bill Wilson on the Wilson Combat website reads:
"The goal of the Wilson Combat team was to design and build a premium quality lightweight .308 platform carbine that is accurate and reliable with minimum weight and bulk. I think we have successfully achieved our goal.
Personally I have never been a fan of the .308 platform AR due to weight and a lot of square edges on the ones I've handled. I believe the Wilson Combat design team has resolved these issues and produced an extremely user friendly carbine.
Even though AR carbines in 5.56, 6.8 SPC and .458 SOCOM do most of what I need in a ranch rifle, the added range with knock down power of the .308 will certainly come in handy from time to time."—Bill Wilson
For more, visit WilsonCombat.com.