Gallery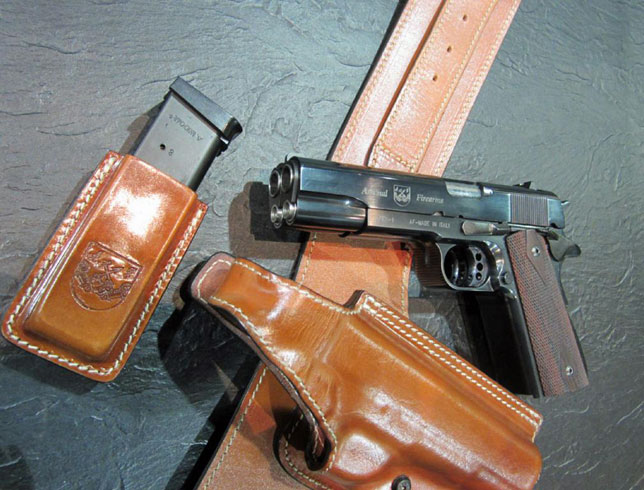 Arsenal Firearms AF2011-A1
The shooting community was certainly stirred up in 2012 when Arsenal Firearms announced the launch of the AF2011-A1 double-barrel 1911 pistol. Folks were quick to share their opinions of the pistol before they even got a good look at it. The very first sample of the gun to make it into the country was on display at NASGW. Surprisingly comfortable to hold, the wide backstrap of the grip seats firmly in the hand and feels great, but as might have been expected, the slide is tough to cycle. On November 14th, the U.S. Department of Justice, Bureau of Alcohol, Tobacco, Firearms and Explosives (BATFE) officially granted import permission and sale in the United States for this unusual handgun. Arsenal is already thinking about new variations of the 2011, just in case an "ordinary" double-barrel 1911 isn't exotic enough.

Winchester Super X Pump Marine Defender
A defensive shotgun designed for harsh maritime environments is not a new idea, but Winchester Repeating Arms will be offering a new Super X Pump Marine Defender in 2013 that certainly deserves a look from those in the market for a self-defense scattergun. Features include an Inflex Technology recoil pad, hard-chromed chamber, matte-chromed barrel and magazine tube, and a removable Tru Glow fiber-optic sight. The barrel is threaded to accept the Invector-Plus choke tube system and arrives with a cylinder bore choke installed.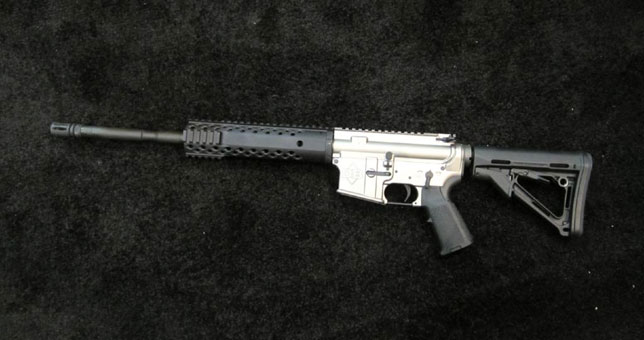 Diamondback Firearms AR-15 Rifles
Known for its popular little pocket pistols, Diamondback Firearms will be launching a new line of DB15 AR-style 5.56/.223 rifles. These gas-impingement rifles will be American made using components machined in Diamondback's CNC facility. The DB15 rifle will feature a modified Diamondback aluminum four-rail handguard, a variety of stock options and finishes like the Nickel-Boron two-tone (shown).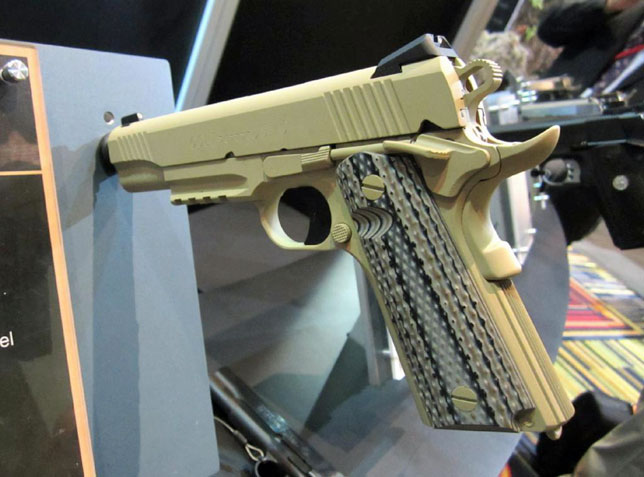 Colt CQB 1911 .45 ACP Pistol
Colt's Manufacturing LLC has a contract to provide the U.S. Marine Corps with an ultra-reliable, accurate 1911 pistol. Every shipment of the Close-Quarters Battle (CQB) 1911 sent to the military has to pass the same rigorous testing process used to qualify the pistol to win the contract. The exact same pistol our service personnel receive will be made available in 2013 (in limited numbers) to the civilian market through Colt's custom shop. It won't be as easy to get as some 1911s, but it will certainly be worth the wait.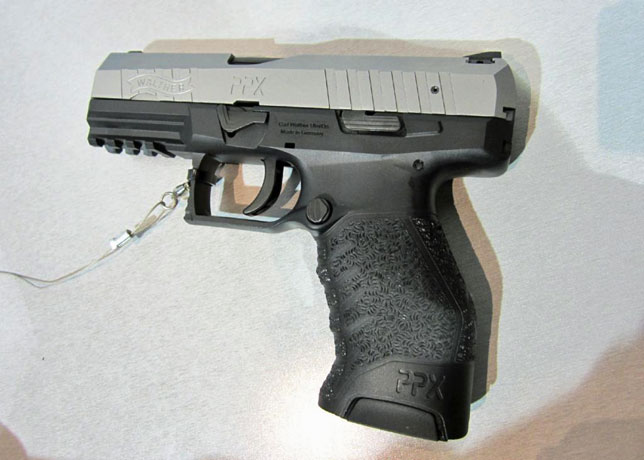 Walther PPX Pistol
Walther is announcing a new hammer-fired, polymer-frame semi-auto pistol called the PPX. Designed to fire double-action-only, the PPX offers a consistent trigger pull for each shot. Internal safety features include a firing pin block and two drop safeties. Look for this pistol to be chambered in 9 mm or .40 S&W, with a matte black or silver slide, three dot sights and a Picatinny accessory rail.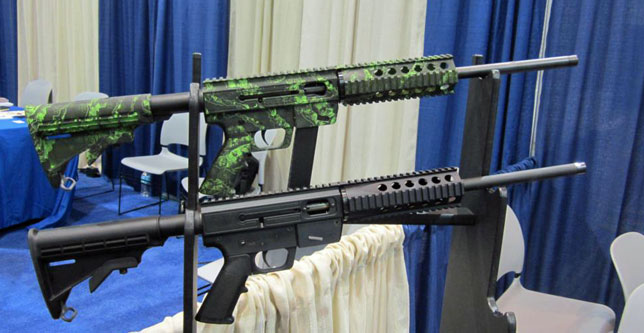 Just Right Carbines
Just Right Carbines will be launching a new configuration of its lightweight .45 ACP carbine. The latest version of this blow-back operated, AR-style rifle is designed to accept single-stack 1911 magazines. This cross-compatibility with the 1911 pistol provides a handy rifle option for plinking and home defense for those who already have plenty of 1911 magazines. New printed finish options will also be available.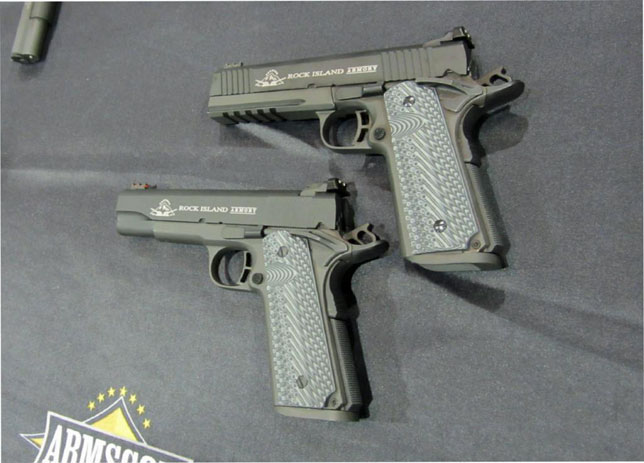 Rock Island Armory 10 mm 1911 Pistol
Armscor USA will be expanding its Rock Island Armory line of 1911 pistols to include two models chambered in 10 mm. One will have a tactical accessory rail while the other will offer a traditional 1911 profile. Both all-steel, full-size pistols will feature a matte-black finish, fiber-optic sights and G10 grip panels.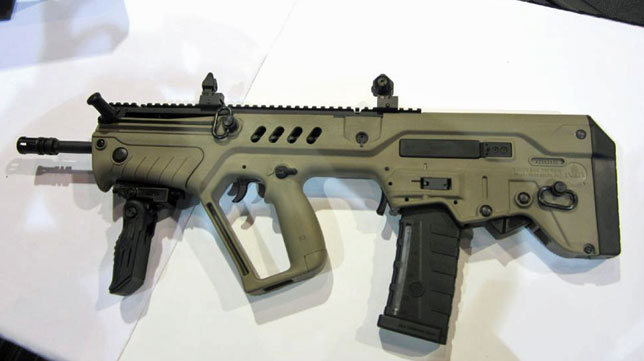 IWI Tavor SAR Bullpup Rifle
Bullpup rifles offer accuracy in a compact, handy package. The new Tavor from IWI features a high-strength polymer body, a 100-percent ambidextrous control configuration and 16.5 or 18-inch cold-hammer forged, chrome-lined barrels with a 1:7-inch twist. Chambered in 5.56/.223, this rifle accepts standard AR-15/M16 magazines. Conversion kits to switch the Tavor to 9 mm or 5.45 39 mm are planned.
Chiappa Triple Threat Shotgun
Last year, Chiappa Firearms fulfilled the dreams of movie fans with the 1887 T-Model lever-action shotgun.
1887 T-Model lever-action shotgun, based on the 12 gauge used in "Terminator 2." This year they're bringing an even more unusual shotgun to market, the Triple Threat break-action 12 gauge.
Is it an over-under-under, a side-by-side plus or a tri-barrel shotgun? Whatever it's considered, this scatter gun will be launched in three configurations, all with removable chokes. Models will include a sporting model with full length stock and barrel, a "coach gun" configuration with reduced-length barrels and a shoulder stock, and a pistol-grip defensive model (shown). The pistol grip version meets the federal regulations for barrel and overall length to be sold over the counter without the additional tax stamp.