by
posted on March 25, 2023
Support NRA American Rifleman
DONATE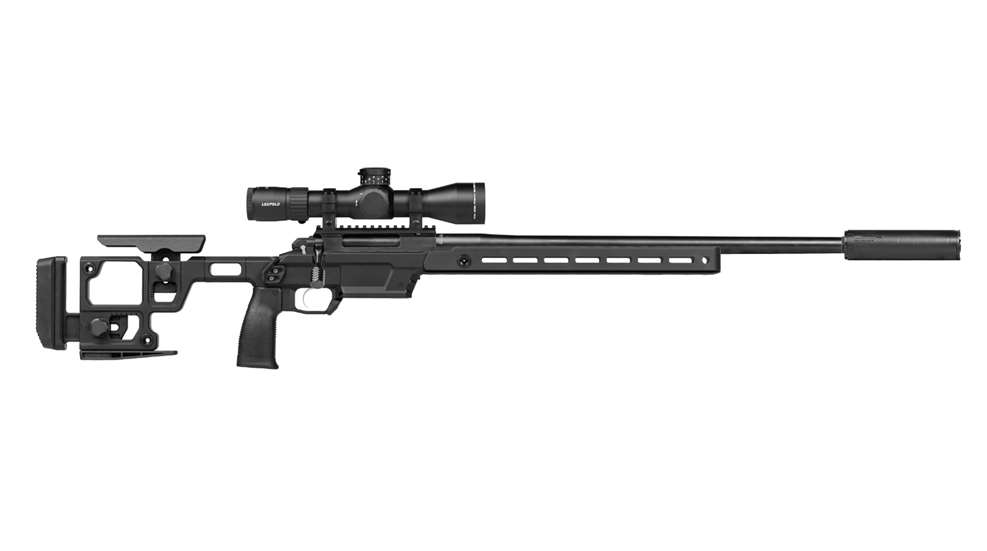 Few markets are as hot as Precision Rifle Series (PRS) shooting these days, a fact that has caused several manufacturers not known for bolt guns to jump into the fray. Add Aero Precision to that list. The company announced its new Solus bolt action line in late 2022, with final specifications and pricing released earlier this year.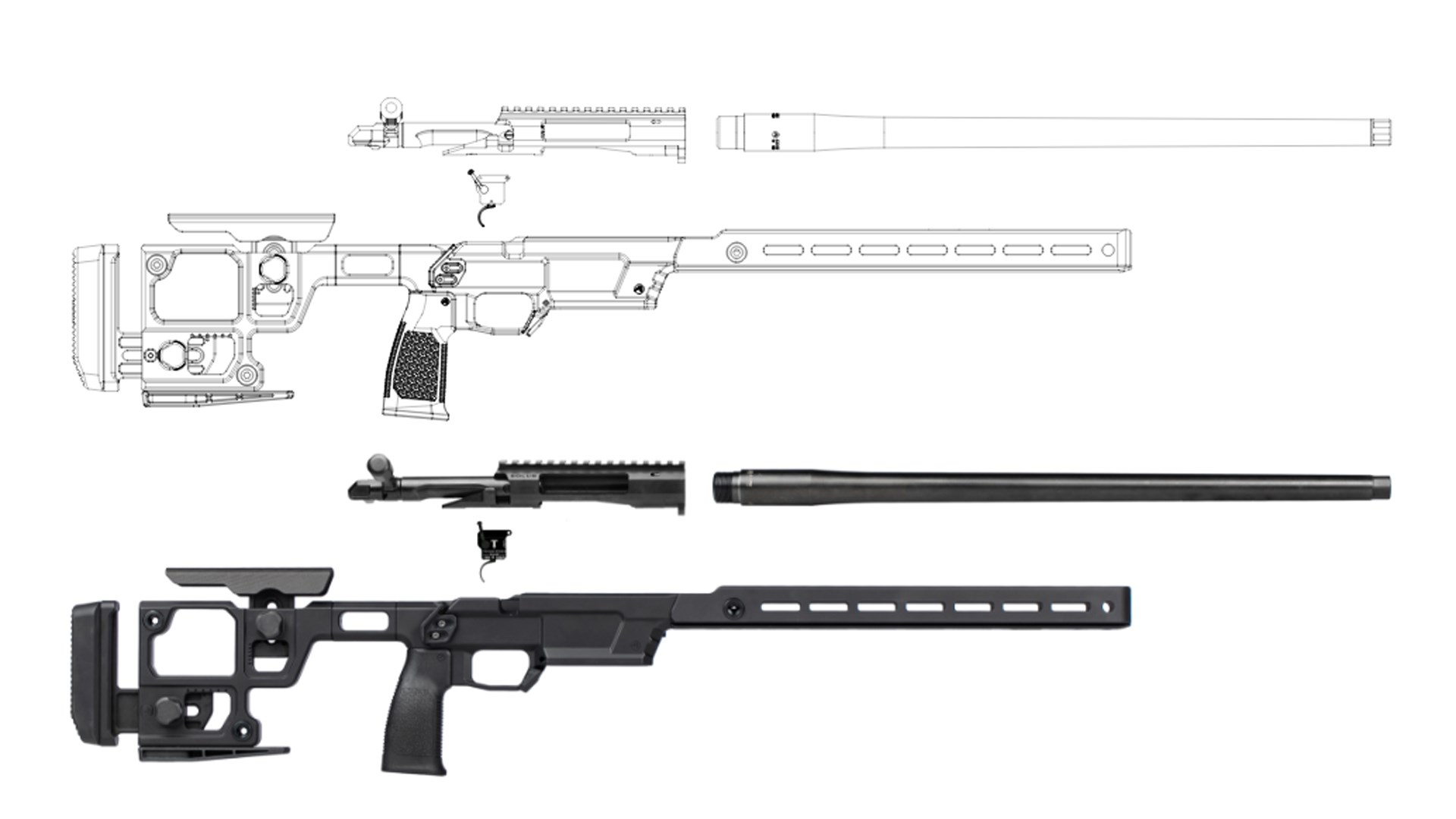 The Solus is a "shooting system" in which everything from individual components to complete firearms can be purchased. Image courtesy of Aero Precision.
The Solus is a shooting "system" that is offered as everything from a complete-out-of-the-box firearm to a stripped action, allowing the end user to mix and match for customization. The Solus system is based around the company's short action, which is designed to feed cartridges of up to 3.00" OAL. Its one-piece design is machined out of 416 stainless steel with an integral recoil lug and an integral 20-m.o.a. scope base. The Solus' bolt is a cock-on-open design with a 60-degree throw and has interchangeable three-lug bolt heads sized for standard or magnum cartridges.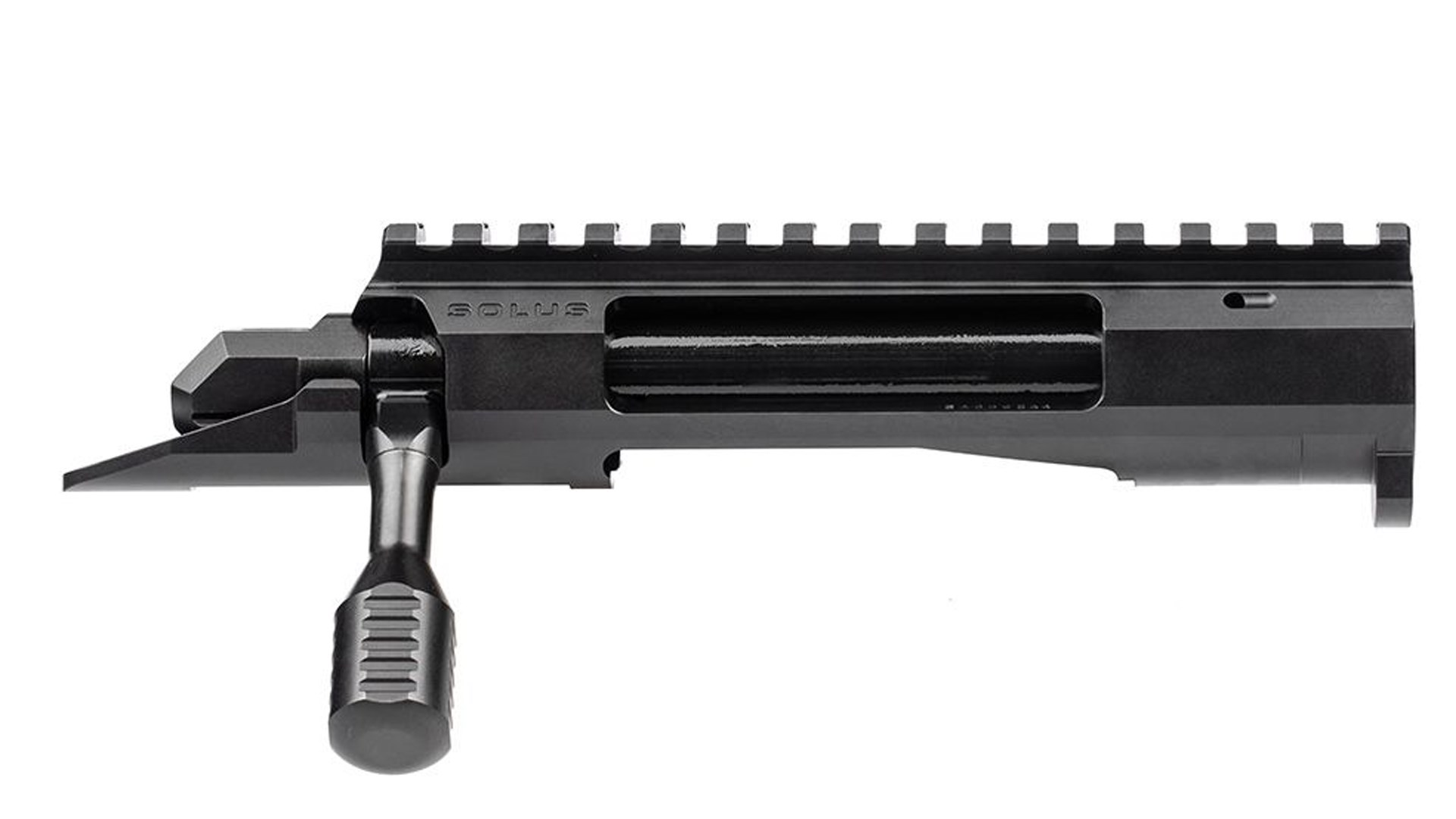 The heart of the Solus shooting system is Aero Precision's short action. Image courtesy of Aero Precision.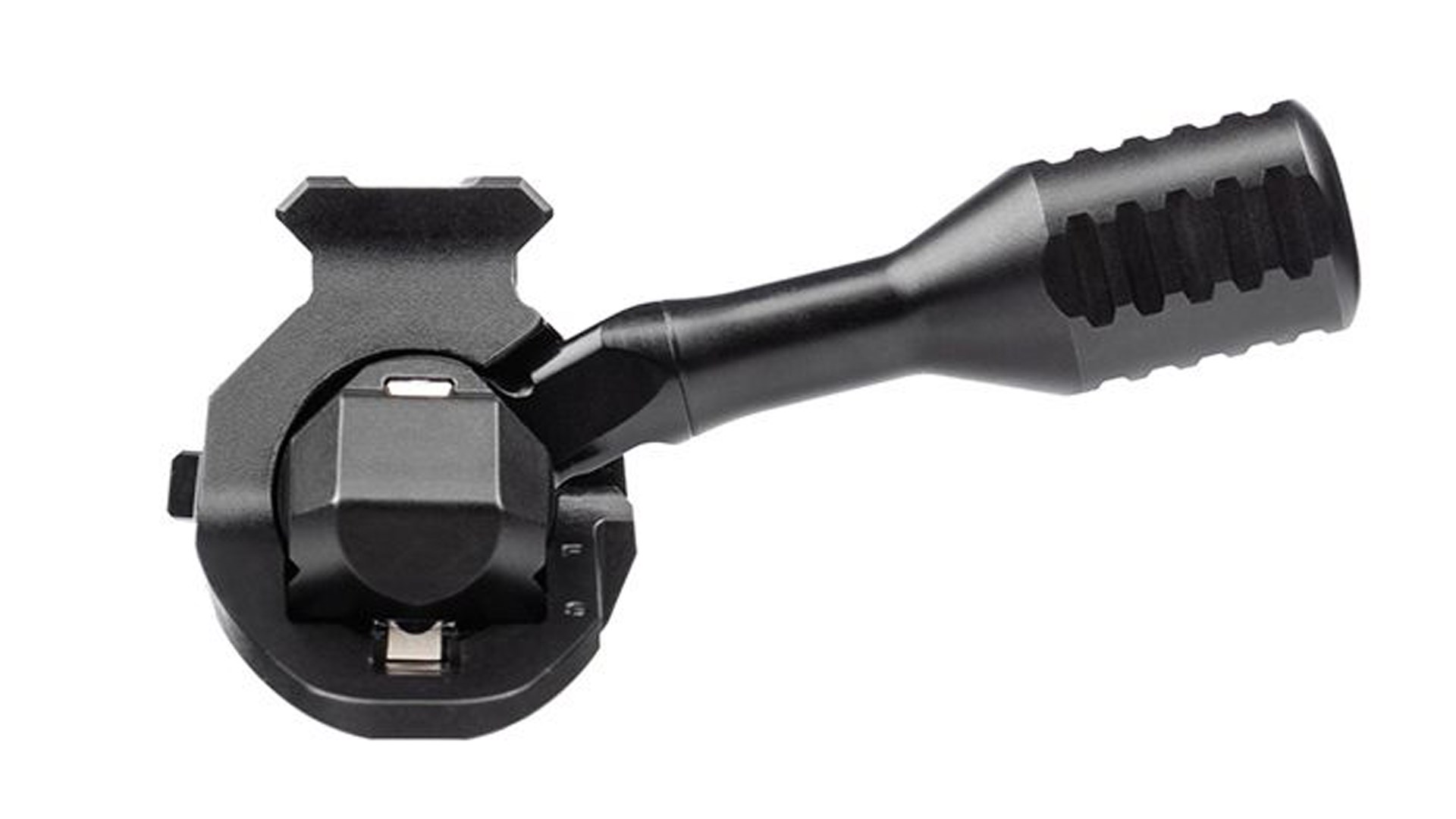 The Solus action uses a three-lug bolt with a 60-degree throw. Image courtesy of Aero Precision.
The Solus action uses a Remington Model 700 footprint, uses 700-compatible triggers (with hangar installation) and is threaded to accept small-shank Savage barrel threads (using Savage barrel nuts or Zermatt Arms prefits). Compatibility with industry standard pre-fit and drop-in components is what is known in PRS jargon as "open-source" and "user-configurable." As Aero Precision states, the Solus system "removes many barriers to entry often associated with custom rifle builds, allowing the shooter to build a system that is specific to their needs."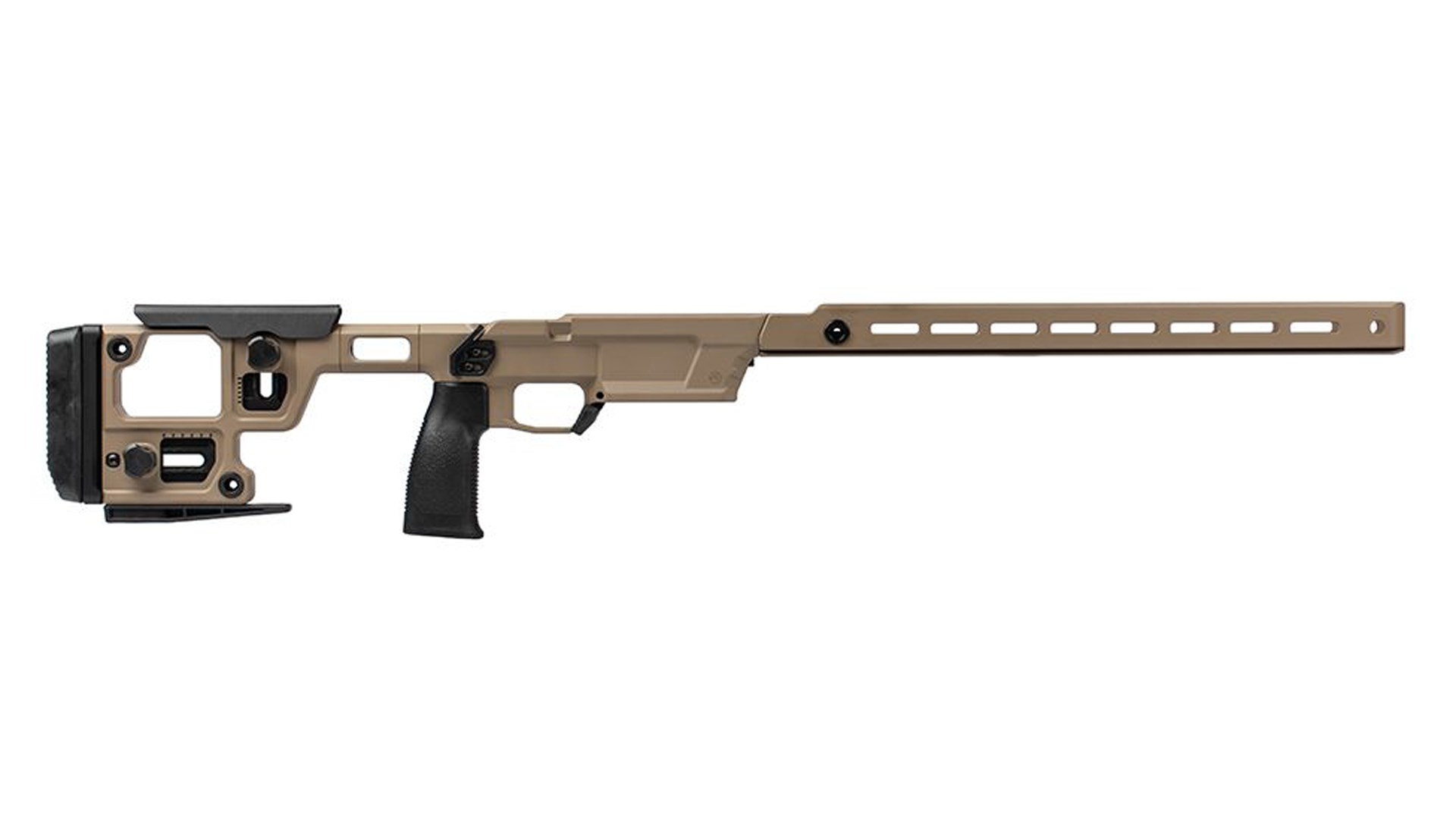 Aero Precision designed its own chassis for the Solus system. Shown is the model with a 17" fore-end in Magpul FDE Cerakote finish. Image courtesy of Aero Precision.
In parallel to developing the Solus action, Aero Precision designed its Competition Chassis. The chassis is machined from 7075 and 6061 T6 alloy. It uses AICS/AIAW pattern magazines and has an ambidextrous magazine catch that is adjustable to accommodate magazines from various manufacturers. The fore-end can be had in lengths of 7.5", 15" and 17" and features M-Lok slots and ARCA Swiss compatibility. It fits AR-15-style grips that don't have a tang. On the buttstock, length-of-pull, cheekrest height, buttpad cant and thumbrest are all adjustable, and it features a "bag rider" and multiple quick-detach swivel sockets. The buttstock is currently only offered in a fixed configuration, though a folding option will be available in the future. Accessories offered for the chassis include a night-vision bridge and bipod spigot.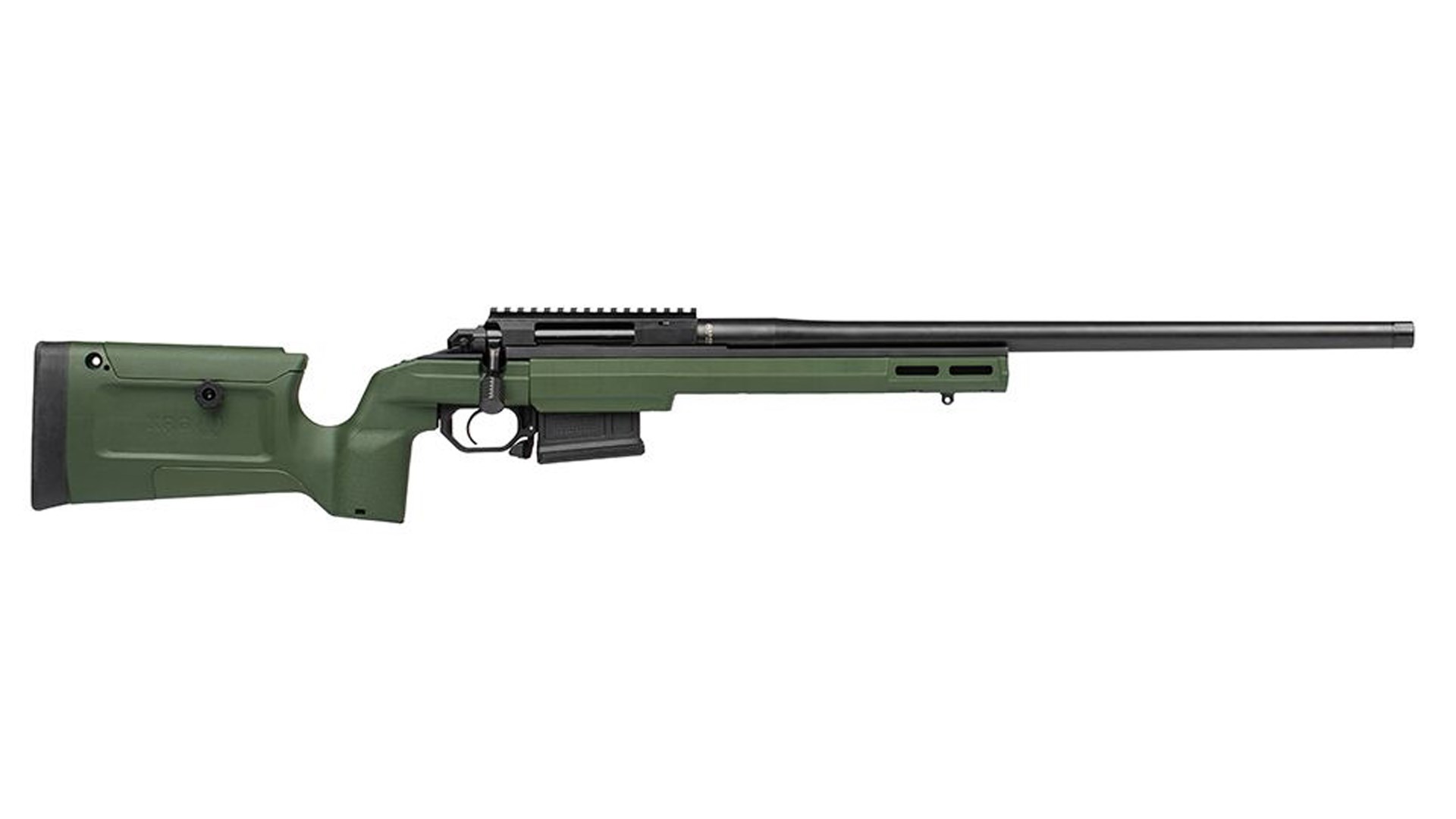 The Solus Bravo rifle uses a KRG chassis, shown in a Sako Green color. Image courtesy of Aero Precision.  
Aero Precision is currently offering two complete Solus rifles. Both use the Solus action paired with a 6.5 mm Creedmoor-chambered 22" Ballistic Advantage Sendero-profile honed-and-lapped barrel with its muzzle threaded 5/8x24 TPI. The Competition Rifle pairs this with a TriggerTech single-stage trigger and places it in the company's Competition Chassis. It weighs 11 lbs. The Solus Bravo is offered in a Kinetic Research Group (KRG) Bravo aluminum and polymer chassis, which gives a more traditional profile for the hunter or recreational shooter and uses the company's Solus single-stage trigger. It tips the scale at just over 9.5 lbs. 
The MSRP for the Solus Competition Rifle is $1,999, a price point that puts it under the limit for "Production Class" categories in rifle competitions. The Bravo model retails for $1,624. All complete Solus rifles come with a sub-m.o.a. guarantee. The basic Solus action is $899, and the Competition Chassis is $779 to $869, depending on options. Barreled Solus actions and compatible barrels will be released in the near future. For more information, visit aeroprecisionusa.com.