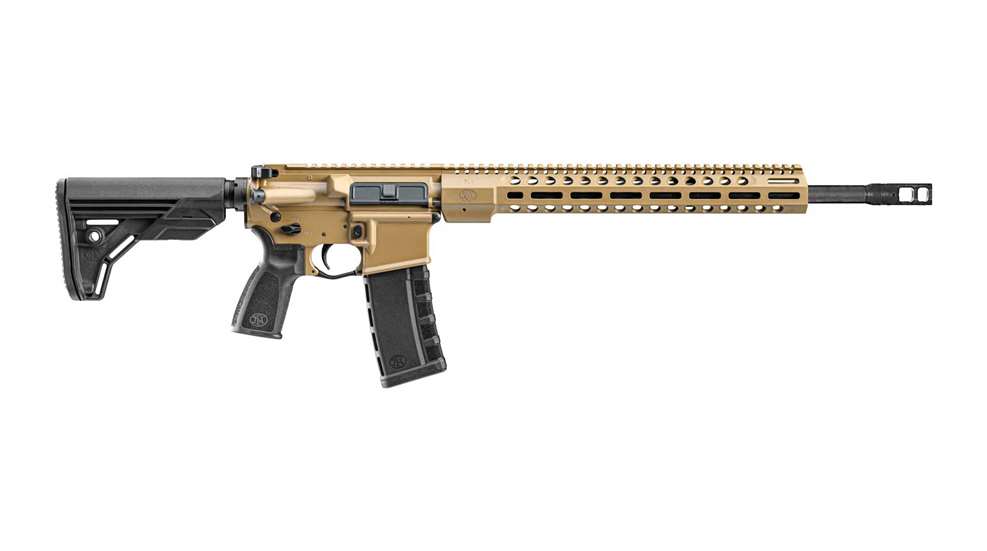 FN America expanded its FN 15 rifle lineup in 2022 with three new designated marksman rifles, each with its own unique finish. In addition to the finish options, the FN 15 DMR3 rifles are also loaded with features designed to enhance accuracy and reduce recoil, giving enthusiasts greater capabilities in getting rounds on target quickly.
Built with a cold hammer-forged barrel measuring 18" long and featuring a 1:8" twist rate, the FN 15 DMR3 includes a rifle-length gas system that reduces recoil, as well as softens wear on internal components for a long-lasting service life. A low-profile gas block sits underneath a 14 5/8" aluminum handguard complete with M-Lok attachment slots and a full-length Picatinny rail for optics and accessories. The handguard is built with Hodge Defense's wedge-lock system, which free-floats the barrel and combats deflection to sharpen accuracy.
To ensure that users can stay on target for fast, accurate follow-up shots, the FN 15 DMR3 is topped with a SureFire ProComp muzzle brake. Additionally, the rifles are built with Geissele two-stage triggers to further sharpen the gun's performance downrange. The triggers feature a first-stage pull measuring from 4 1/4 to 4 3/4 lbs. and a second-stage pull from 2 3/4 to 3 lbs. Other upgrades include a Radian Raptor-LT ambidextrous charging handle and Radian Talon ambidextrous safety selector, as well as FN's own pistol grip and six-position carbine stock.
Each FN 15 DMR3 rifle is built on the company's forged aluminum receiver set and comes with an M16-style bolt carrier topped by a magnetic-particle-inspected bolt. Unloaded, the rifle weighs 7.4 lbs. and measures 35 1/4" to 38 1/2" long, depending on the stock position. Each rifle also ships with a single 30-round, standard-capacity magazine produced by FN. Suggested retail pricing on the new rifles start at $2,152. For more information, visit fnamerica.com.