posted on December 25, 2018
Support NRA American Rifleman
DONATE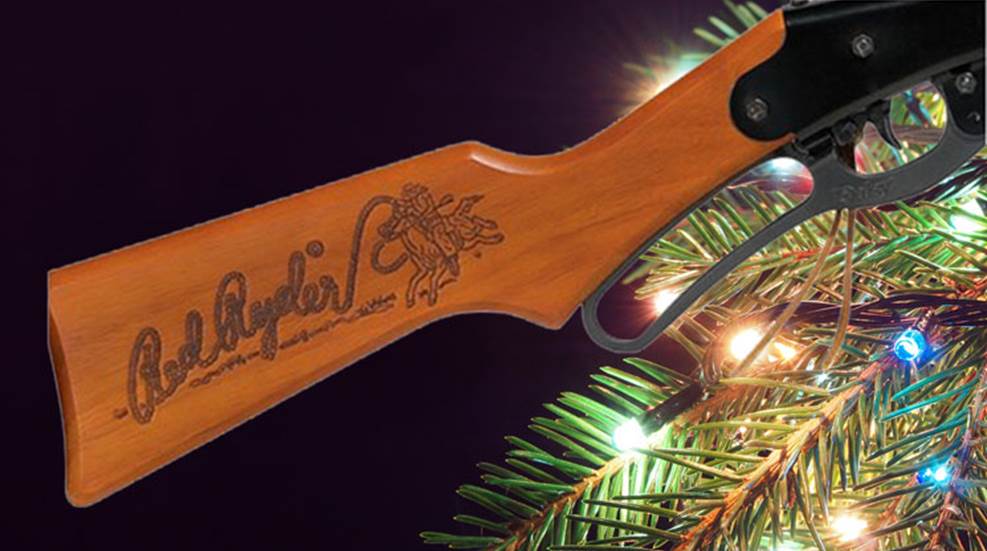 This article was first published in the September 2009 American Rifleman.

Reining my horse at the edge of the woods, I peered into the tangle of undergrowth, motionless, listening for any telltale sound of the bushwhackers. A bluejay's scolding bark presently told me they were in there, all right, and to be ready for a shootout.
Better, I thought, to slip in on foot and try to get the drop on them before they saw me. I leaned my horse against a tree and checked my guns. Coils of dark-red paper showed that both revolvers were loaded with fresh rolls. I chambered a round in my rifle, working the lever as quietly as I could. I'd use the .45s if the fight came to close quarters, but to take on the enemy, I'd stake my life on the carbine that had never let me down.
Dropping my hat next to the horse, I pushed silently into the brush, moving from tree to tree ...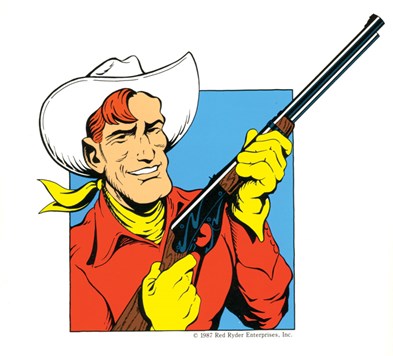 That I am alive to tell the tale is a result of having been an expert woodsman and a seasoned gunfighter. Though a deadly shot with the revolvers from either hand, I relied mainly on the carbine against assorted desperadoes, enemy soldiers and dangerous game of every description. I shudder to think of how I might have ended up but for my trusty Red Ryder.
The Red Ryder story begins in January 1882, when the Plymouth Iron Windmill Co. of Plymouth, Mich., incorporated for the purpose of manufacturing—what else?—iron windmills designed by watchmaker Clarence J. Hamilton. As most windmills at the time were made of wood, sales were decidedly underwhelming, and by 1888 the company was on the verge of collapse.
Air rifles, too, were mostly wooden in those days, but the inventive Hamilton made one of metal, built to fire a standard No. BB shotgun pellet, and showed the prototype to L.C. Hough, the firm's general manager. Impressed with its power and accuracy, Hough reportedly exclaimed, "It's a daisy!"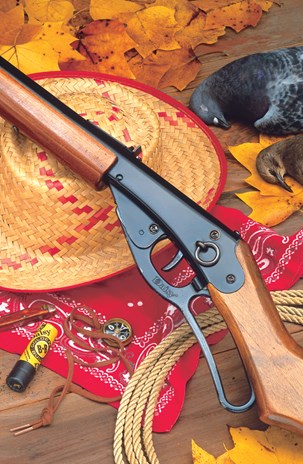 Hough's notion was to manufacture the Hamilton rifle as a premium for farmers who bought iron windmills. But the farmers were more interested in the rifles. By 1890 Plymouth Iron Windmill had built, and given away, about 50,000 of them—at which point Mr. Hough decided they might just be onto something.
The company started selling rifles the following year. Business proved so lucrative that in 1895 Plymouth Iron stopped fooling with windmills altogether and changed its name to Daisy Manufacturing Co.—thus becoming gunmaker extraordinaire to generations of boys.
By 1899 Daisy had built and sold 170,000 BB guns; a year later, the number approached a quarter-million. As they sold at $1 to $3 apiece, the cash-flow was pleasingly healthy. In 1929 the company started marketing its own ammunition—proprietary iron pellets trade-named "Bull's-Eye."
In the 1930s Daisy struck up promotional partnerships with a number of Western-movie stars—among them were Buzz Barton, Buck Jones, Davy Crockett, Zorro and Annie Oakley. The most successful of all, however, involved a fictional character—adventure-comic hero Red Ryder.
"America's favorite cowboy," Red Ryder was the creation of Stephen Slesinger. Colorado cartoon artist Fred Harman wrote the storylines and drew the artwork. By the late '30s the strip was syndicated in more than 300 newspapers around the country. When Harman hatched the idea of a Red Ryder-brand air pistol, Daisy was the obvious choice to manufacture it. But after looking over Harman's wooden model, Daisy President Cass Hough suggested a rifle instead. The Daisy No. 111 Red Ryder Carbine went into production in 1938.
It was pure Wild West, in the image of Winchester's lever-actions, complete with saddle ring and rawhide thong, wooden stocks, and copper bands at the fore-end and muzzle. It held 1,000 shots.
"Out of the Golden West, RED RYDER brings YOU this beautiful new GOLDEN-BANDED Daisy," the advertising announced. To which Red himself added, "My NEW lightning-loader repeater has a heap o' NEW FEATURES – LOOK 'EM OVER!" "IT'S REALLY YOURS," says Red's Indian sidekick, Little Beaver, "for only $2.95!"
Well, who could resist, then or now? Except for a hiatus during World War II, the Red Ryder has been in production ever since—and when postwar manufacture resumed in 1946, sales reached $1 million per year almost immediately.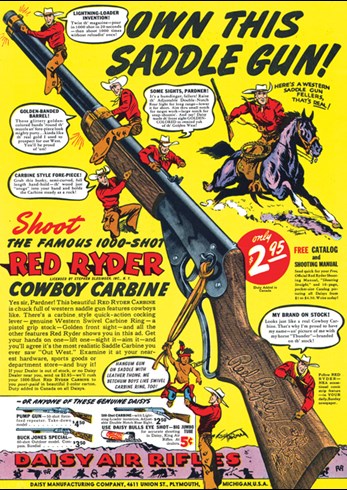 Oddly, I cannot remember exactly when my father gave me my Red Ryder. I believe I was about 5 at the time, so it may have been the Christmas of 1950—and to boys of my generation, a BB gun was the ultimate Christmas present. Even finding a .22 rifle under the tree, as most of us eventually did, couldn't surpass the thrill of a Red Ryder emerging from Christmas wrap.
If the occasion has faded from my memory, the gun itself has not. It was a 1947 model, with wooden stock, blue-steel barrel bands and black-painted aluminum cocking lever. (Like the pre-war model, the 1946 version had a cast-iron lever; the aluminum one appeared in '47.)
I loved it. I can't even begin to tell you how many five-cent tubes of BBs I shot through it—but I eventually wore every speck of paint off the lever. With it, I learned to handle a gun safely and to be responsible about what I chose to shoot. It and I were inseparable—except on the day my parents took me to the doctor's office to have my tonsils removed (which was a common office procedure in those days). I got to wear my six-shooters, but Dad drew the line on carrying my Red Ryder as well.
The earliest versions had an adjustable rear sight, but on those built between 1946 and 1953 the rear sight was fixed. This proved something of a problem, because mine didn't shoot exactly where the sights showed it would. I solved that when I discovered I could actually see the BB in flight; I stopped using the sights completely, and just pointed it instinctively. I sometimes wonder if those thousands upon thousands of shots weren't the real foundation of my ability to hit things with a shotgun.
Not that I was any great shakes at hitting moving objects with BBs—and I was into real shotguns by the late '60s when the brief instinctive-shooting craze had guys knocking aspirin tablets out of the air with BB guns—but I was no slouch with my Red Ryder. I kept my grandfather's herd of barn cats well fed on English sparrows and the occasional starling, and whenever Grandad took the last pinch of Key snoose, he gave me the empty can to skip around the barnyard till it was too riddled with holes to jump any more.
By edict from both my father and grandfather, songbirds were not game in my little world, but I remember taking a shot at one anyway. Out wandering around the farmyard, I spied a robin hunting worms in the grass along the driveway. Aha, I said to myself, I can make that bird fly, just as in my imagination I could make some gunslinger dance with bullets in the dust around his feet. Point, shoot—and wouldn't you know? I drilled the little sucker right in the side of the head and killed him dead as a hammer. I felt awful. The first barn cat I found certainly didn't mind the free meal, but even having the evidence safely disposed of didn't make me feel any better. It was a lasting lesson in the wisdom of never pointing a gun at something you don't intend to kill.
By the time I was 12 or 13, my Red Ryder was all but worn out, so I saved up some money and bought another. It actually shot better than the old one ever had, but the stocks were made of plastic and it just didn't have the same character. I had a shotgun and a .22, so my enthusiasm for BB-shooting was waning anyway—and discovering shortly after that girls were not such a pain in the neck as I'd always believed served to distract me even further.
I don't know what happened to either rifle. Browsing in junk shops, I keep an eye out for a Red Ryder that looks more than 50 years old, has no paint on the lever and an "M" scratched into the buttstock. I have dad's Model 95 Daisy, which he bought in his last years to persuade stray dogs against defiling his lawn. Every now and then, when I need a break, I take it out of the safe, step out of my office door, and pop a few pine trees—just to keep my eye in, just in case ... .
I can no longer see BBs in flight, but the "tack!" of an iron pellet against pine bark tells me I can probably still hold my own against a man-eating grizzly or a band of rustlers.



My Own Red Ryder—Finally
Growing up, my Uncle Mark had a Red Ryder—an early production Daisy with the copper band, new in the box. It was gorgeous and the object of my desire. The problem was it was too gorgeous and in the original box; most assuredly inappropriate for my then-small, grubby fingers. Like Ralphie Parker in most of "A Christmas Story," I was denied the "official Red Ryder carbine-action 200-shot range model BB rifle with a compass in the stock and this thing that tells time."
In retrospect, he was right and I had no business handling such a high-condition gun. But that's OK as I had daily access to a well-worn pump-action Daisy Model 25 and a lever-action Model 95. Both my sons pulled their first triggers with these airguns.
But Daisy's Red Ryder is available today, perhaps to a generation who has never heard of Stephen Slesinger and Fred Harmon's B-western and comic book hero. As an aside, several sources list the Daisy/Red Ryder partnership as the longest continual character licensing deal. Daisy's retro Red Ryder BB gun is still available and comes with a stained hardwood stock burnished with Red Ryder's signature and lariat.
The spring-air lever-action Model 1938 Red Ryder offered today has a 35.4" overall length, can hold up to 650 BBs (it makes quite a racket) and has a stamped steel receiver. But, yes, it still has the saddle ring complete with leather thong. There are several versions—including "A Christmas Story" Commemorative—but the Red Ryder remains easily affordable, starting at around $60. After all these years, I had to get the real deal, in retro packaging, new in the box, complete with reprint of the 1947 comic. Next time my Uncle Mark comes over, I might even let him shoot it.
—Mark A. Keefe, IV, Editor in Chief

Red Ryders are available from Daisy; daisy.com

.