by
posted on February 6, 2021
Support NRA American Rifleman
DONATE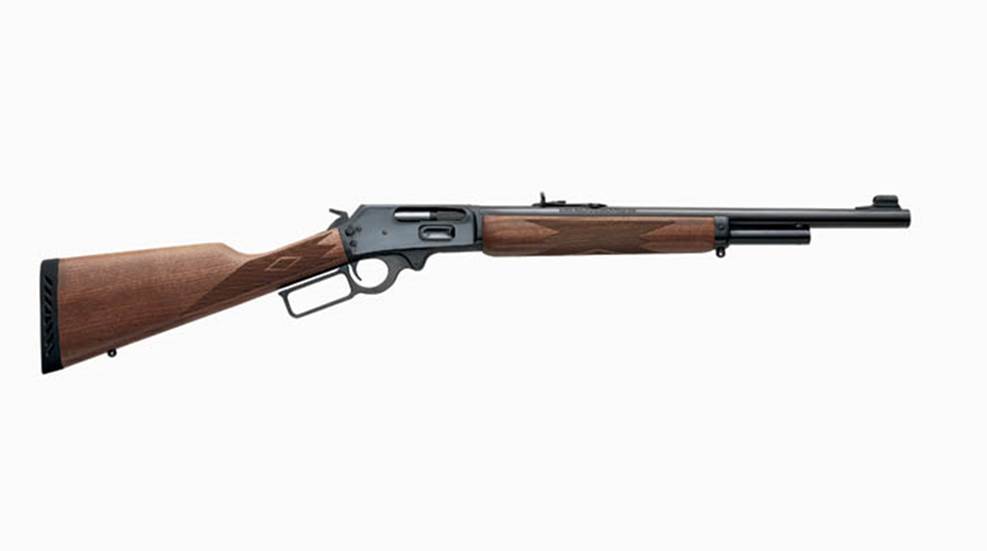 Lever-action rifles carry mystique. There's no denying the Old West feel of a quality model in hand and the timeless look is hard to beat—whether at the range or lounging proudly on the wall. They aren't semi-auto fast, most don't lend themselves to modern modularity and then there's cartridge selection, where care must be taken in bullet choice due to the way cartridges stack in a tubular magazine.

Yet, there's something about them. Unfortunately, when you shop around, it doesn't take long to discover vintage models can be expensive, and finding one in good condition is getting tougher by the day. Add the fact that not everyone is comfortable carrying a lofty investment on opening day or to every range session, and gun owners are always in the market for a modern alternative every bit as attractive and functional.

Marlin's answer came in 1972 when it reintroduced a Model 1895 lever-action repeater. It was beefier than the original, although the name was the same. The company discontinued the previous version a few years before 1920. Less than 20,000 were made.

The new Marlin Model 1895 proved to be vastly more popular. Last year, it was the No. 1 lever-action rifle sold by FFLs using the services of GunBroker.com—for the third year in a row and almost 50 years after the first one rolled out of the factory. The number of configurations available were another reason for the popularity. Models were produced with synthetic stocks, traditional wood and even laminate. Metalwork options included blued, black, stainless and, with side ejection, scope mounting was a popular modification. The company was wise enough to even offer a couple models with a section of receiver-mounted rail to make the process fast and efficient. All were chambered in .45-70 Govt.

Remington assumed ownership of Marlin in 2007, but last year, it filed for bankruptcy. Sadly, 2020 also marked Marlin's 150th anniversary, although the label has found good reason to celebrate again in 2021. It's now part of Ruger, and the company has pledged to honor the name and uphold the tradition enthusiasts have come to respect.

American Rifleman's Mark Keefe covered the increasing popularity of lever actions in October, as well as Marlin's upcoming production resumption under new ownership. Ruger President and CEO Chris Killoy said after the acquisition, ""The important thing for consumers, retailers and distributors to know at this point in time is that the Marlin brand and its great products will live on. Long Live the Lever Gun."

Enthusiasts can expect new Marlins to arrive on shelves sometime this year. The company already has a website up, although model details and MSRPs are not yet available. Prices for 1895s on GunBroker.com right now are running about $1,000 and up, though, depending on condition. Many are being listed as soon-to-be collector's items because they were produced by Marlin when it was under the Remington corporate umbrella.