Support NRA American Rifleman
DONATE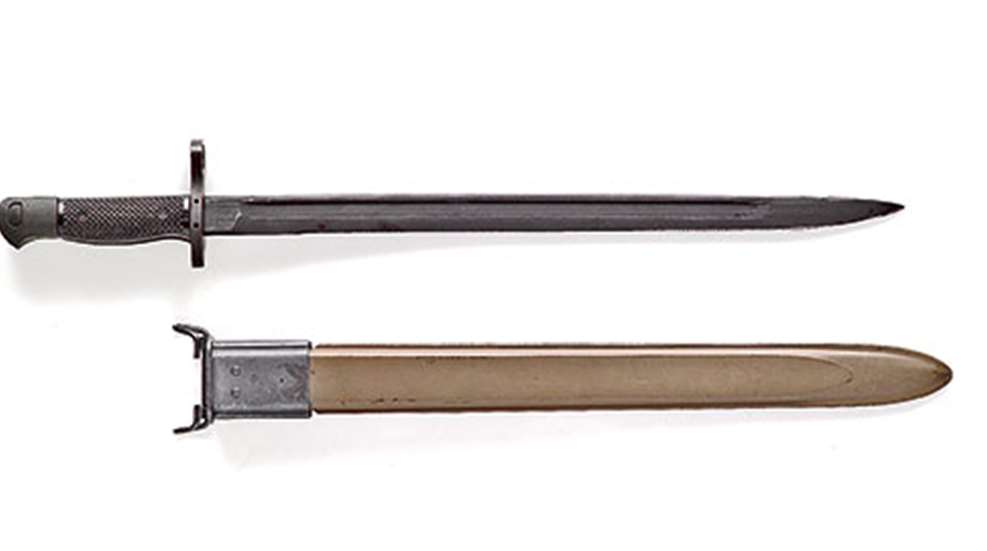 Q: I recently bought an M1917 bayonet for display with my Remington M1917 rifle.  My bayonet differs somewhat from the other WWI M1917 bayonets I've seen. The only markings are "M1917" and a small "AC" (or "CA") on the guard.  Is this a real M1917 bayonet and is it correct for my World War I rifle?
A: Your M1917 bayonet was made in the 1960s by Canada Arsenal for use with U.S. military shotguns fitted with bayonet adapters.  As surprising as it may seem, until the late 1960s, the M1917 was the only bayonet standardized for military shotguns.  When the M1917 rifle and bayonet were adopted in 1917, the bayonets were manufactured by Remington and Winchester.  The M1917 bayonet was also used with the 12-gauge "trench guns" during the First World War.  Even though none were made after early 1919, the supply of the WWI-era bayonets was sufficient to meet the demand for almost the next 50 years.
After the M1917 rifle was withdrawn from service following WWII, the M1917 bayonet remained a standardized item for issue with military shotguns.  By the time of America's active involvement in Vietnam, the supply of M1917 bayonets was depleted, so contracts for new M1917 bayonets were given to two entities, General Cutlery of Fremont, Ohio, and Canadian Arsenals Limited, Long Branch, Canada.
The Vietnam-era M1917 bayonets differed in several respects from the WWI bayonets. The blades were not as well made, the guards were pinned to the blade and black plastic grips were used in lieu of the walnut grips found on the earlier bayonets.  The guards were marked with the name of the maker; "GEN CUT" (General Cutlery) or a smaller "A" enclosed in a larger "C" (Canadian Arsenals) along with a "Defense Acceptance Stamp."  Rather than the green leather scabbards utilized with the WWI bayonets, these bayonets were issued with a composition (plastic) scabbard similar to the type adopted in late WWII.  Your bayonet would not be proper for display with a WWI M1917 rifle since its use was restricted to "trench shotguns" in inventory after the mid-1960s.
–Bruce N. Canfield
Originally published November, 2006