Support NRA American Rifleman
DONATE
Since 1953, Ruger's Single-Six has provided single-action revolver fans with a just-the-right-size rimfire wheelgun for carry in the field. The frame, cylinder and barrel diameter have all been reduced in size to trim away unnecessary weight and bulk, while the full-size grip and long barrel (5.5 to 9.5 inches) provide top-notch accuracy, ammunition velocity and comfortable shooting for new and seasoned shooters alike.
One of the first single-action revolvers I owned was a 5.50-inch barrel stainless steel Single-Six convertible with two 6-shot cylinders, one chambered for .22 LR and the other for .22 Mag. I can safely say it was this particular revolver that cemented my appreciation for the excellent balance and crisp trigger of the single-action wheelgun platform. Not too long ago, Ruger started releasing re-designed Single-Six models with an increased ammunition capacity demarcated by changing the number in the name. The frame, grip and barrel dimensions are all the same but only one cylinder ships with the gun. The first was the Single-Ten fitted with a 10-shot .22 LR cylinder and fiber optic sights, followed by the Single-Nine chambered in.22 Mag.
This year, Ruger has teamed up with Lipseys to provide a new exclusive version of this revolver called the Single-Seven, which is chambered for the .327 Fed. Mag. cartridge. Although Ruger has offered other models in .327, including a 6-shot SP101, 7-shot GP100, 8-shot Blackhawk, and they have had a few models of the Single-Six chambered for .32 H&R Mag., this is the first time a Single-Six style wheelgun and the .327 Fed. have worked together. As the name implies, it has a 7-round capacity. This sounded like an intriguing combination.
I started looking for a holster that would be a good fit for this revolver's appearance and purpose. A handsome wood-gripped single-action deserves to ride in a high-quality leather holster that's comfortable to wear for walks in the woods. El Paso Saddlery provides an updated version of the tanker shoulder holsters of World War II. They are designed to hold handguns by the upper left or right side of the wearer's chest. This keeps the gun out of the way, but easily accessible, when hiking, horseback riding or shooting long guns. The Tanker rig is available for semi-autos and revolvers with 5.50 to 8.75-inch barrels, including the Single-Six series. The holster shown here has been fully lined and embellished with El Paso's Frontier Floral carving. It is as beautiful to look at as it is comfortable to wear.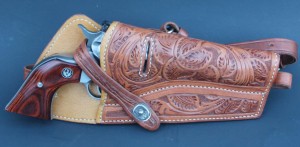 The Single-Seven will be made available from Lipseys' authorized dealers with 4.63-, 5.50- and 7.50-inch barrels. For this test, the 5.50-inch barrel model was used which has an overall length of 11-inches and an unloaded weight of 36 ozs. The revolver features an all-stainless-steel construction with a satin finish, including the ejector housing. It is topped with a fixed serrated front sight and a fully adjustable square-notch rear sight. The unfluted cylinder rotates clockwise with the loading gate located on the right side of the frame. The Single-Seven is a New Model version, which means it employs a transfer bar safety system that allows the revolver to be carried with all seven chambers loaded. This safety system also eliminates the need to place the hammer in a half-cocked position when loading the cylinder.
As with other Single-Six models, the trigger guard, which is relatively small and rounded, houses a smooth-faced trigger. This trigger demonstrated a short, crisp stroke and broke with 3-pounds 9-ounces of pull. The grip is fitted with a set of smooth hardwood grip panels that have Ruger medallion inlays. Overall, the fit and finish of the Single-Seven was excellent with controls and features that all operated properly.
The Single-Seven is unusual because of the cartridge it's chambered for. The .327 Fed. Mag. was originally launched in 2008 by the Federal Cartridge Company in collaboration with Ruger. Their goal was to develop a smaller cartridge that would make room for additional chambers in a revolver's cylinder while providing performance somewhere in the vicinity of a lightly-loaded .357 Mag.
The .327 Fed. cartridge is topped with .312-caliber bullets in weights from 85 to 115-grains with listed velocities ranging from 1400 to 1500 feet per second. The cartridge case has the same external dimensions as the .32 H&R Mag. with the exception of being 0.125 inches longer. As a result, revolvers chambered for .327 Fed. can also fire .32 H&R Mag., .32 S&W Long, and .32 S&W cartridges.
The new ammunition was launched with fanfare and received a warm reception by professionals in the shooting community. In fact, the .327 Fed. went on to win the NRA Publications' coveted Golden Bullseye Award for Ammo of the Year. However, here we are six years later and the .327 Federal has slipped into near obscurity. As of this writing, Ruger's catalog is bereft of .327 offerings, with the exception of the new exclusive Single-Seven. Unfortunately, much like the .480 Ruger Super Redhawk, Ruger and Federal's endeavor suffered from marketing and public perception issues.
When the ammunition first became available, there were few guns in which it could be fired. By the time more revolvers arrived on the market, including offerings from Smith & Wesson, Taurus and Charter Arms, the ammunition supply was still limited. Add to this sense of scarcity the average Joe's lack of enthusiasm about adopting a caliber that was similar to the then-plentiful .38 Spl. and .357 Mag., exacerbated by a shrinking national economy, and you have a formula for a flop. However, the .327 gained enough of a following for Federal Ammunition to keep it in its catalog despite the lack of new guns for it. The cartridge is still alive and kicking with loads available in the American Eagle, Federal Premium and Speer Gold Dot lines.
Rather than lament the .327 Fed.'s merits and limitations, let's look at the results of giving the 5.50-inch barrel Single-Seven a full workout at the range. This included bench-rested accuracy testing at 25 yards with four of Federal's loads: Speer 115-grain Gold Dot hollow points, Federal Premium Low Recoil 85-grain Hydra-Shok jacketed hollow points, and American Eagle jacketed soft point loads with 85- and 100-grain bullets. The bullet velocity of these loads was checked using a Magneto Speed V2 Chronograph which employs a sensor that attaches to the barrel instead of resting several feet away. Finally, a few shots were fired into bare Clear Ballistics FBI gel blocks at 10-feet to measure both penetration and bullet expansion.
The Single-Seven ran flawlessly throughout the testing process. It loaded, fired and ejected everything it was fed. The odd number of chambers took a little while to get used to in setting a rhythm for ejecting spent cases. At first, I kept rotating the cylinder a little too far but I soon got the hang of it. Accuracy was solid with five-shot groups hovering right around the 3 to 3.50-inch mark. Although the muzzle flash and report produced by the .327 Fed. were on par with a .357 Mag. revolver, the felt recoil was moderate and comfortable to work with. Test ammunition velocities were on par with the published speeds averaging 1389 to 1523 fps.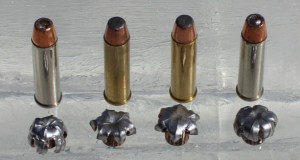 But the moment of truth came when the Clear Ballistics gel blocks came out of their boxes. All four loads exceeded the FBI minimum bare gelatin standard of 12-inches of penetration. Bullet depths ranged from 13.50 to 18.00-inches, with the slower expansion of the Hydro-Shok hollow point allowing it to travel the farthest. Removing and measuring the spent bullets from the gel showed that all three of the .312-caliber bullet types (JHP, JSP, GDHP) expanded to over 0.500-inches in diameter with the 100-grain American Eagle soft point showing the most expansion at 0.603-inches.
If you are already a fan of the .327 Fed., then the release of the Single-Seven should put a smile on your face. If this had been one of the first Ruger revolvers released in .327, it's likely the cartridge would have developed a greater following. This revolver and cartridge combination make for an ideal plinking, hunting, and defensive combination for those who would like more power without too much felt recoil. Once again, Ruger has me reaching for my checkbook.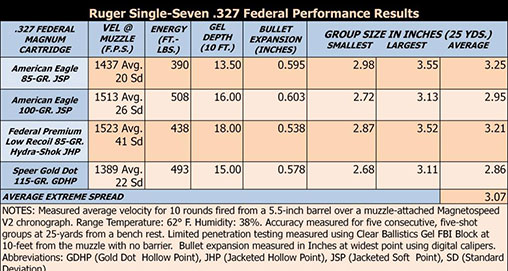 Lipsey's Exclusive Ruger Single-Seven .327 Fed Magnum Revolver
Manufacturer: Sturm, Ruger & Co., Inc.; ruger.com Distributor: Lipsey's [lipseys.com]
Model: Single-Seven (8160) Action: Single-Action Revolver Caliber: .327 Fed. Mag.
Finish: Satin Stainless Steel Grips: Smooth Hardwood Sights: Ramp Front, Adjustable Rear
Barrel Length: 5.5" Overall Length: 11" Weight: 36 ozs. Capacity: 7 rounds
Twist: 1:16" RH Rifle Grooves: 6
MSRP: $659