by
posted on October 28, 2014
Support NRA American Rifleman
DONATE
Lehigh Defense's .30-cal., 145-gr. Controlled Chaos (CC) bullet is an all-brass, hollow-point projectile with performance similar to the Nosler Partition; during penetration the front portion is shed (catastrophically in this case, causing extreme damage to vital organs) while the base penetrates deeply. As I observed during Alberta's 2014 spring black bear season, this modern projectile indeed maximizes the potential of the .30-'06 Sprg.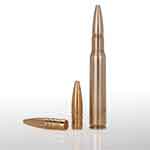 Bullet: Lehigh Defense 145-gr. CC
Propellant/Charge: IMR-4064/52.0 grs.
Primer: Federal GM210M
Case: Nosler
Case Trim-To Length: 2.484"
Cartridge Overall Length: 3.340"
Velocity @ 15' (f.p.s.): 3048
Energy (ft.-lbs.): 2,991
Accuracy: 1.12"*
Uses: big-game hunting (all non-dangerous species)
Notes: test rifle: 24"-barreled Kimber Sonora topped with a Bushnell Elite 5-15X 40 mm riflescope; *average of five consecutive, five-shot groups at 100 yards.