Support NRA American Rifleman
DONATE
It's standard practice to talk about what a rifle has, not what it lacks. But Kimber's Mountain Ascent is conspicuous not for what it includes but for what it leaves out: namely, weight. Can you imagine a standard-length bolt-action rifle, caliber .30-'06 Sprg., weighing less than 6 pounds? The unit I carried to the plains of Namibia last year did. In fact, it weighed 5 pounds, 2 ounces, sans scope and mounts.
In case anyone missed the significance of that, let me just say that the Mountain Ascent is now the lightest production big-game rifle in the world.
Besides the aforementioned '06 rifle, Kimber 84L Mountain Ascents chambered in .270 Win. and .280 Ack. Imp. are available. Those variations are also listed at less than 5 pounds., 8 ounces. A short-action sister, an 84M chambered in .308 Win., weighs 4 pounds, 13 ounces. Lest anyone think builders of factory rifles this light must necessarily leave something on the floor, I assure you Kimber kept performance uppermost in mind.
The Mountain Ascent is a controlled-round-feed, bolt-action, center-fire repeating rifle, the kind Kimber is known for; and, as can be expected, it is a good one. It is machined from round stainless steel bar stock. The hallmarks of the action include a claw extractor, dual-opposed locking lugs and a three-position safety-everything needed to chamber and fire a round surely and then extract and eject a case smartly.
In this iteration, however, everything on or around the action is whittled to accommodate cartridges with the common bolt face included in the .30-'06 Sprg./.308 Win. family of cartridges. As such, it wears as little metal as possible to do its job.
Spiral fluting covers the bolt body. The bolt handle is hollow and fluted. Even the claw extractor took a shave: It is lightened with three cuts along its length. One look at the wide trigger guard proves it's aluminum; its finish stands slightly in contrast to the finish of the stainless steel elsewhere on the rifle. All metalwork is coated with Kimpro II weatherproofing. The barrel is slender, and also made of stainless steel. It measures 22 inches long in .308 Win. and 24 inches in .270 Win., .280 Ack. Imp. and .30-'06 Sprg. It is fluted along its first half, and tapers to a mere 0.60 inches at the muzzle. Talley lightweight 1" medium scope bases/rings (made of aluminum) are included with each rifle.
The trigger, as Kimber fans are used to, is single-stage and match-grade. It's adjustable, but there's no need to bother when it's factory-set at a 3½- to 4-pound pull weight. The chamber is match-grade, too. The action is pillar- and glass-bedded to enhance accuracy.
The stock is straight-up American-style. It's made of Kevlar-reinforced carbon fiber like the stock on Kimber's Montana and Talkeetna rifles. But unlike the latter two units, which sport a modest, flat gray finish, this one is covered in W.L. Gore's Optifade digital camo treatment, in an exclusive Open Country pattern. The straight comb, evidenced by a shallow drop at heel (0.54 inches) and comb (0.43 inches), tames recoil quite well. But it is further tamed by the black, 1-inch Pachmayr Decelerator recoil pad. Length of pull is on the short, comfortable side and never strays beyond 133/4 inches in any caliber.
The internal box magazine holds four rounds in all calibers. It is blind; no drop floorplate is present to speed unloading (or add weight). Instead, the three-position safety comes in handy; simply set it to its middle position to cycle cartridges through the action.
To help control a rig so light, Kimber employs a muzzle brake. Its presence certainly mitigates recoil, because it's true that any .30-'06 weighing less than
6 pounds will belt you. This one sure beat me up on the range. After firing more than a 100 rounds from a benchrest for accuracy, I was glad to put away the rifle (and I wore a slip-on recoil pad).
Nonetheless, I'd rather go without a brake in these calibers. I'd as soon carry a light rig up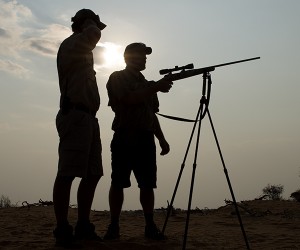 a mountain and take a beating behind the gun while firing a handful of rounds than subject my ears to the added abuse. Then again, not everyone does as much shooting in any given year as I do, and so I suspect many hunters will appreciate the brake. Make no mistake: This gun is loud. If a long-range session is in order, wear plugs and muffs (I always do regardless of caliber). In the field, it's not a bad idea to wear one or the other.
During range sessions, many other shooters approached my bench to ask what caliber I was shooting, or to glance at the box of ammo next to the rifle. I'm sure they were dismayed to see it was only .30-'06 Sprg. In the field, hunters also may opt to unscrew the brake (with an included tool) and replace it with a thread protector (also included). If that's the case, be sure to check zero with and without the brake installed to confirm point of impact with hunting loads before going afield.
I love light rifles: I think there is something special about removing every bit of material possible while still maintaining performance. The one thing I don't like about the equation: They're whippy. They're so light they can make it difficult to maintain a proper sight picture, even when you're boring down on a critter with the fore-end planted securely in the V of a pair of sticks. There is just so little weight up front, amidships, in back-everywhere, really-to help you hold it steady. Think you won't have a problem? Compound the whippiness with the fact that a hunter likely will be huffing and puffing at altitude-the proper composure for anyone who buys and uses this gun as it is intended. Good luck.
All those issues conspired against me last year in Namibia when I took aim at one animal in particular: a dandy red hartebeest bull. To be honest altitude wasn't a problem, but I can't say I wasn't huffing a bit. The shot wasn't particularly long, and my stance came naturally. My feet were spread comfortably, all muscles were relaxed. The gun rested firmly (I thought) in the V of a pair of sticks.
Still, I muffed the shot when I pulled my head out of the scope. To be sure, the fault was mine. And though I seldom find excuses for poor shooting I have to say I think the light rig was partly to blame for my failure to follow through completely. At that moment, that gun felt just so darn light.
So to say that the Mountain Ascent is not the ticket for Africa is an understatement. It'd look and perform better laid across a pack in Alaska, with a hunter behind it taking aim at a distant sheep. Nonetheless, I'm sure my hunting partner, NRA E-Media Development Manager Tom Rickwalder, appreciated its light weight. Throughout our two weeks in Africa, Tom, a first-timer there, stalked and killed almost a dozen head of plains game with the .30-'06 Sprg. He never wanted for another rifle. I watched as he carried, shouldered and fired the gun time and again, repeatedly finding a natural point of aim, cheek weld, eye relief and a sight picture without fail.
Hunters can count on a stock with full-size dimensions to produce solid handling. At no time did I ever shoulder this lightweight and feel like I was cradling a kid's gun.
At the range I tested five different loads through the Mountain Ascent. Accuracy results from three of them are contained herein; they are based on five different five-shot groups. I used hunting loads exclusively-180-grain bullets.
I'll say this: Five consecutive, five-shot groups is a lot of ammunition to run through a gun with a pencil-thin barrel. From the first shot (there were more than 100 rounds expended), the rifle heated up quickly and stayed hot for some time. Sure, fluting runs half the length of its barrel, but that is not enough to add significant surface area to significantly speed cooling. What's more, it was a nice winter day. (You didn't think I'd shoot a 100 rounds on a minus 10 degrees F day?) Even so, the temperature was still a balmy 57 degrees F-not cold enough to cool the barrel quickly between groups. That leads me to state the obvious: I did not wait until the barrel was absolutely cold before firing the next group. If I did, I'd still be out there.
I averaged about two five-shot groups from a sandbag rest front and rear every 30 minutes. Since the magazine holds only four rounds, I decided to load three then shoot them, then load the fourth and fifth rounds and fire them. That also played against accuracy, evidenced by the fact that the first three rounds and the next two usually did not print atop each other. With such a protocol, the gun produced 2-minute-of-angle groups. I think it'll easily shoot better than that off a rock-solid rest that eliminates all human contact with it. Heck, eliminating a shot or two from most groups proved to me it is a 1-m.o.a. gun, or better. Nevertheless, American Rifleman's strict evaluation protocol calls for five-shot groups, so five shots it was.
The Mountain Ascent is a fine addition to the Kimber mountain rifle niche, which includes the Montana, another lightweight Model 84 design, and now the all-new Adirondack. With a 24-inch barrel in standard-length chamberings, an overall length of less than 44 inches and a hunting weight barely breaking 6 pounds (including rings/bases, scope, four rounds and a sling), it is all the rifle any mountain hunter could want. Buyers may opt to go super-light and choose one chambered in .308 Win. Or they can eke out the most power from the platform and choose a unit chambered in .280 Ack. Imp., which approximates the ballistics of the 7 mm Rem. Mag. Rest assured that either way you go you'll have found a rifle built for the mountains.

Kimber 84M/84L Mountain Ascent
Manufacturer: Kimber Mfg., Inc., 555 Taxter Road, Elmsford, NY 10523, (888) 243-4522
Caliber: .308 Win., .270 Win., .280 Ack. Imp., .30-'06 Sprg. (tested)
Action Type: bolt-action, repeating center-fire rifle
Receiver: stainless steel
Finish: matte stainless
Magazine: internal blind box; four-round capacity
Overall Length: 41.25" to 43.75" (tested)
Barrel: 22" to 24" (tested); stainless steel; slim contour; half-fluted; muzzle brake
Rifling: six-groove; RH twist; 1:12", .308 Win.; 1:10", .270 Win. and .30-'06 Sprg.; 1:9.5", .280 Ack. Imp.
Weight: 4 lbs., 13 ozs. (84M); 5 lbs., 5 ozs. (84L) (tested 84L, 5 lbs., 2 ozs.)
Sights: none, drilled and tapped; Talley lightweight scope bases/rings available
Trigger Pull: adjustable, single-stage; 3-lb., 10-oz. pull
Stock: Kevlar/carbon fiber; length of pull 13.63" to 13.75"; drop at heel 0.54"; drop at comb 0.43"
Accessories: thread protector; muzzle brake removal tool; cable lock, manual, cardboard box
Suggested Retail Price: $2,040