by
posted on September 2, 2020
Support NRA American Rifleman
DONATE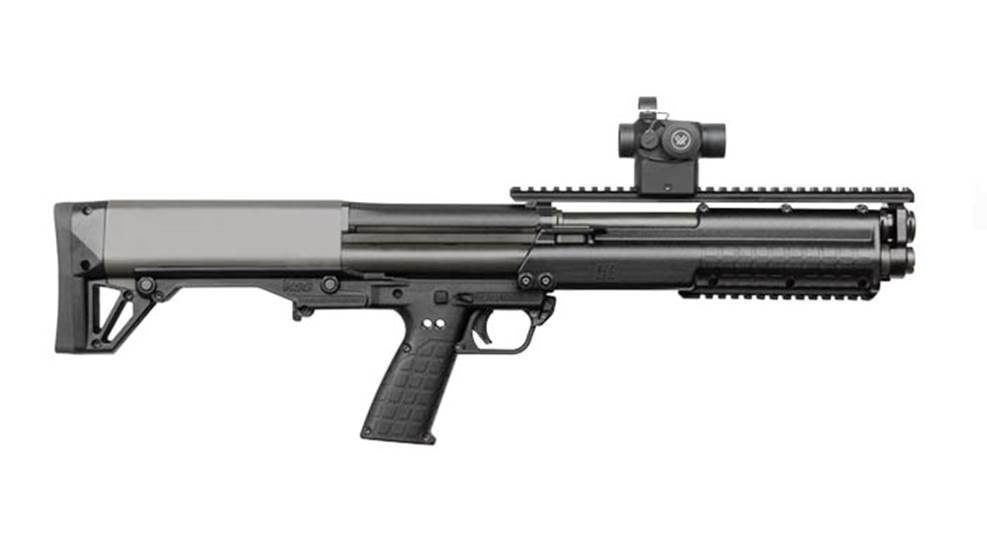 Kel-Tec changed the way we think of pump-action shotguns when it introduced its KSG in 2011. The bullpup design makes it shorter than most in the category, and that improved nimbleness is a decided advantage in home and self-defense. Overall length measures 26.1" in 12 gauge, which comes with a 18.5" barrel that chambers shotshells up to 3" in length.

There's more than just the bullpup design that makes this tubular-magazine fed shotgun innovative, though. It has two magazines, which run parallel to one another. They give the firearm a total capacity of 6+6+1 or 7+7+1, depending on the length of ammo. Spent shotshells eject toward the bottom and once one magazine is exhausted, the shooter rotates a lever near the pistol grip to feed from the other.

The gun's not picky which magazine it digests from first. For the home defender that means they can load one tube with 00 buckshot and the other with slugs. They can decide which load to chamber on the fly.

American Rifleman tested an early model in 2012 and it performed admirably. "At 25 yards, Hornady's Critical Defense 00 buckshot loads provided excellent patterns with most of the pellets centering inside a 12" circle," Paul Rackley wrote. "I also took the KSG on the skeet field to determine the gun's effectiveness on moving targets. With the KSG, I was able to hit 17 and 18 out of 25 clays in two rounds (I even doubled on a couple of true pairs), which is right on par with my abilities with a more conventionally stocked shotgun."

The KSG does not come with sights, although there's 12" of Picatinny rail atop for mounting your choice of optic. Another rail underneath, 6" long, is ideal for lights and lasers.

The shotgun weighs 6.9 lbs. empty and MSRP is currently $770. Believe it or not, that is $110 less than when the gun was officially introduced.