by
Mark A. Keefe, IV, Editorial Director
posted on November 3, 2015
Support NRA American Rifleman
DONATE
Different folks say it different ways, but "Awg" seems to be the most common outside of Birmingham, Ala., where Steyr Arms opened a new headquarters last year. The company was set up to import Steyr rifles and handguns into the United States. What many don't know is Steyr Arms assembles the latest iteration of its iconic semi-automatic-only AUG—the A3 SA—right in Bessemer, Ala. And as you can see, there are plenty of them. Steyr has a complete selection of 5.56x56 mm NATO AUG bullpup carbines, in a host of configurations and stock colors. (And in the interest of full faith and credit, my friend and one of the best writers in the business Terry Wieland coined the phrase "AUG pound.")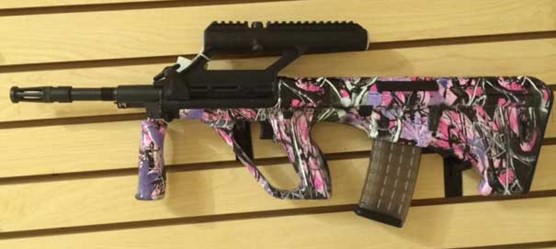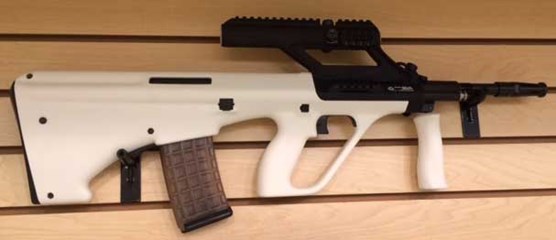 But behind the showroom is a small assembly facility where AUG/A3s are assembled. The gunsmiths there use components from Austria (bolts and bolt carriers bearing marks from the Austrian proofhouse), while top-tier makers (including FN America and VLTOR) produce parts here in the United States that are put together by skilled gunsmiths that have worked on Steyrs for literally decades.

Actions 
Yep, those are made-in-the-U.S.A. Steyr AUG/A3 SA actions awaiting assembly. Due to import restrictions, the AUG has to be made here with a specified number of American-made parts to be 922(r) compliant.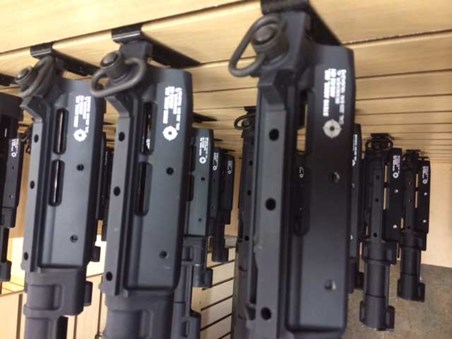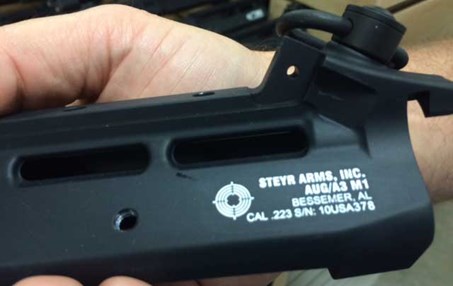 Barrels
Cold-hammer-forged barrels come from FN in South Carolina—a good choice as Steyr in Austria was the pioneer of hammer-forged barrelmaking. And FN makes good barrels in Columbia—most U.S. machine guns wear them these days.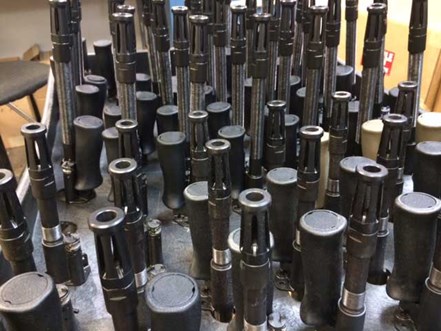 Stocks
Among the parts awaiting assembly are the AUG's distinct polymer stock—offered in different colors. The AUG was one of the first successful bullpup rifles, dating back to the 1970s, and it was adopted by the Austrian, Australian and quite a few other militaries.
Scopes
The integral 1.5X Swarvoski optic built into the carry handle isn't made by Swarovski anymore, and the carry handle is detachable, interfacing with a strip of Picatinny rail on the receiver's top. But Steyr offers the optic with different magnifications for those who prefer the look and handling of the original.