Support NRA American Rifleman
DONATE
Likely you are not alone in thinking that particular gun you are waiting to turn up at your local dealer is not only something you want, but at the price you believe is fair. Simple supply and demand, right? No, it can go deeper than that.
To paraphrase a fast-food commercial that pre-dates Bill Clinton's gun ban, "Parts is Parts." And guns are made out of parts. If a maker cannot get parts, it cannot produce guns. With lean manufacture, makers want no more parts than they need to actually make the guns they plan to make soon. Why warehouse parts you won't need for months or years?
With increased demand for certain categories of firearms, some modern and efficient manufacturing methods are revealed to have weaknesses within the firearm industry in time of unprecedented demand. It used to be that gunmakers would brag about being "fully integrated"—that is when a manufacturer makes all of its own components, including the receiver and barrel to the screws, pins and springs that constitute a fully completed firearm. Think "Peoples' Collective Tractor and Machine Gun Factory Number 42" under the old Soviet Union. Every part for a harvesting machine or a Degtyarov was made under the same cavernous roof.
But today, for good reason, that is seen as inefficient. For example, the maker of AR-style rifles can buy a really nice bolt carrier, perhaps even a nicer bolt carrier than the company could make itself, for say $15. If a company has the proper CNC machines, it can make a nice bolt carrier for, say, $20. That reduces the cost of manufacture for the gunmaker. All is well and good in that, provided you have a reliable vendor—and that demand has not overwhelmed your vendor.
Several of the midsize gun factories I have visited recently have had CNC machines dedicated to making bolt carriers in house. That is the canary in the coal mine for demand when it comes to AR-style rifles. When companies are making their own bolt carriers, typically it's because they do something different, demand a higher level of quality than the vendor could can provide, or their vendor simply can't fill the company's orders. No bolt carriers, no complete guns. If a company is making its own bolt carriers, it's because that is the best use of machine time toward the goal of delivering rifles.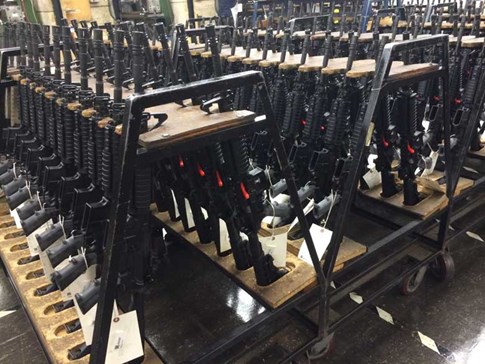 Another bottleneck when it comes to manufacture is the chrome-plating of an AR's chamber and barrel. Chrome-plating of the chamber and barrel was determined to be really good idea by the Icord Committee. And it is the standard on both civilian ARs and the military M4/M-16 family rifles.
But the chrome-plating of barrels is a process that most manufacturers are unwilling to invest in under their own roofs. It's somewhat messy and expensive. And, most companies have found a better vendor that can do it for less money than they could do it for themselves.
While this makes complete business sense, there are times that it can literally run a company out of business.
During the first serious run on AR-style rifles (attributed to the threat of misguided anti-gun legislation), one firm invested heavily in the AR platform. The company bought components from vendors and essentially performed only the assembly. All was well and good until that firm's barrels sat at the chrome-plating vendor for months. The company, an upstart in the AR game, did not have long-term contracts, business, previous relationships and priority when it came to the plating operation. And its barrels sat on carts gathering dust waiting to be plated while the vendor fulfilled pre-existing contracts. 
When demand ebbed, so did the finances of the company that could not get completed chromed barrels. It had partially assembled rifles, at considerable investment, that could not get put together and sold. By the time that firm received its barrels, it was too late, and that company was padlocked.
Too, this can affect companies that rely on vendors for major handgun components. One, in particular, introduced a new pistol that was dependent on outside vendors for all of its components. According to modern business practices, this would seem to work well. Better parts at a better price. Right? That is until your vendor delivers substandard parts or simply cannot deliver at all. Then the company needs to find a new vendor and start the process all over again. Margins are thin on guns, and some companies thin on capital are unable to survive such a setback.
There is some wisdom in being able to manufacture all of the guns components in house. This is particularly the case when demand is high. A company controls its own destiny in terms of delivering completed firearms. But a company that does this goes into it knowing that its costs will be higher. Having your own machine to make screws does not make business sense when multiple vendors can supply the same screws for more pennies of what it would cost the gun maker. That cost only makes sense when a maker cannot get the parts.
Screws, pins, springs and magazines can be safely sourced by multiple vendors. There are plenty of non-endemic companies that can provide these to the firearm industry. But when you are dependent on a vendor for major components that cannot be easily sourced elsewhere i.e., slides or bolt carriers, you are at the mercy of outside vendors you cannot control. That is why large makers that can determine a vendor's bottom line have no trouble getting such components during crunch times. And that's why smaller makers get choked out of the supply chain at times like this.
It's a delicate balance between investment in the company's own tooling and the efficiency of purchasing parts from an outside vendor. It is a tight rope for any midsize manufacturers. Or perhaps a noose for smaller ones.
I am not advocating for a return to fully integrated manufacturing at gun companies—the days of "Peoples' Collective Tractor and Machine Gun Factory Number 42" are over—merely providing an explanation as to why that carbine you ordered may still be backordered.