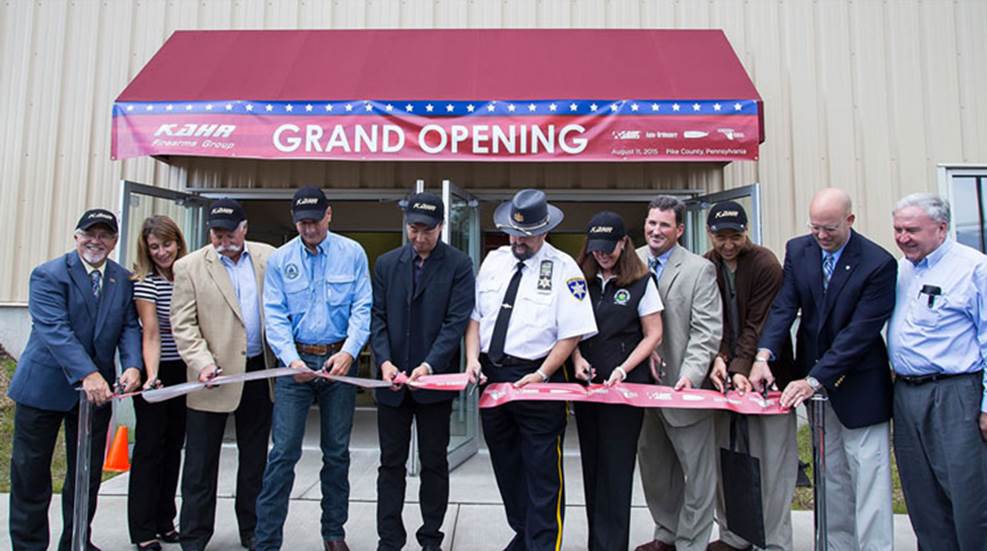 More than 200 people gathered Aug. 11, 2015 for a ribbon-cutting ceremony at the grand opening of the
Kahr Firearms Group
Blooming Grove Township, Pa., headquarters. Construction on the 40,000 square-foot building began in May 2014, and is considered "Phase I." Kahr announced the move in July 2013, and you can read the details of their decision to move
here.
The building contains offices for employees, warehousing and shipping, and also Research & Development Engineering. Plans for Phase II and Phase III are still in the development stage. The structure also houses two underground, 100-yard firing ranges, which are designated for use exclusively by Kahr Firearms Group for testing and development of its extensive product lines.
"We are very proud of the long and respected reputation of our three brands," said Justin Moon, Kahr Firearms Group CEO. "We are also proud that our presence in the firearm industry supports the basic freedoms that each of us has because of the Second Amendment, but now is the time to focus on the future." Moon said that the company looks forward to bringing jobs to Pike County as well as inviting other firearm industry companies to join Kahr on the 620-acre property. "Our Job is far from over," he said.
The plan for the new headquarters will also include a factory outlet retail store, likely to open sometime in 2016. There are no plans at this time to close manufacturing plants in either Massachusetts or Minnesota, but starting sometime in 2016 some manufacturing and production will be conducted from the new Pike County location.
For more information about Kahr Firearms Group, which also includes
Magnum Research
and
Auto-Ordnance
, please visit
kahr.com