by
posted on January 4, 2018
Support NRA American Rifleman
DONATE
Before the turn of the 20th century, no one knew what a magazine-fed pistol should look like, and theories varied greatly. In the early 1890s, Austrian Joseph Laumann re-designed his Model 1891 8 mm repeater pistol (above) to function as a blowback-operated semi-automatic.
The history of the semi-automatic pistol may appear a bit disjointed, for the story requires tying together separate events from around the world as the best minds in the industry focused on creating the simplest, most durable and most user-friendly handgun. The potential reward was enormous, as every military in every country was a prospective buyer, not to mention the legions of civilians. After all, who wouldn't be interested in a new handgun that offered advanced firepower? And so some of the greatest firearm designers in history embarked on what may have been their best-supported and most prolific period of creativity.
There is no doubt that the entire industry was changed with the invention of smokeless powder in 1884 by Paul Vieille. Until then, it had been impossible to create a reliable self-loading arm, for the foul-burning blackpowder would jam even the finest action after only a few shots. Previously, the best effort to offer multi-shot capability had been via the repeater pistol, basically a miniature lever-action rifle, in which a ringed lever was used to cycle the action between shots. Some of the better-recognized repeaters included the Volcanic, circa 1860 (United States), the Gustav Bittner Model 1893 (Austria) and the examples of Josef Schulhof, the Model 1884 and Model 1887 (Austria).
Smokeless powder opened the door to a different world. The quicker-burning material yielded higher chamber pressures, the burn-off was more complete so there was less residue to clog the mechanism and, as an added benefit, the powder was much less corrosive.
Suddenly, there were a host of questions to be answered, and they needed to be answered quickly. What was the best caliber, the best cartridge, the best primer? Should multiple calibers be explored simultaneously? How should the cartridges be fed into the action: By charger? Stripper clip? Separable magazine? From the top? From the side? From the bottom? Through a tubular magazine?
Just as importantly, what kind of action should be explored? Blowback? Delayed blowback? Locked breech? At the time, those terms didn't even exist. It was every inventor/designer for himself, as each explored what he felt was the most reasonable and likely course to building a better mousetrap. Everyone knew that the first to build a truly successful semi-automatic pistol would become an overnight sensation and wealthy beyond precedent!
---


Salvator Dormus
Although some references cite the Laumann Model 1892 as the "first" semi-automatic pistol, a review of patent applications suggests that the title should be granted to the Salvator Dormus, the patent for which was registered in Austria on July 11, 1891. This was an interesting 8 mm blowback pistol in many respects, differing from many others in that it had been designed from the ground up, rather than a modification of an earlier repeater. The gun was loaded through the top with a charger, had a hinged magazine door on the butt, and was fitted with a separate bolt release and safety. As expected, the Dormus went through a number of iterations, reaching its final form in 1895, at which point approximately 50 were completed. Of those, 30 were sent to the Austrian military in 1896 and tested the following year, explaining the "97" acceptance mark that appears on a number of pistols. Unfortunately for the designers, the Dormus was rejected. Discouraged and bereft of funds, the project was abandoned, rendering the few surviving pistols as true rarities.
---


Laumann Model 1891/Model 1892, Schoenberger-Laumann Model 1894
In the early 1890s, Joseph Laumann re-designed his 8 mm repeater pistol to function as a blowback-operated semi-automatic. He was soon joined by Schoenberger, who is usually credited with having transformed the repeater pistol into a true semi-automatic. The earliest Austrian patent to cover self-loading function was dated Nov. 25, 1891, supporting the Model 1892's title as the "second" semi-automatic pistol. As with the Laumann repeater, cocking was via a large lever that attached to the frame by the trigger. The gun loaded from the top by a special charger that was released by depressing the checkered button on the right side of the receiver. The safety/bolt release was just above the tang. Very large and awkward, it is estimated that fewer than 35 were completed, with production halted after its rejection by the Austrian military in 1896.
---


Borchardt Model 1893
Hugo Borchardt designed his namesake pistol while working for a Hungarian arms company. For a variety of reasons, the manufacturing rights were assigned to Ludwig Loewe & Co. of Germany, then a major manufacturer of military rifles. Although the pistol was outside of Loewe's usual venue, the firm felt that its contacts would surely facilitate a military contract. Unfortunately, Loewe was wrong. While it was true that the Borchardt was chambered for the powerful 7.63 mm Borchardt cartridge, functioned with a reliable toggle-locked mechanism, and had a convenient safety and a push-button magazine release, the gun was extraordinarily ungainly, especially without the detachable shoulder stock. It made no difference that the pistol and stock were attractively packaged in attaché-cased sets with four matching magazines, a dummy magazine, cleaning implements and an instruction booklet. The answer from every government was still "no." After repeated suggestions that the gun be redesigned to a more compact form, Borchardt got angry, refused and turned the project over to Georg Luger. In the meantime, Loewe assembled about 1,100 Model 1893s before handing the production to Deutsche Waffen- und Munitionsfabriken (DWM), which completed fewer than 2,000 pistols, bringing the total number of Borchardts to about 3,000 guns.
---


Bergmann Schmeisser Model 1893/Model 1894
Theodore Bergmann, whose name has long been associated with a variety of early firearms, was a successful businessman in Germany and a managing partner in Gaggenau Ironworks. Having an interest in firearms, he hired Louis Schmeisser to build a semi-automatic pistol that was patented in 1893. Most of these single-action pistols were chambered for a rimless 8 mm cartridge, relying on the gas pressure in the chamber to blow out/eject the empty case. They also had a unique magazine cover plate mounted on the right side of the frame. Rotating the cover down 90 degrees depressed the follower and exposed the magazine to allow the insertion of loose rounds or loading via a special stripper clip. Once loaded, the cover plate was rotated back into position, readying the gun to chamber a round and fire. Although an example in 7.5 mm was tested by the Swiss military in 1893, it did not fare particularly well and was dismissed. A few other governments, such as Belgium and Germany, purportedly evaluated the pistol, but there were no contracts. Disappointed but undaunted, Bergmann carried many of its features forward into the Model 1896 and Model 1897, guns that were made in significant numbers.
---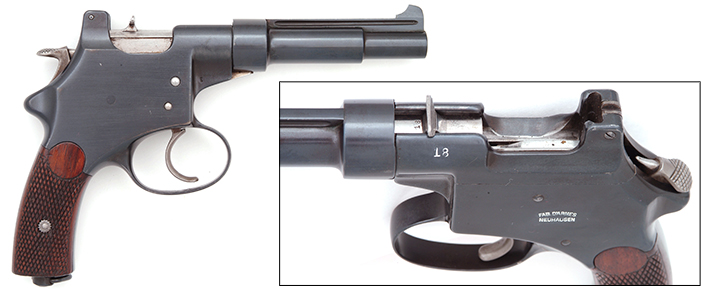 Mannlicher Model 1894
Ferdinand Ritter von Mannlicher was an Austrian designer best known for his military rifles. Yet, he too designed a few early semi-automatic pistols, of which the Model 1894 was the most unusual. It coupled a blow-forward mechanism with a single-action/double-action revolver-type lockwork. Compared to the firearms with which we are now familiar, the mechanics seem counterintuitive. After firing, the rising gas pressure pushed the barrel forward while simultaneously propelling the spent case out of the chamber. Meanwhile, the next loaded cartridge, rising from the magazine, thrust the fired case against the ejector and out of the action. After firing, the barrel remained in the forward position until the trigger was released, a circumstance for which there does not seem to be a good explanation. Steyr made about 150 of these guns in 7.6 mm Mannlicher. Although they were tested by the Austrian and U.S. militaries, neither made any purchases. In 1897, the Swiss government had SIG make about 70 smaller pistols in 7.5 mm for military testing. Again, deemed unsuitable, the project was abandoned and never resurrected.
---


Bergmann Model 1896: No. 2 (5 mm), No. 3 (6.5 mm) and No. 4 ( 8 mm)
Having learned a lot from the Schmeissers, Bergmann decided to introduce a more streamlined version to civilians. The new pistol, offered in two sizes and three calibers, was made under license by Charles V. Schilling of Suhl, Germany. Per the Schmeisser Model 1893/Model 1894, the earliest guns had no extractor and fired rimless ammunition. Later, responding to consumers who wanted a solution to remove stuck cases, the guns were made with an extractor to function in concert with a new, rimmed cartridge. The No. 2, the smallest version, was initially made with a folding trigger as popularized with the Velo-Dog revolvers. Later guns assumed a more conventional form, with production approaching 2,000 pistols. The larger size was divided between the No. 3 in 6.5 mm Bergmann and the No. 4 in 8 mm Bergmann. The No. 3 was far more popular, offered in several variations, including a target model, and achieved a production of about 4,400 pistols. The No. 4, nearly identical to the No. 3 except for details related to the larger caliber, had a production of only 200 to 300 guns.
Although the numbered Bergmanns are now considered fairly scarce, at the time, they enjoyed significant commercial sales. To put their importance into perspective: The Borchardt & Luger Automatic Pistols by Sturgess, mentioned that of the 1,100 sets of Borchardts made by Ludwig Loewe & Co., only about 100 guns were initially completed for the purpose of marketing. The other guns remained as unfinished parts as late as 1897. Also, a review of Westley Richards' earliest sales records show the firm selling far more Bergmanns than Mauser C96s. So, which was "the first commercially successful" semi-automatic pistol? Current information, contrary to conventional wisdom, would suggest it was the Bergmann—not the Borchardt.
---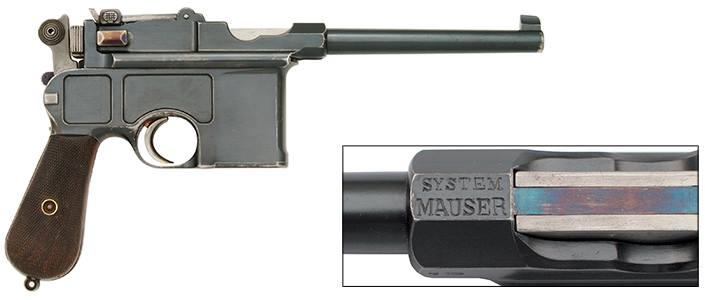 Mauser Model 1896
In 1895, Mauser patented its well-known Model 1896, referenced in Europe as the C96 and affectionately known as the "Broomhandle." This single-action, locked-breech pistol loaded through the top with a stripper clip and fired the powerful 7.63 mm Mauser cartridge. The pistol was constantly being refined, with seemingly innumerable improvements that now provide a bounty of lavish proportions for collectors. In addition to the standard 10-shot configuration, the gun was also made with a six-shot and a 20-shot, fixed magazine. The majority were assembled with a matching, hollowed shoulder stock for more convenient carrying and, when attached, to function as a carbine. Early on, Mauser was successful in garnering a few military contracts, with Turkey buying 1,000 "Conehammers" and the Italian navy procuring 5,000 "Flatsides." During World War I, the German army contracted for 150,000 guns in 9 mm Parabellum (although only about 100,000 were delivered). Afterwards, while selling well over 250,000 pistols to various warlords during the Chinese Civil War, Mauser introduced a select-fire version with a detachable magazine known as the Model 712 or "Schnellfeuer." As late as World War II, limited numbers of Model 712s were purchased by the Luftwaffe. Suffice it to say that the C96 was a phenomenal success, remaining in production for about 40 years, during which time more than a million guns were completed!
---



Mannlicher Model 1896, Model 1897/01
In 1896, Mannlicher designed a completely different single-action, locked-breech pistol in 7.65 mm Mannlicher whose prominent cocking lever on the right side of the frame was reminiscent of the Schoenberger-Laumann. The gun had a retractable bolt and could be fed through the top via a stripper clip or using a detachable box magazine. The earliest guns, sometimes referenced as the Model 1896, including the example tested by the Swiss military, had a fixed six- or seven-shot magazine. The majority of later examples, generally denoted as the Model 1897/01, had a detachable six-shot magazine. There were several variations, including a version with a tangent rear sight whose backstrap was modified to accept a hollow, leather-covered shoulder stock, and a carbine that could be had with a commercial stock or a military configured stock for a side-mounted sling. All were numbered in a single sequential serial range that approached 1,000.
---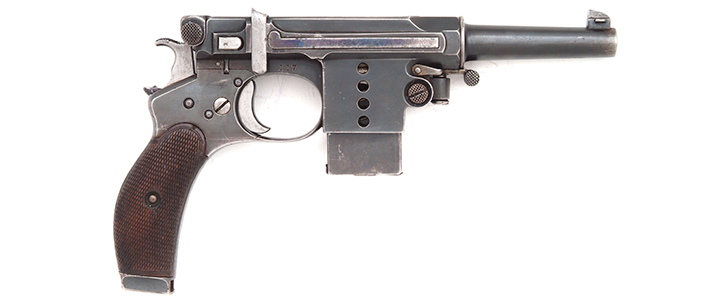 Bergmann Model 1897
Although Theodore Bergmann had not been able to secure any military contracts for his Schmeisser, with some civilian sales under his belt, it was time to try again. For this effort, he developed a single-action, locked-breech pistol in 7.8 mm Bergmann. The new pistol, numbered in a separate, single sequential serial number range, was considerably heftier, with a shrouded barrel and a rear sight adjustable to 1,000 meters. It could be stripper-fed from the top, loaded with a 10-shot detachable magazine and attached to an attractive, hollow, leather-covered shoulder stock with a pouch for a spare stripper clip. A small number of Model 1897s was made with a 12" barrel and fitted to a detachable, solid wood stock and there were even a few conventional-appearing carbines. Regardless of configuration, Bergmann was again unsuccessful in getting a military contract, and commercial sales were sluggish. The model was discontinued after about 1,000 units.
---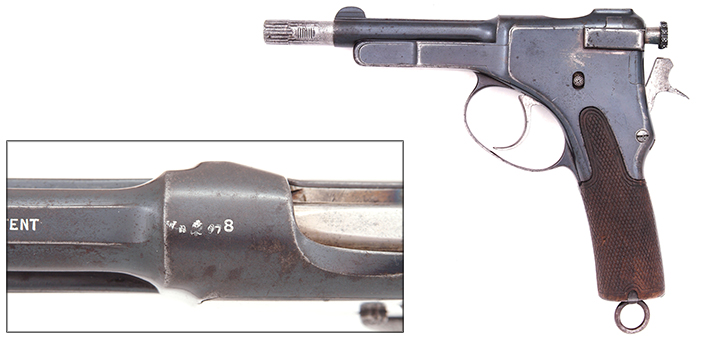 Roth-Theodorovic (Krnka) Model 1895, Model 1897, Model 1898
Georg Roth was the Austrian financier behind Wasa Theodorovic, who designed a very unusual series of long-recoil, locked-breech, single-action/double-action pistols chambered for the 8x21 mm. While Karel Krnka's name is also associated with these guns, his involvement came several years later. The first pistols were true behemoths, similar in size to the large Gasser revolvers, with a shrouded, extended barrel, a cocking knob over an external hammer, an oversize trigger guard and an elongated grip. Feeding was through the top via a special charger/stripper clip with an internal but separable magazine having a 10-shot capacity. Some of the earliest examples, reportedly 25, were evaluated by the Austrian military and marked with a "97" acceptance. As there were no forthcoming orders, Theodorovic continued his refinements, making changes to facilitate sideplate removal, shortening the grip, adding a decocker, including a Tambour grip safety, and even revising the lanyard ring to both rotate and swivel. In effect, nearly every gun in this series, which reached to just more than 100 pistols, was unique. While none was sufficiently attractive to be made in quantity, many of their features were implemented in the Model 1907 Roth-Steyr, a standard-issue pistol that figured prominently in World War I, and the Model 1901 Frommer that was grandfather to a host of well-known offspring.
---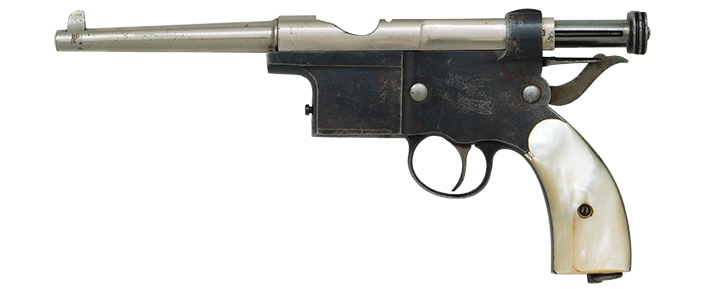 Charola y Anitua Model 1898
In 1897, Charola y Anitua of Eibar, Spain, designed a semi-automatic pistol that was similar to a scaled-down C96 chambered for the 5 mm cartridge. The first guns had a tapered barrel without a sight band, an elongated safety lever and an integral magazine with detachable floorplate that held six rounds. As per the Mauser, loading was through the top via a stripper clip. Several samples were forwarded to the Spanish military for an early test trial. To no one's surprise, except perhaps Charola's, the gun—with its ridiculously underpowered cartridge—was quickly dismissed. Undeterred, Charola went on to introduce several variations, including a version in 7 mm with a detachable magazine. Complicated to make and relatively expensive, total production of all variations made from 1897-1905 was about 8,400 guns.
---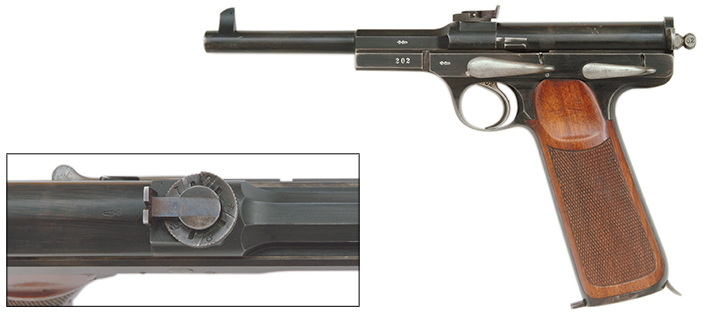 Schwarzlose Model 1898 Standardt
Andreas Schwarzlose of Germany, best known for his machine guns and blow-forward pocket pistols, also directed his attention to some larger-caliber handguns. The Model 1898 Standardt, that may not have seen commercial production until 1901, was a full-size, locked-breech, rotary-bolt, single-action pistol in 7.63 mm that fed though a detachable magazine. The rear sight was vertically adjustable via a spiraling helicoid mount, and the firing pin protruded from the rear to act as a cocking indicator. Most pistols were made for a six-shot magazine, though a few had an extended frame for an eight-shot magazine and a rare gun had a recessed backstrap for a keyed-in shoulder stock. Though exceptionally well-made with a futuristic grace, production was limited to fewer than 500 pistols.
Luger Model 1898, Model 1899/1900
After Hugo Borchardt's ego-bruising rejections, Georg Luger took the Model 1893 design and refined it to a much more compact and familiar form. The first tool room samples were made by DWM in Germany in 1898, with limited pre-production ensuing in 1899/1900 for testing by the Swiss military. There were 40 pistols in this group, with the first 35 having a hand-cut "cross-in-sunburst" on the chamber. Other unique features included a long bolt with a doubled firing pin spring, a middle toggle link with a squared extension, a broad safety lever whose position was marked with a scribed, white-polished border, and an unrelieved frame to accept a flat-button magazine. Although several of these features were refined before the first production run, the design was essentially unchanged until 1906, afterwards remaining remarkably stable to render the Luger as one of the most popular and well-recognized pistols in the world.
Mannlicher Model 1898, Model 1899/1900
In 1898, Mannlicher patented yet another semi-automatic pistol that was completely different from the two predecessors. The new, single-action, blowback pistol in 7.63 mm Mannlicher had an easily separable slide and a frame whose lockworks were protected by a unique, wrap-around cover plate. Loading was from the top with an eight-round stripper clip. By 1899, the guns were made with a large safety lever mounted on the left side of the frame. Some consideration must have been given to fitting them with a shoulder stock as most had a slotted backstrap that the factory filled before their sale. Despite the presentation of embellished pistols to Kaiser Wilhelm II of Germany and Sultan Abdul Hamid II of Turkey, the guns languished with an estimated production of fewer than 350 units. It was not until 1901, when the pistols were updated with a slide-mounted, hammer-blocking safety and disassembly improved to utilize a much more convenient lever lock, that sales began to blossom.
Fabrique Nationale Model 1899
John M. Browning, indisputably the best-known American designer, filed his first pistol patent in 1895. Patents pertinent to the Model 1899 were granted in 1897 with refinements approved in 1899. By that time, Browning had already demonstrated his prototypes to Fabrique Nationale which, with a great deal of enthusiasm, put the pistol into production. The Model 1899 was a compact, hammerless, single-action pocket pistol that was chambered for the new 7.65 mm Browning (.32 ACP) cartridge. Its blowback function acted via a separated recoil spring compartmentalized above the barrel, an unusual design that other manufacturers later copied. It had a slide-mounted cocking indicator, a rotating thumb safety on the left frame and a detachable magazine that released at the butt. While the vast majority of Model 1899s were made for a seven-shot magazine, a small number of larger pistols, possibly for military trial consideration, were made to use an eight-shot magazine. According to FN Browning Pistols by Vanderlinden, about 14,400 Model 1899s were completed by 1901 before it was phased out in favor of the more frequently encountered Model 1900.
Although there were certainly a number of other semi-automatic pistols made in the 19th century, it is clear that most of the developmental activity took place in Austria and Germany, with the United States having little to no involvement, except as influenced by John M. Browning through FN. The entire picture changed in 1900, when Colt unveiled its Browning-designed Model 1900 chambered for the new and powerful .38 ACP. To say that the gun was well-received would be an understatement. It took the world by storm, propelling Colt to reign as the undisputed king of U.S. pistol manufacturers for the next half-century. Just a few years later, Colt introduced the immensely popular Model 1903 and developed the M1911, arguably the finest and most copied military pistol of all time … but that is another story for another day.