posted on September 16, 2016
Support NRA American Rifleman
DONATE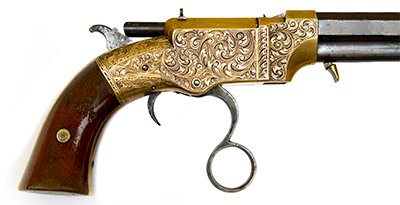 The first Smith and Wesson handgun was not a revolver; it was a lever-action. Moreover, it set the stage for what would eventually become the Winchester Repeating Firearms Co.
As recounted by Edmund E. Lewis and Stephen W. Rutter in their excellent book, Volcanic Firearms, the design of this toggle-link, ring-lever firearm is attributed to Daniel Wesson before he first teamed up with Horace Smith in 1852. Two years later, Smith developed a caseless cartridge for Wesson's design, a hollowed-out lead bullet that contained a powder charge sealed by a primer—a variation of Walter Hunt's earlier Rocket Ball.
Smith and Wesson's repeating pistol was dramatically, yet somewhat appropriately, dubbed the Volcanic because of the eruption-like emission of fire and smoke from the muzzle that followed each shot. In reality, each repeat shot required the cumbersome use of both hands—one to hold the pistol while the other cranked the ring-lever to cycle a new round. In addition, feeding, extraction and ignition problems plagued the Volcanic from the start. Smith and Wesson temporarily parted ways, and the rechristened Volcanic Repeating Arms Co., which also produced rifles and carbines, was purchased by Oliver Winchester, who reorganized it in 1857 as the New Haven Arms Co.
Winchester used the Volcanic name only in advertising—it was never stamped on the guns. Keeping the basic action, he changed the iron frames to brass and adorned a number of pistols with scroll engraving. Many parts were subcontracted, and serial numbers were stamped on the frame underneath the stocks and on the walnut stocks themselves.


One of the company's first offerings was the .31-cal. No. 1 Pocket Pistol, with a 3½" octagonal barrel and a six-round-capacity, spring-loaded magazine. The 53-gr. bullet held less than 6 grs. of powder, making the No. 1 a novelty plinker at best. Gas leakage and jams doomed the gun, in spite of its $12 price tag. Only 850 No. 1s were produced from 1857 until 1862.
This exceptional No. 1, serial number 66, one of the earliest known, is more extensively engraved than most. The lack of a lifter in the upper magazine block suggests either a very old, well-made replacement or a subcontracted variation. Nonetheless, this No. 1, even with a repaired left grip panel, is worth $12,500 to $16,500 on today's market.
Gun: New Haven "Volcanic" No. 1 Pocket Pistol
Caliber: .31
Serial No: 66
Manufactured: 1857
Condition: NRA Fine/Excellent (Antique Gun Standards)
Value: $12,500 to $16,500 (more extensively engraved than most versions)