Support NRA American Rifleman
DONATE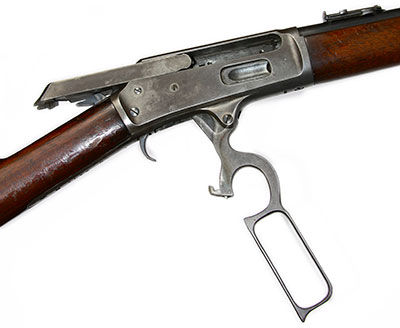 During the latter part of the 19th century, Marlin was giving Winchester a run for its money. Not only was Marlin first with a lever gun that could chamber the popular .45-70 Gov't cartridge (the Model 1881), but the Model 1889 introduced Marlin's side-ejecting, solid-topped receiver. The latter was stamped "Marlin Safety," implying it was safer than Winchester's open, top-ejecting system.
These features were the result of a collaboration between John Mahon Marlin and Lewis Lobdell Hepburn, a noted firearms designer who had been on the winning Creedmoor rifle team in 1874. Hepburn joined Marlin in 1886 and, realizing the firearms world was entering the era of smokeless powder, decided to update the 1889 by lengthening its action, strengthening the bolt and devising a two-piece firing-pin safety—a feature still in use by Marlin today.
Marlin christened the improved lever-action the Model 1893, and offered it as a rifle or a saddle-ring carbine, both featuring casehardened receivers and sporting blued Ballard match-grade barrels. Initial chamberings were for the .32-40 and .38-55 blackpowder cartridges Marlin had developed for the Ballard. In 1895, Marlin began chambering its Model 1893 for smokeless powder cartridges, including .30-30 Win. and later the .32 Win. Spl. (which Marlin called the .32 High Power Special) and a proprietary .25-36 Marlin. In 1923, Marlin also offered a five-shot Sporting Carbine with a three-quarter magazine. It was the fast-handling, tack-driving carbine that proved most popular and, while not as prolific, became a serious challenger to Winchester's Model 94 carbine.
In 1905, the Model 1893 nomenclature changed to "Model 93," saddle rings were optional and barrels were stamped "Special Smokeless Steel." Some shooters still preferred blackpowder loads, though, and that same year Marlin came out with a limited run of Model 93s chambered for .32-40 and .38-55 and stamped "For Black Powder Only." In time, the Model 93 became the Model 36, and then the 336, which remains in the line today, although, due to recent ownership changes, the lever-actions are made now in Ilion, N.Y., not Connecticut.


As with many early Marlins, serial number records for the Model 93 are incomplete. The inletted "Bull's Eye" in the stock began in 1921, the same year Marlin began putting serial numbers on the bottom tang, under the lever—both are features of this carbine. The barrel of the Model 93 shown here is stamped "Marlin Firearms Company." Post-1924 barrels were stamped "Marlin Firearms Corporation."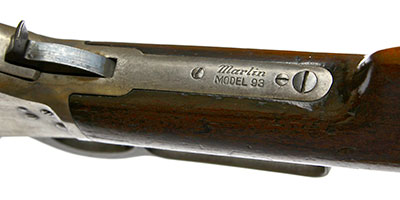 With faint traces of color-casehardening on a graying receiver, a dark, slightly rough bore that still retains distinct rifling and a tight action with no major flaws in metal or wood, the shootable and increasingly collectible carbine shown here would easily fetch $700 to $850 at a gun show, probably more at an online auction.
Gun: Marlin Model 93 Carbine
Chambering: .30-30 Win.
Serial No: 36XX
Manufactured: c. 1921-24
Condition: NRA Very Good (Modern Gun Standards)
Value: $700 to $850