posted on October 7, 2016
Support NRA American Rifleman
DONATE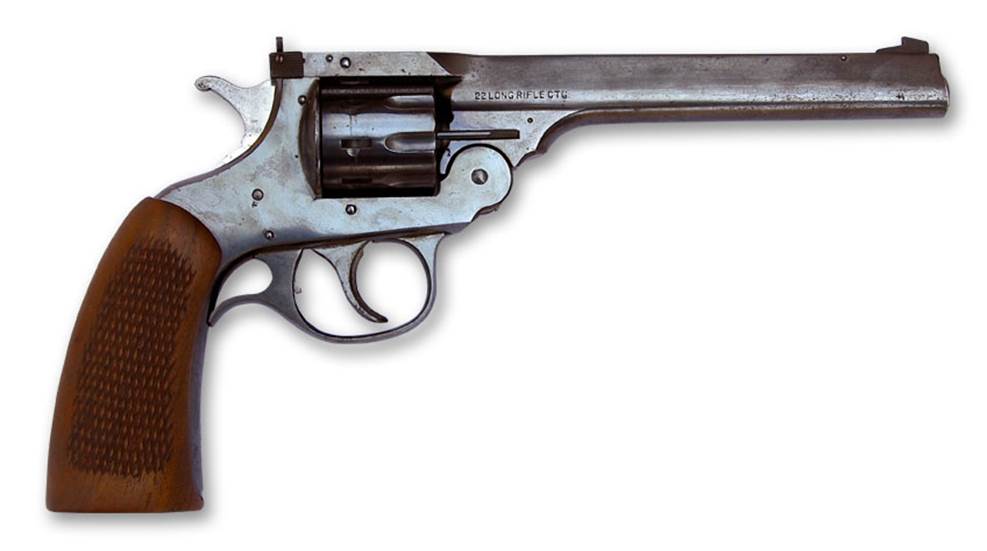 In 1871, Gilbert Henderson Harrington and his uncle, Frank Wesson, formed a firearm manufacturing company that resulted in Harrington taking on a new partner, William Augustus Richardson. The resulting firm of Harrington & Richardson Arms Co. went on to produce a number of utilitarian and relatively inexpensive firearms for more than a century.

One of its most popular was the well-made H&R Model 999 Sportsman, a nine-shot, top-break, double-action revolver that made the term "six-shooter" passé. Introduced in 1932 as the country struggled through the Great Depression, the Model 999 was chambered for the economical .22 Long Rifle (and able to digest .22 Short and .22 Long cartridges as well), and the .22 WRF (Winchester Rim Fire). With an introductory price of $32, the Model 999 appealed to recreational shooters as well as ranchers, farmers and other outdoorsmen who wanted an affordable handgun with a tad more capacity than the standard sixgun.
Key among the Sportsman's features was its top-break action; lifting the adjustable rear sight unlocked the barrel assembly, which pivoted on the frame as an ejector snapped up and ejected the shells—whether or not they had all been fired. Barrel lengths were 2", 3", 4" or 6". The Sportsman featured a one-piece, hand-checkered walnut stock on guns made before and during World War II, which came in a cardboard box with a wooden cleaning rod. Post-war versions are quickly identified by their two-piece walnut stocks. Standard finish on the all-steel gun was blue, but a nickel-plated "Custom" version was offered, as was a special "1 of 999" edition that sported factory engraving.

The Model 999 ceased production when the original H&R went out of business in 1986 (although H&R 1871, LLC, revived a transfer-bar version briefly from 1991 to 1999). Three different original H&R models were produced over the years, all of which sported heavy ribbed barrels (vented on later versions) on what was a rather clunky-looking handgun. The double-action trigger pull is heavy enough to encourage single-action shooting. And as far as accuracy, taking shots at rabbit-size targets from anything more than 25 yds. is somewhat of a dicey proposition. On today's market, pre-war guns are gaining in popularity, although as the Blue Book of Gun Values points out, this is due more to affordability than collectability.
This 90 percent gun, courtesy of American Gun Works in Glendale, Calif., (americangunworks.net), is worth $350 to $375. Even in pristine condition, the value would top out at around $525.
Gun: H&R Model 999 Sportsman
Chambering: .22 Long Rifle
Serial No: D51XX
Manufactured: 1943
Condition: NRA Good (Modern Gun Standards)
Value: $350-$375