posted on November 6, 2014
Support NRA American Rifleman
DONATE
Gun: Winchester Model 1876 Sporting Rifle, Second Model
Caliber: .45-60 Win.
Serial No.: 12,XXX
Condition: NRA Fine/Excellent (Antique Gun Condition Standards)
Manufactured: 1880
Value: $8,500 to $9,500
Although Winchester had a winner with its Model 1873, its initial .44-40 Win. chambering was underpowered for anything other than small- to medium-size critters. To appeal to the lucrative sport-hunting market, the rifle was beefed up to create a gun specifically for big game. Christened the Model 1876 and looking like a Model '73 on steroids, the rifle, unveiled at America's Centennial Exposition in Philadelphia, was given the moniker "The Centennial Rifle."
To go along with its muscular countenance, the Model '76 was chambered for a proprietary .45-75 Winchester Centennial cartridge. Unfortunately, the 10-lb. rifle was hampered by a toggle-link action inherited from the '73, making the receiver too short to handle one of the most popular cartridges of the day, the .45-70 Gov't. Nonetheless, .50-95 Express, .45-60 Win., and .40-60 Win. chamberings were soon added.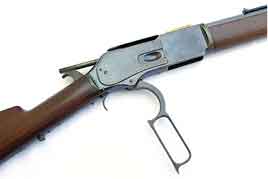 Standard guns were blued, while deluxe models were casehardened. Four versions were produced: a 28"-barreled Sporting Rifle, a half-magazine Express Rifle with 26" barrel, a full-stocked 32"-barreled musket, and a full-stocked carbine with a 22" barrel. The Model '76 found favor with sportsmen and lawmen alike, including the Texas Rangers and the Canadian Northwest Mounted Police. It also won the endorsement of politician-turned-rancher Theodore Roosevelt, who outfitted himself with a Model '76 Sporting Rifle, an Express Rifle and a carbine, all Nimschke-engraved.
Unfortunately, the Winchester 1886—with its smoother action and coveted .45-70 Gov't chambering—doomed the Model '76, which was discontinued in 1897 with 63,871 guns produced. Collectors classify them as First Models with no dust cover, Second Models with a dust cover rail fastened by a screw, and Third Models with dust covers integral with the receiver. Until fairly recently, the guns often languished at gun shows, overshadowed by more romanticized Winchesters. But rising prices have redirected attention to the Model '76, which in recent years has dramatically escalated in value. In the 1980s a 60 percent Model 76 fetched less than $1,000. Today, a current catalog from Cowan's Auctions of Cincinnati, Ohio (cowans.com), estimates a 60 percent early Second Model Sporting Rifle at $5,000 to $7,500.
This Second Model Sporting Rifle is in the popular .45-60 chambering and remains in 70 percent condition with a pristine bore, which is unusual for a model that typically saw hard use. Although, like most Model '76s, it is missing the three-piece cleaning rod in the buttstock, its value is $8,500 to $9,500.