Support NRA American Rifleman
DONATE
As far back as the American Revolution and the Civil War, when they disguised themselves as male soldiers, women have a long history of proudly serving their country. During World War I, they served as nurses. In World War II they took on roles in aviation, medicine, communications, intelligence, science and technology. In 2013, for many, their roles crossed into uncharted territory as the U.S. Department of Defense reversed its ban on women serving in combat.
And as the population of women entering the military grows, so does the number of women veterans as they exit the service and join the civilian workforce. It's evident that entrepreneurship is on the rise with this particular demographic, too. According to the Small Business Association, between 2007 and 2012, the number of American businesses owned by women veterans nearly tripled from an impressive 130,000 to an extraordinary 384,574.
With the holidays in sight, and in celebration of Veteran's Day and the women who have served, take a closer look at the unique products offered by women veteran-owned businesses.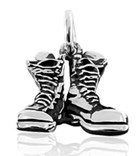 Combat Boots Jewelry
Founder Lisa Bass went to Officer Candidate School at age 35, attended Airborne School as a grandmother, and became the first female Commander in the 173rd Airborne Brigade Combat Team. While on active duty, surrounded by men, she noticed the men wore lanyards or hats to represent they had served. She realized there was nothing available for women to represent their military service, so she founded Combat Boots Jewelry.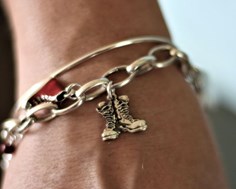 Lisa is a retired Major from the U.S. Army. Products include necklaces, earrings, bracelets, and men's items such as lapel pins and tie tacks. For more: combatbootsjewelry.com
Divine Safety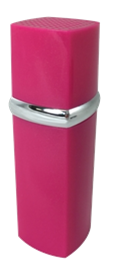 Divine Safety is a small women disabled-veteran owned business offering personal security and self-defense products. Company owner Trina Hines previously worked at the Pentagon during 9/11. Items for sale include stun guns, pepper spray, and tasers. For more information: divine-safety.com
L'aube Boutique
Originally from Trinidad & Tobago, founder Fariza Meyer came to the United States when she was 15. After years of living in New York, she started a family and moved to Florida. At 30, she joined the military and served as a U.S. Army reservist. After 10 years, she again relocated, this time across country, settling in California, where she launched L 'aube Boutique. Products include patriotic gifts, clothes, handbags, jewelry, and shoes. For more information: laubeboutique.com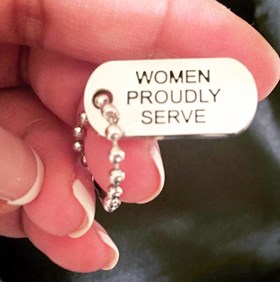 Sword & Plough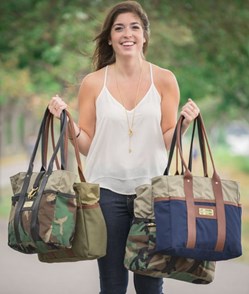 Sword & Plough founders sisters Emily and Betsy grew up at West Point as part of a military family, so it was almost destiny that at least one of them chose to become a U.S. Army officer. It was during her service that Emily conceived of the idea of repurposing surplus military products into sustainable fashion. Their mission statement is to "empower veteran employment, reduce waste and strengthen shared civil-military understanding." Ten percent of the company's profits go to veterans' organizations. Products include purses, bags, backpacks, jewelry and accessories. See them all at swordandplough.com.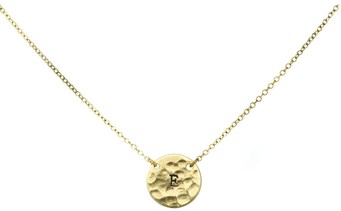 TurboPup
Company founder Christina Guerrero, a 2002 U.S. Air Force Academy graduate, was on a backcountry ski trip with her rescue dog when she realized he was just as hungry as she was. She shared her own food with him, but worried it did not contain the nutritional value required by her canine companion on their rigorous adventure. From this experience she developed TurboPUP "Complete K9 Meal Bars."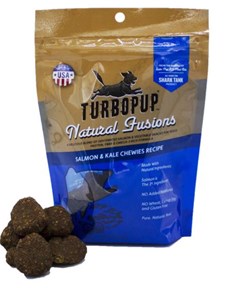 An appearance in the TV show "Shark Tank" In 2015 yielded Christina a deal with one of the sharks, enabling her business to blossom. Guerrero is a decorated Air Force veteran, and proud recipient of two Combat Air Medals. As a veteran, Cristina donates 5 percent of TurboPUP's profits to causes in support of America's four-legged best friends and heroes. Products are premium dog meals and snacks in flavors like pumpkin & grilled lamb, and roast beef & blueberry. Visit turbopup.com/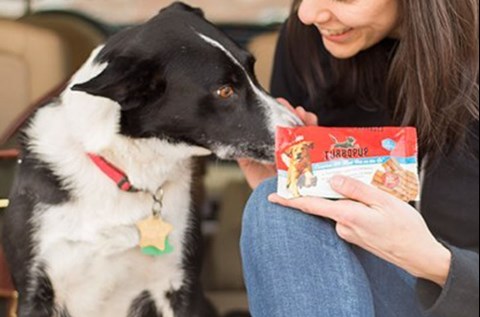 Swaye Tea 
Navy veteran Aisha Henry co-founded Swaye Tea after seeking non-medicinal treatments for her acid reflux disease. She wanted to offer customers a wide range of herbal blend teas to help treat various ailments. Products include blends that help support the immune system, calming blends, and energizer teas. Besides bulk tea, the site also offers medicinal herbs and tea-making accessories. See them all at swayetea.com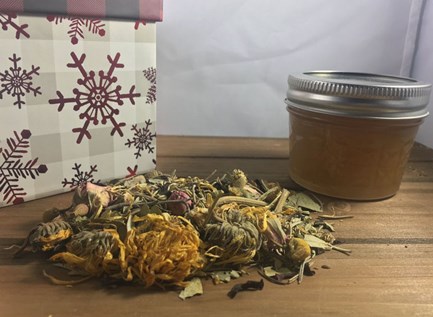 California Handmade Soaps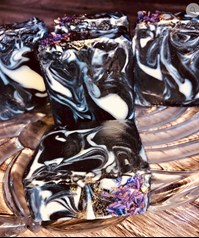 California Handmade Soaps offer handcrafted soaps, scrubs, soaks, bath teas and spa items. Products are made from ingredients that are natural, organic, vegan, cruelty-free, hemp cannabidiol, non-GMO and responsibly sourced. In addition, the soap is made in small batches using high-quality (often food-grade) ingredients. Soaps made with love by a veteran and woman-owned company. For more information: calihandmadesoaps.com
NORIE Shoes
When company founder Natasha Norie-Standard was 12, she read her very first Vogue magazine, which sparked a lifelong love affair with fashion. As an adult, she entered the Army, and spent 20 years in various positions of military leadership. After the Army, she studied footwear in Italy, and fell in love with the many Italian shoe lines. Inspired by the Italian shoe designers, she returned home to Indiana and launched NORIE Shoe Company.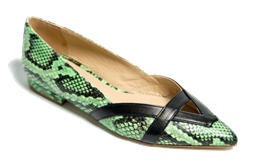 NORIE Shoe Company's goal is to design and handcraft affordable women's shoes that are wearable pieces of art. Natasha is also giving back to her community by creating the Dream Chasers Foundation, which provides mentoring to high schoolers who are aging out of the foster system. For more, go to norieshoes.com
WallaBox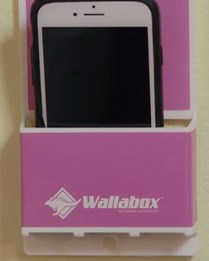 While company founder Anne Brewer is not a veteran, she is a military spouse, and manufactures a unique product. Her husband is a retired Marine, and she came up with the idea to launch her business while in a portable latrine. "My husband loved serving his country for 28 years, but that meant moving our family every few years," says Anne. "It's hard to keep starting over and getting new jobs. That's why many military spouses become entrepreneurs." "One day my phone fell out of my back pocket onto the floor of a porta potty!" says Anne. "That's when the light went off. I knew we all needed somewhere safe and secure to put our expensive phones. I drew Wallabox on a napkin, found a plastic factory and had a prototype in 3 days. My first customer was the portable toilet company that I dropped my phone in." Wallabox is an American-made, wall-mounted cell phone holder, and is available in black, pink, gray and white. See it at mywallabox.com