Support NRA American Rifleman
DONATE
For the December 2014 issue of the American Rifleman magazine, I was pleased to write a feature on Smith & Wesson's newest revolver, the Model 69. Briefly, this all-new gun is a five-shot .44 Mag. built on the strong L Frame. It took some clever engineering tricks to make this happen, but the gun is here and it fits an interesting niche in the line. Since the model 69 is all steel, it is heavier than the 6-shot 329 guns built on the light-but-strong Scandium frames. But it is lighter than the all-steel N frame .44s. Although it gives up one shot in the cylinder, the 69 has less mass than the larger 29s and 629s. When you cap one off, you know it was a real Magnum, but the experience is not painful, as it is with the ultralight 329s. It is a very handy tool for the outdoorsman.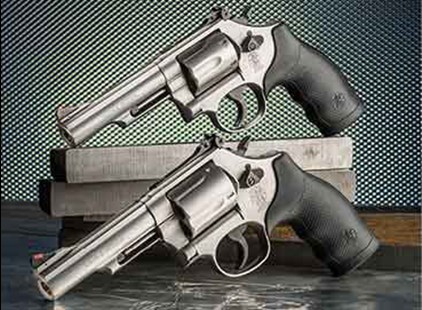 I fired the gun a good bit in the course of putting the article together and found myself wishing for a set of Herrett's Trooper stocks on this magnum. This stock design was developed by the late Bill Jordan, working in concert with Steve Herrett in his Twin Falls, Idaho shop. Currently, the Trooper stock design is made under the supervision of son Rod Herrett in that same legendary shooter's haven. Designer Bill Jordan was a combat Marine, U.S. Border Patrolman, writer, hunter and devoted NRA member. His speed and accuracy with the fighting revolver is the stuff of legend. Jordan's guns, as used in the wild and on the street, were equipped with Trooper stocks.

While the original intent of the design was to enhance a medium revolver's controllability in fast close situations with police service ammunition, the Trooper stock turned out to be something else as well. It is a highly effective recoil-taming stock, suitable for such brutes as the X-frame Smiths in .460 and .500 S&W Magnum. It performs this task with its shape. Troopers are made of walnut, as plain or fancy as you want to pay for. The key is a sweeping curve that runs from the top rear to the lower back corner. Properly sized to the individual hand, the Trooper stock vectors the recoil thrust into the strong center (palm) of the shooter's mitt. It is easier to control recoil and recover from a shot with these stocks and I recommend them for your new Model 69 or other good American revolver.