by
posted on April 8, 2016
Support NRA American Rifleman
DONATE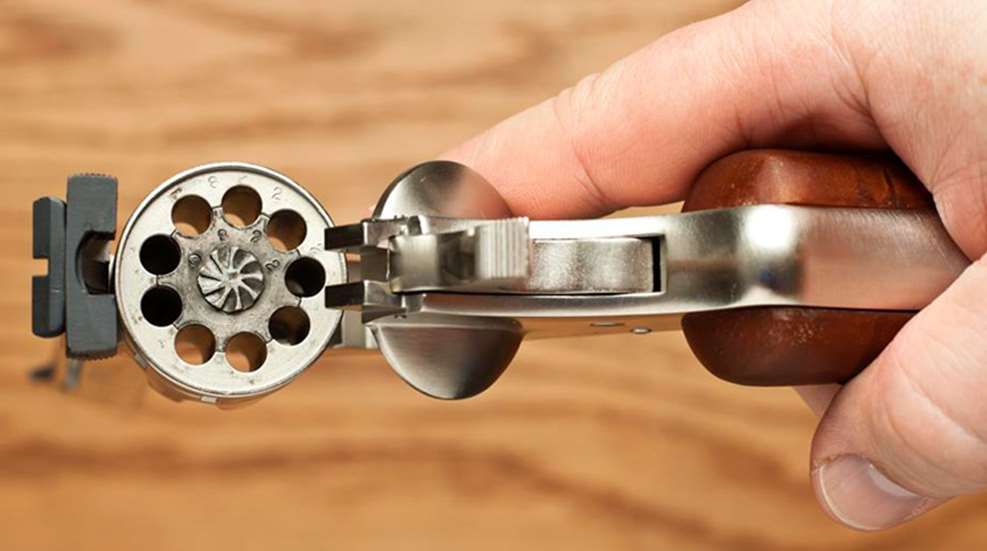 One way or another, those of us who are devoted to shooting will eventually end up with at least one ugly handgun. Whether inherited, purchased or received as gifts, these ugly pistols lurk around the edges of gun collections, ruining the view. But, before we proceed, I need to make some important distinctions.
Old handguns are not the same as ugly handguns. Old guns are those with the designation of antique, collector's item or items of historical value. Their dings and scratches are badges of honor. The patina of their finish and their well-rubbed grips show their age, and often their value. Firearms like these deserve to be treasured and preserved in as near to the original state as possible. Usually it's not too difficult to find out an old handgun's value and take the steps to preserve it. This story is not about old handguns; it's about ugly ones.
Some semi-autos and revolvers leave the factory in a pug-ugly state. Others were once beautiful specimens that had the pretty knocked out of them by previous owners. It would be nice if every shooting iron lived up to its potential, but many don't. One of my favorite things to do is visit the little gun shops tucked away around town that seem to have a gift for attracting unusual used firearms. In these little shops, mixed in amongst the other used guns, down in the depths of the gun cases, there lie hidden treasures.
These are pistols for which the ugly is only skin deep. Under the scratches and wear is a sound frame, perhaps a tuned trigger or even something akin to a collector's item. I'll admit that it takes courage to look past the rock-bottom price tag, to brave the fish-eye from the clerk and to hope the other folks at the counter won't openly laugh and point at you when you ask to see the pistol. Though most of these unattractive handguns end up back in the case, a few will turn out to be real finds.
Over the years, a few of those that have become lovingly known in my household as "rescue guns," have become some of my favorites to shoot. And because I like them so much, I've wanted to give them a second chance to look as good as they perform. After verifying that the financial value of these pistols would not be diminished by the refinishing process, I contacted Ford's Custom Gun Refinishing in Crystal River, Fla., about three great shooting, but ugly to look at handguns.
Baby Browning: The Jewel
Back in the early 1960s, my dad bought a factory-fresh Baby Browning .25 ACP manufactured in Belgium. Not long after his purchase, these little semi-autos were banned from importation. Their high quality and limited availability has given the Baby Browning a collector's item status. I've always admired the craftsmanship of this particular pistol, and I thought it would be nice to have one of my own.
By the time I got serious about shopping for one, the prices had skyrocketed and they had become as scarce as honest politicians. I finally found a Belgium Baby Browning surfing the bottom shelf at a dealer I visit occasionally. Its age, caliber, well-rubbed exterior and his lack of knowledge inspired the dealer to give it a deep-dish discount.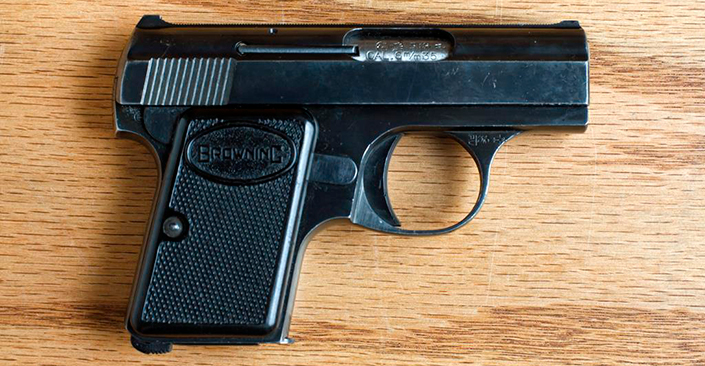 My goal in refurbishing the Browning was to restore it to its glory days. The gun was returned with a flawless, deep, rich Master Blue finish. Without a photo to prove it, I would never guess there had ever been any pitting on the slide. I included two factory magazines for the Browning and both returned with their rough matte finish replaced with the same deep polished finish as the pistol. Since they were in perfect shape, I decided to keep the factory grips in place.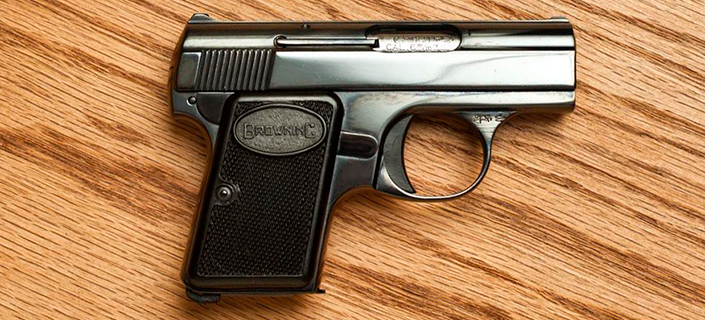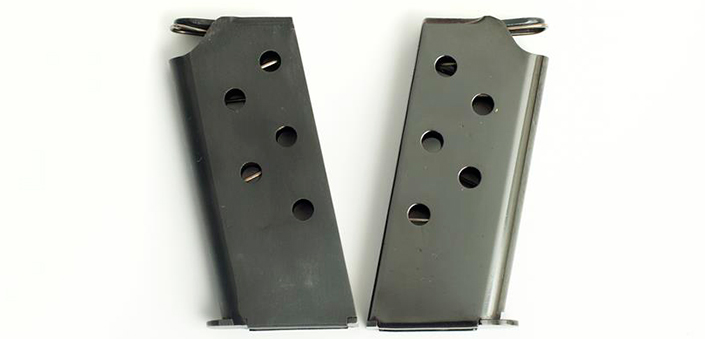 Smith & Wesson 547: An Unusual Revolver
The next gun in line was a Smith & Wesson 547. Not familiar with this model? The 547 is a heavy barreled K-Frame 6-shot M&P revolver chambered in 9 mm. Smith & Wesson made just 10,270 of these guns from 1980-1985, of which 6,486 were fitted with a round-butt grip frame and 3-inch barrel, like the one I found. As rumor has it, this was one of Smith & Wesson's most difficult models to manufacture due to the unusual extractor that ejects spent 9 mm cartridges without the use of moon clips.
This particular revolver was resting, unloved and unrecognized, in the discount case of a little strip mall shop. It had a spotty and unattractive Parkerized finish, a severely scarred and cracked after-market wooden grip and an unsightly glob of orange resin on the front sight that looked like it was applied by a golden retriever's tongue. The clerk was happy to accept substantially less than the 547's value just to make it go away. I was glad to oblige, but only after we swapped out the broken grip for a plain but functional rubber substitute.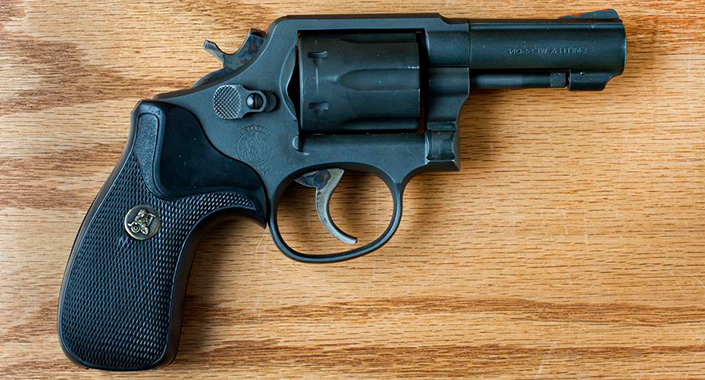 Put simply, I love shooting this revolver. It has that classically smooth trigger that makes Smith & Wesson revolvers from this time period so desirable, and 9 mm is inexpensive to practice with. It may be an unusual handgun, but I enjoy putting it through its paces as often as possible. My goal in refinishing this revolver was to make its appearance match the Smith & Wesson name stamped on its frame. The S&W 547 was returned with a mirror shine, and I don't mean figuratively.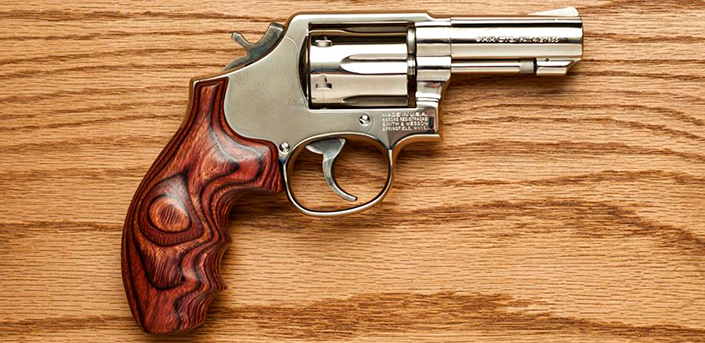 This finish could be used as a shaving mirror. The old rubber grip didn't do the nickel justice, and since the factory originals were long gone, I fitted the 547 with a Hogue laminated rosewood grip. The wood of the grip and the finish complement each other nicely, and this grip is much closer to the factory original in its shape and size.
Harrington & Richardson Model 999: The Problem Child
The third gun to get refinished almost didn't make it onto the list because of its exceptionally poor condition. I found this revolver priced to sell at a whopping $59. Frankly, it didn't look worth the price. Long ago, before some ninny had tried to beat it to death, this sad looking revolver had been an elegant Harrington & Richardson Model 999 Sportsman.
Unlike some of the more utilitarian H&R revolvers, the Sportsman has a sleek design that manages to look futuristic and retro at the same time. This 9-shot top break revolver is chambered in .22 Long Rifle with a 6-inch barrel. The Sportsman was scratched, pitted, rubbed free of bluing in several places and it had no rear sight. To top it all off, the gun had bright orange rust oozing from the pins and hinge, as if someone had dropped it in a puddle and had forgotten to dry it.
The rifling was in good shape, however. All of the mechanical aspects of the revolver seemed sound. Though I knew it would be hard to find parts for the revolver, I wanted to give it a try. To the dismay of the clerk, and my wife, I bought it. By sheer luck, I discovered that another local gun dealer had a Sportsman parts gun in its service shop's inventory. The gunsmith quickly checked my gun, replaced the missing rear sight and some other bits and pronounced it ready to shoot. Since the H&R 999 Sportsman followed me home, I have put more rounds through it than I can count and believed it could look as great as it shot.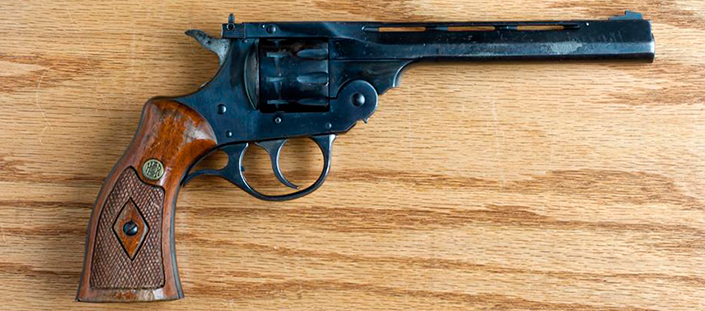 The H&R Sportsman 999 came back with a brushed hard-chrome finish. The transformation was so complete I had to double check the serial number to make sure it was the same gun.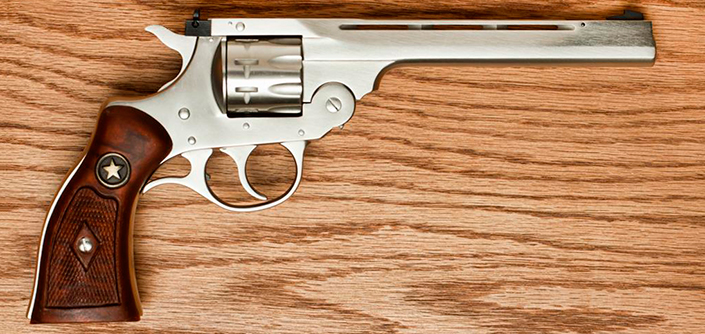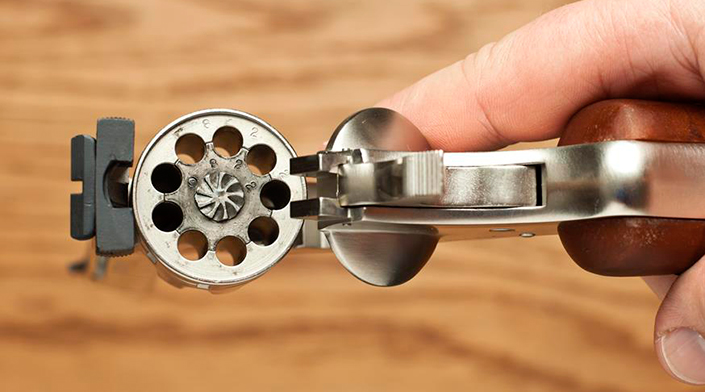 Along with the brushed, pit-free finish of the frame and cylinder, the top strap received a satin finish and the front and rear sites were blacked. Ford even remembered to refinish the grip screws to match the frame. Since grips are scarce for this particular revolver, I took advantage of the custom grip services provided by Tombstone Grips. Of the many options available, I selected a textured grip in Dave Corbin's unique amber burl finish, which looks terrific against the brushed chrome.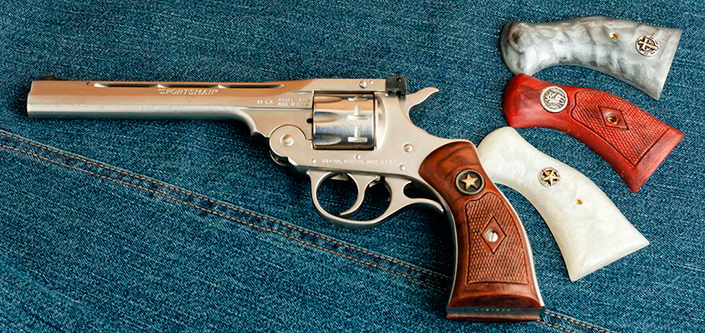 Second Chances
I am extremely pleased with the work provided by Ford's Custom Gun Refinishing. The results for each gun exceeded my expectations, and I expected a great deal. Ford's prices are extremely reasonable, as are their turn-around times. Ford's has a motto: "We do every gun by hand, one at a time." In these days of outsourced work, rushed fixes and mass-produced products, it was so refreshing to meet a team of craftsmen that take pride in their work and who go out of their way to care for their customers.
However, there are a few things to remember before sending a gun to a professional for refinishing. Always verify the status and value of your firearm before making any permanent alterations. There is a difference between having a gun refurbished (returned to its original state) and refinished (changed from the original finish to something new). Make sure your refinishing representative has a clear understanding of what is to be done to the firearm before the work begins. Finally, if you decide to replace the factory original grips, don't throw them away. It may turn out that the original grips add value to the firearm.