Gamo's Whisper Fusion Pro airgun possesses a rather futuristic appearance-especially if your idea of an air rifle is a Red Ryder BB gun. But, times change, and the recreational airgun or BB guns of the 1960s and '70s have evolved into serious shooting machines, even suitable for small-game hunting. The Gamo exemplifies that development.
Gamo airguns have been around, at least in Spain, since 1961. It wasn't until 1995 that Gamo airguns, with the formation of Gamo USA Corp., became readily available in the United States. Today, Gamo is the largest manufacturer of pellets in the world and the leading airgun manufacturer in Europe.
The Gamo spring-piston-powered Whisper Fusion Pro is a slightly more powerful version of the company's Whisper Fusion rifle. With a spring-piston air rifle the power comes from the spring compression, and this is a manual operation performed by the shooter. To compress the spring on the Whisper Fusion Pro, you grab the end of the rifle's barrel and pull it down and to the rear where it will stop after about 135 degrees of travel. This serves to compress the spring piston and requires, according to Gamo, about 41 pounds of force. The Gamo Whisper Fusion air rifle requires an estimated 32 pounds of force for cocking, but that rifle is rated at 100-f.p.s. less than the Whisper Fusion Pro. This serves to illustrate the lack of efficiency of an air-powered rifle; with 9 lbs. of addition cocking force only yielding a 100-f.p.s. increase in velocity.
However, efficiency is not to be confused with consistency. Thirty shots with three different pellet types were fired over a chronograph placed 10 ft. from the muzzle. Amazingly, the average maximum velocity deviation for all 30 shots was only 16 f.p.s.; in fact, the largest single velocity variation was only 28 f.p.s. Such consistency is almost unapproachable with smokeless-propellant-driven bullets. Velocities this consistent should produce good accuracy, but what is good airgun accuracy? The tendency is to compare an air rifle to a .22 Long Rifle, particularly when velocities are approaching that of a .22 rimfire. A very good-shooting .22 rifle will put five shots into 1-inch or less at 50 yards. Air rifles typically will not.
Five, five-shot groups were fired with three different pellet types from a sandbag rest at 50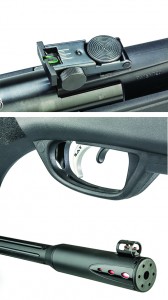 yards with the Gamo Whisper Fusion Pro rifle, which was topped with a 3-9X 40 mm Gamo air rifle scope. The smallest group fired measured 2.92 inches and the largest 4.56 inches. The average for all groups was 3.78 inches. As far as small game hunting goes, this hardly qualifies as a 50-yd. rifle; however, at 25 yards several sub-inch, five-shot groups were fired and that is plenty accurate for hunting squirrels and rabbits.
The rifle is large and relatively heavy for an air rifle. But, that length and weight balanced very nicely at a point just forward of where you would find a front action screw on a bolt-action center-fire rifle. In fact, when shouldered, the rifle seemed not near that heavy and was easy and comfortable to hold on target. The adult proportions of the stock helped with the on-shoulder comfort and stability.
The comb of the synthetic stock is positioned at a height that should align most shooters' eyes with the open sights. That makes it a bit low for optimum use with a riflescope, but the sights are so good it may not matter. The front blade is topped with a red fiber-optic pipe and rides beneath a ventilated hood. The rear is a wide, flat blade with two green fiber-optic inserts on each side of a square notch. It also has large thumb dials for windage and elevation adjustment. For those who prefer optics, the receiver is dovetailed for scope mounts.
The Smooth Action Trigger (SAT) is housed inside a trigger guard that is integral to the synthetic stock. The safety is a plastic lever just forward of the trigger that must be pushed forward in order for the rifle to be fired. There is an opening or slot in the bottom of the trigger guard that allows access to the trigger adjustment, which is a small screw immediately behind the trigger.
The SAT is a two-stage unit with about a 1/4 inch of take-up before any noticeable resistance is felt; after that about 4 lbs. of pressure is applied. The release is smooth and consistent, but might be described as having a slightly mushy feel. Airgun-wise it is a great trigger, and is better than the triggers on much more expensive rimfire or center-fire rifles.
The Gamo Whisper Fusion Pro air rifle proved to be unfailingly reliable and plenty accurate for targets or small-game hunting out to around 30 yards. It was a neat to hear the supersonic crack of the 5.0-grain pellets when they broke the sound barrier and just as pleasing to pull a trigger that was consistent and not springy or heavy. The gun also offers the added $100-plus value of the scope base and the 3-9X 40 mm scope with an adjustable objective. It's easy to see why Gamo is quickly becoming one of the most popular airgun brands here in America, too.
Importer: Gamo USA, 3911 S.W. 47th Avenue, Suite 914, Ft. Lauderdale, FL 33314, (954) 581-5822
Caliber: .177
Action Type: spring-piston-powered single-shot air rifle
Receiver: steel
Barrel: 18"; fluted polymer -jacketed steel
Rifling: two-grooves 1:18" RH twist
Sights: fiber-optic front; fiber-optic fully adjustable rear; 3-9X 40 mm Gamo scope with bases and rings.
Trigger: two-stage adjustable; 4-lb. pull
Stock: black synthetic; length of pull, 14"; drop at heel, 2"; drop at comb, 1"
Overall Length: 43"
Weight: 7 lbs., 14 ozs. (with scope)
Accessories: Gamo adjustable objective 3-9X 40 mm scope with bases and rings, owner's manual
Suggested Retail Price: $330