Support NRA American Rifleman
DONATE
The name Fort Knox conjures up images of a huge complex in Kentucky with high security fences, cameras and armed guards. Little may be known about this fortified installation near where America's gold reserves are rumored to be housed, but suffice it to say it is probably one of the most secure compounds in the United States and, possibly, the world. But when most firearm enthusiasts hear the name Fort Knox, they probably think about gun safes.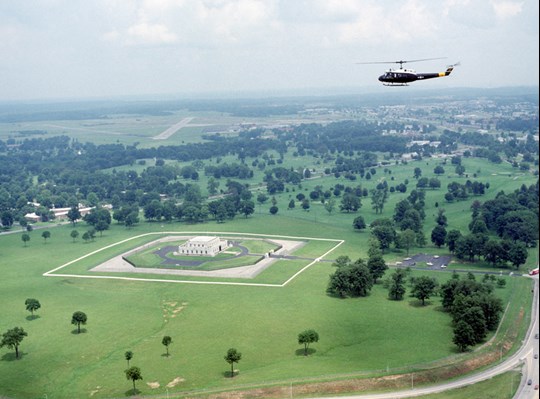 The U.S. Bullion Depository adjacent to Fort Knox Army Post in Kentucky (Wikipedia image)
As the story goes, the man who would go on to start Fort Knox Security Products was hunting with friends some 40 years ago. The men were gathered around the campfire one night talking about what they'd like to see in a home gun safe. Remember, at this time, the home gun safe industry was brand new, with few companies making secure storage specifically for firearms. As they passed ideas around, one hunter said, "Whatever it is, it needs to be as secure as Fort Knox."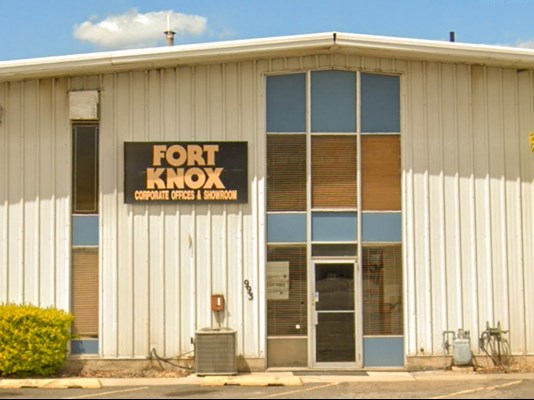 Started in 1982, Fort Knox Security Products still operates out of its start-up location in Orem, Utah. The facilities have expanded and grown over the years but the original shop remains part of the factory. Now owned by one of the founder's sons, Fort Knox is a family business with many second- and even third-generation employees working alongside brothers, fathers and grandfathers.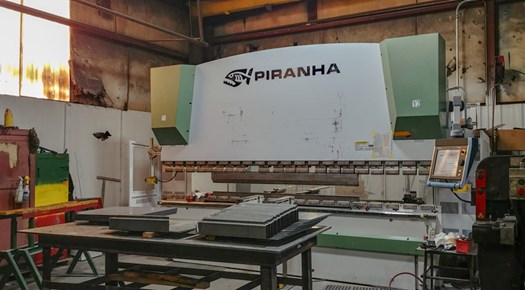 One of the massive presses used to bend safe bodies into safes. 
Inside the Fort Knox compound, safes are built one at a time in various locations. On one side of the plant, safe bodies are constructed from solid plates of sheet metal that are bent into shape on one of two enormous brake presses. These massive presses fold the solid sheets into rough shape. Bodies are made in various thicknesses—called gauges—depending on which safe series is being made.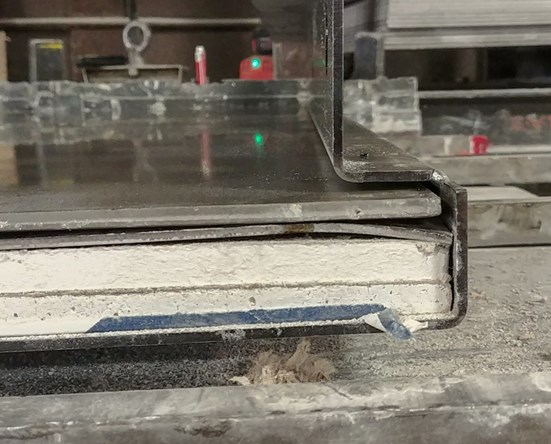 A safe door during construction. Note the one thin and one thick plate of steel added in addition to two layers of fire board. 

Once a safe body is bent to shape, it is moved to the welding shop. Here the top and bottom are fully welded in place and the safe body is given its final form. Inside this newly formed body, a series of small pins are welded and spacers are added. These pins serve as anchor points for the safe's fire lining. The spacers fit over the pins and form a thin air gap between the safe's exterior wall and the interior fire lining. Fort Knox has found that this air gap serves as a thermal barrier that slows heat transfer and helps the safe's contents survive in the event of fire. No glue is used to secure the fire lining. Glue can melt and fail in extreme heat, causing the fire liner in some other brands to collapse in an actual house fire. In addition to anchoring the fire lining, the pins serve as attachment points for the shelf brackets. Some other companies screw shelf brackets directly to the fire lining which is often just common gypsum board. If too much weight is placed on these brackets, the gypsum board can fail.

Meanwhile, in another part of the shop, safe doors are constructed. Like the body, the door starts out as one sheet of steel that is folded to create the outside skin of the door. Inside this skin is placed fire board and, finally, an interior door plate. This interior door plate fits completely behind the door and reinforces it fully from edge to edge and top to bottom. All standard doors are fabricated in a similar manner but the layers of internal fire board and gauges of steel change, depending on the safe model.  
A note on gauges: Sheet metal is usually measured in "gauges" that correspond to an average thickness. 10 and 11 gauge are nominally about 1/8" thick.  7 gauge corresponds to 3/16" while 4 gauge corresponds to ¼" thick. Obviously, the lower the number (and the thicker the steel), the greater the effort to breach the safe.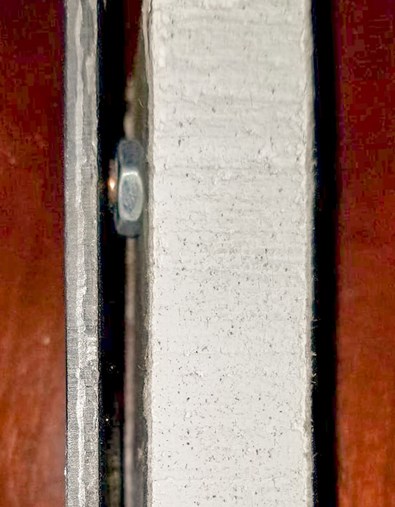 A sectionalized look at a safe wall. Note the spacer (actually a nut) between the steel outer wall and the fire board. The spacers create an air gap that slows heat transfer. 
Once the door is finished and the body welded, the two parts are joined and assembled and sent to the paint booth. Safes are painted using high-quality gloss or matte paints and are dried in an oven before moving on. Once painted and dried, safes are sent to final finish. 
Final finish includes the installation of the interior shelves and carpet as well as the lock mechanism and dial. At this point safes are given a final inspection for overall fit, finish and operation before being packaged for shipment. Current production capacity is upwards of 25 safes a day with 90 percent of production being pre-sold by dealers at the time of construction.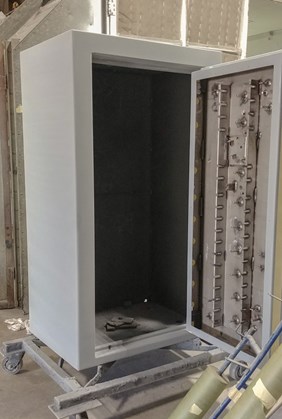 A safe is assembled and headed to paint; another leaves paint and is headed to final assembly. 
The basic manufacturing processes outlined above are somewhat standard across the industry but Fort Knox prides itself on attention to detail and quality control during all facets of construction. One thing quite unique to the Fort Knox line is the amount of customization available to the purchaser. Fort Knox offers seven different cataloged gun safe lines. To nearly all these the buyer has the choice of adding additional fire protection or additional layers of internal steel. Internal steel reinforcement can include conventional carbon steel to help survive pry attacks. Stainless steel can be added for protection against cutting torch attacks.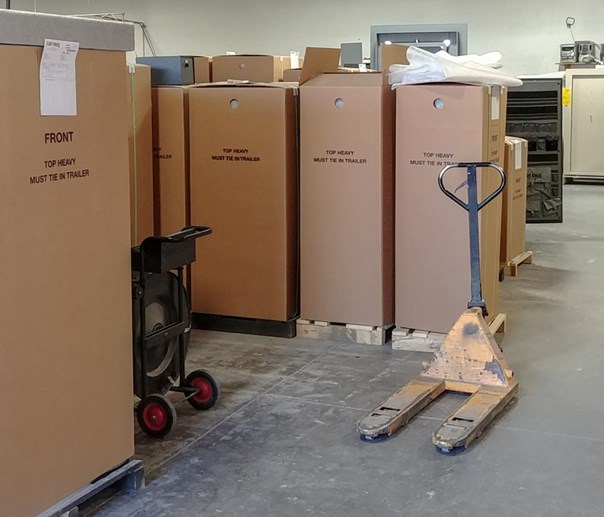 Safes packaged for shipment and ready for the freight truck. 
Fort Knox now offers AR500 reinforcements as well. AR500 is used to make ballistic steel targets and adds a layer of security above and beyond that of carbon steel. While some other companies are offering stainless steel as an option, only Fort Knox is currently offering AR500 as an upgrade. Any of these liners can be added to both the door and body and they can be mixed and matched based on personal preference or security expectations.  
While Fort Knox safes, in general, carry a premium price tag compared to some brands, the Maverick line (Fort Knox's entry level product) is comparable to top-of-the-line products from some other manufacturers. When one learns that Fort Knox uses high-quality fire board in all of its safes, regardless of series, and most models include security features such as secondary door relockers that are not used by some other companies, the higher retail price is justified. All Fort Knox safes carry the Underwriters Laboratories Residential Security Container security rating. This means Fort Knox safes have survived simulated break-in attacks that include basic prying tools and a drill attack. The UL has recently updated its security ratings to include Level Two and Level Three attack standards that increase the aggressiveness of the simulated attack. Fort Knox is currently exploring options regarding these new security ratings.  
While security standards exist through the UL there is no industry standard for fire testing. Some companies outsource fire testing while others, including Fort Knox, conduct testing onsite using a large industrial oven. This oven provides a measure of scientific repeatability that may not be available to other companies. Fort Knox safes stand upright during testing, with heat sensors placed inside at the bottom, middle and top of the safe. Some other companies are reported to perform fire testing with safes lying on their backs or only publishing temperature data obtained from the sensors located in the bottom of the safe. One safe company is rumored to conduct fire testing using bonfires fueled by old shipping pallets. Caveat emptor.  
We, as responsible gun owners, have an obligation to our families, our neighbors and our communities to take steps to prevent unauthorized access or theft. The market for safes is a competitive one. Prospective buyers are encouraged to shop around and research products thoroughly before making a purchase. It just may be that the inexpensive imported safe at the big box store is, in fact, not as good of a value as it first seems.