Support NRA American Rifleman
DONATE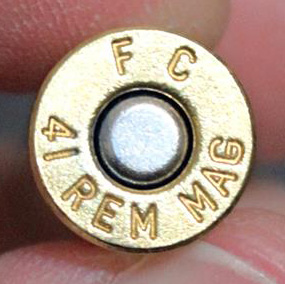 In 4 Favorite Forgotten Handgun Cartridges, I talked about a few of the more obscure calibers that I enjoy working with. Shortly after posting, reader responses reminded me that another terrific revolver cartridge had been forgotten once again, namely, the .41 Remington Magnum. Although I've read about the .41 Mag. over the years, I had yet to fire it.
Based on what I saw in print it was easy to understand why it developed and maintained a loyal following. However, I didn't realize how strong of a following this round still has more than half a century after it fell short of becoming a major commercial success.  So, I decided to test drive the round for myself and learn more about the guns and ammunition options that are available today.
A Look Back
The .41 Mag. is a straight-walled, rimmed cartridge that belongs to the same family of hard-hitting revolver rounds as the .357 Mag. and .44 Mag. Although its size and range of bullet weights set the .41 Mag. squarely in between the .357 Mag. and .44 Mag., it was actually the last cartridge of the three to arrive on the market.
The era of magnum revolver cartridges began in the mid 1930s with the arrival of the .357 Mag. It was the result of a collaborative effort (which included Elmer Keith) resulting in a souped-up, longer-cased version of the .38 Spl., which was designed for law enforcement applications. In 1955 the .44 Mag. was introduced. This cartridge was also the result of Keith, along with other enthusiasts, working to boost the performance of the .44 Spl. for handgun hunting.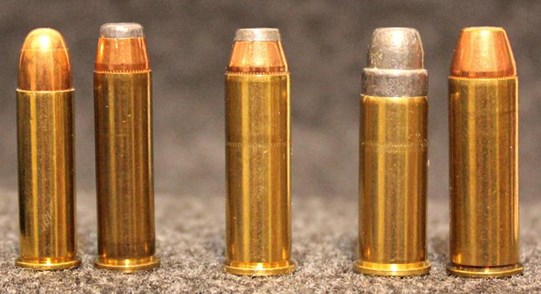 From left: .38 Spl., .357 Mag., .41 Mag., .44 Spl., .44 Mag.
Eight years later, Elmer Keith teamed up with Bill Jordan and others to introduce a brand new, best-of-both-worlds .41-cal. police revolver cartridge dubbed the .41 Rem. Mag. The goal was to provide better terminal performance than the .357 Mag. with less recoil than the .44 Mag. Smith & Wesson released the adjustable sight Model 57 and fixed sight Model 58 chambered in this new cartridge, both of which were built on the larger N-Frame (the same frame as the Model 29 .44 Mag.).
This exciting new gun and ammunition combination turned out to be a flop with police agencies. The primary reason it didn't catch on was the increase in felt recoil. The first factory cartridges out the door were pushing 210-gr. bullets at between 1150 to 1500 fps. Many officers were still packing .38 Spls. loaded with standard velocity ammunition which included 158-gr. bullets launched at around 770 fps. This difference in felt recoil caused the .41 Mag. to seem over powered and difficult to control.
The Smith & Wesson N-frame revolvers were heavier and bulkier than the popular medium K/L frames. And at the time, there were no reduced power loads to practice with (later on folks would develop the .41 Special as a wildcat round). On the civilian side, many handgun hunters and recreational shooters had already thrown their hats into the .44 Mag. ring and saw no reason to switch to the .41 Mag. when they could accomplish what they wanted with the guns and ammunition they already had.
With this failure to capture the spotlight in the mainstream shooting market when it was launched, how has the .41-cal. cartridge managed to stick around for over half a century? Although it didn't take hold with law enforcement, handgun hunters have adopted it for hunting medium size game like whitetail deer. With standard bullet weights ranging from 170 to 220-gr., it's capable of producing performance results on par with the .44 Mag., it generates less felt recoil and the bullets fly with a flatter trajectory. And so the cartridge continues to draw a devout following.
Current Production Firearms
This cartridge has an interesting production history with a variety of gun makers, including Marlin, Freedom Arms, Taurus, Dan Wesson, Charter Arms and even Magnum Research. But many of these offerings have either fallen out of production or have been limited to small, special edition runs.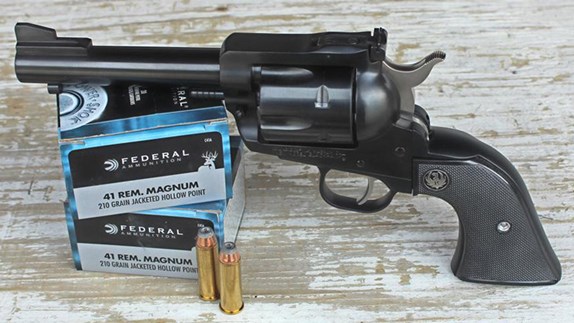 For this review, I will focus on new production guns I could buy today if I wanted to adopt the cartridge.  While Smith & Wesson currently offers a blued 6" barrel Model 57 as part of its Classic Series, Ruger is the company that offers the largest selection of revolvers these days. Options include two standard catalog models and three distributor exclusives. The blued, adjustable-sight New Model Blackhawk 6-shot single-action is available with either a 4.62" or 6.50" barrel. The Gallery of Guns distributor exclusives include one stainless steel 7.50" barrel Super Blackhawk Hunter model and two new-for-2016 stainless-steel double-action Redhawks with 4.20" and 2.75" barrels.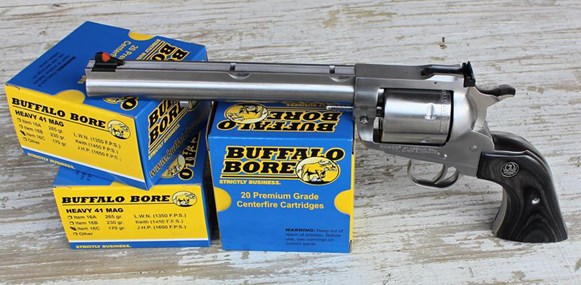 To test drive the factory-loaded .41 Mag., I opted to work with the 4.62" barrel Blackhawk and the 7.50" barrel Super Blackhawk Hunter. At this point, I thought the test gun selection process was complete since no one has made a rifle for the .41 Mag. in quite some time. But as fate would have it, Henry Repeating Arms decided that this was the year to introduce a 20" barrel, 10-shot version of the steel receiver Big Boy rifle in this caliber (Model H012M41). They were good enough to send out one of the first rifles off the assembly line for this review.



The Factory Ammunition Situation
What surprised me the most in the course of researching the .41 Mag. was the diversity of high-quality factory ammunition currently on the market from big ammunition makers as well as the boutique operations.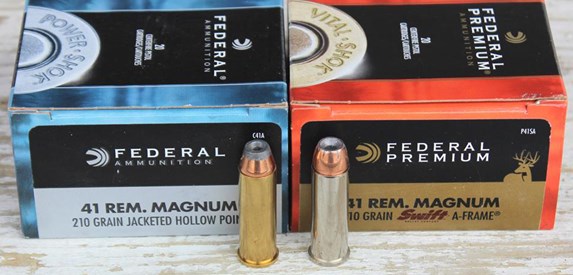 Federal Premium Ammunition offers five loads, including rounds topped with their Swift A-Frame and Fusion Soft-Point hunting bullets. Double Tap Ammunition also offers five loads, one of which is the unusual dual-projectile Equalizer load that launches a 210-gr. jacketed hollow point paired with a 90-gr. hard cast lead ball.


Buffalo Bore keeps four hard hitting hunting loads in stock with bullets ranging from 170-gr. hollow points to a heavyweight 265-gr. hard-cast option. Grizzly Cartridge Company produces four in-house loads for hunting while Cor-Bon's  three offerings include a 170-gr. jacketed hollow point listed as a self-defense option.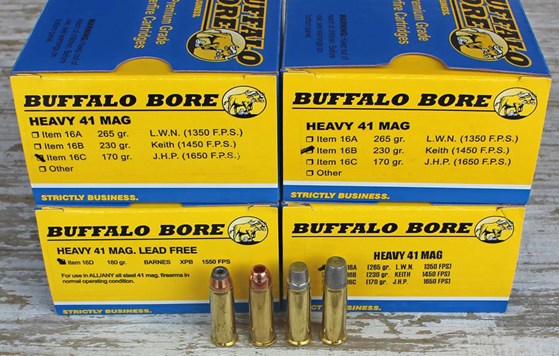 HSM offers three different rounds including a bear load, a hunting load and a reduced velocity cowboy-action shooting load topped with a hard-cast 210-gr. semi-wadcutter that flies along at 969 fps.
Winchester offers its customers two choices, either a Super X 175-gr. Silver Tip or a 240-gr. Platinum Tip hollow point.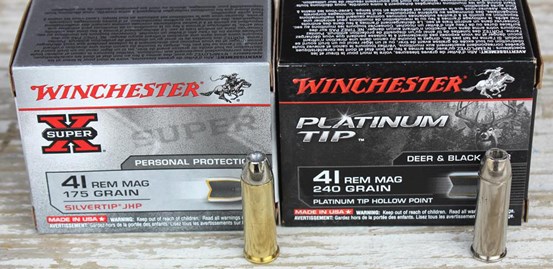 Barnes Bullets provides one load topped with the company's all-copper 180-gr. XPB hollow point. Remington keeps one load in stock too, the High Terminal Performance (HTP) 210-gr. soft point.
Before conducting this search, I was under the impression that the .41 Mag. was on life support, with only a small cadre of devoted hand loaders ordering just enough brass and bullets each year to keep this cartridge from fading away completely. But if the availability of more than two dozen different factory loads is any indication of a cartridge's overall health in the market place, then it seems safe to plagiarize Mark Twain in saying that the rumors of the .41 Mag.'s demise have been greatly exaggerated.
The only down side to the ammunition offerings available now is that, with the possible exception of the HSM Cowboy load, there is almost nothing to be had in the way of practice-grade ammunition. If your plans include casual plinking with the .41 Mag., you'll need to break out the reloading equipment in order to keep the costs down.
At the Range
The great thing about quality straight-walled revolver cartridges fired from manually cycled actions is that they tend to run without much in the way of mechanical problems. Based on past experience, I expected the Ruger revolvers and Henry rifle to function smoothly, accurately and reliably. As it turned out, the guns fed, fired and ejected all the test ammunition without any malfunctions. I examined the spent cases and found them to be in great shape for reloading.
Along with testing these gun and ammunition combinations for accuracy and velocity, I paid attention to how it felt to be on the receiving end of the felt recoil produced by the .41 Mag. Let me preface my comment by saying that I'm a fan of big-bore revolvers. I enjoy standing behind beefy wheelguns and making some noise. While less experienced shooters, or those who are recoil sensitive, may find the .41 Mag. uncomfortable to work with, seasoned wheelers will find it has a just-right feel to it most of the time. In other words, plenty of va-voom to keep you on your toes without the punishment that comes with shooting larger calibers.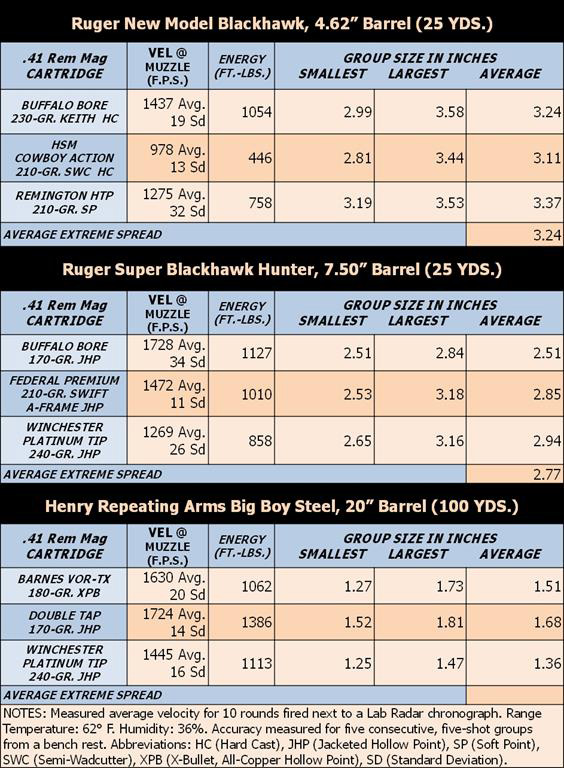 Firing heavy loads from the 4.62" barrel Ruger Blackhawk made for some stiff recoil, which was to be expected. But loading it down a bit with lighter loads, or the fairly tame HSM Cowboy Action ammunition, made it fun to work with. Chambered in this caliber, the adjustable sight standard Blackhawk is an ideal field and trail gun.
The 53-oz. weight and 7.50" barrel of the Gallery of Guns Exclusive Super Blackhawk Hunter provided a more manageable level of felt recoil, especially when firing cartridges topped with 210-gr. or lighter bullets. Launching heavier bullets felt like shooting a .44 Mag. The heavy rib along the top of the barrel features Ruger's integral scope mount which accepts a set of 1" rings that are included with the gun. This makes it easy for hunters to attach a scope if they want to stretch this revolver's range.
Running Henry lever-actions, be it a rimfire or revolver-caliber configuration, is a treat that I look forward to. The brand new steel receiver .41 Rem. Mag. Big Boy was no exception. Having fired Henrys chambered in .357 Mag. and .44 Mag. I can safely say that the modest levels of felt recoil produced by the .41 Mag. hovered in between those other two calibers, which is to say, an all-day level of shooting comfort. Although it's not shown in the photos, this rifle's receiver is drilled and tapped to accept Henry's 2nd generation Big Boy scope mount. I took advantage of this feature to mount an optic for the formal accuracy testing.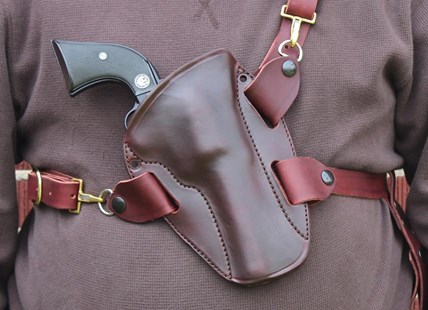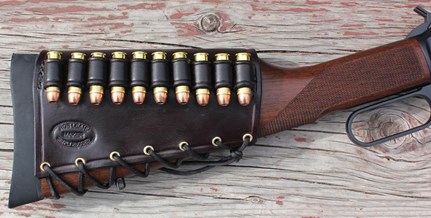 If you are looking to accessorize your .41 Mag. firearms, be sure to check in with Simply Rugged, a company that specializes in leather support gear for use in the great outdoors. The Sourdough Pancake holster can be configured for strong side, cross draw and in-the-waistband carry. Shown here is a Sourdough sized for the Ruger Blackhawk fitted with the company's fully adjustable Chesty Puller Rig. For the Henry Rifle, Simply Rugged offers cartridge cuffs in a variety of calibers that lace securely to the shoulder stock. If you need a handy way to carry a few extra rounds in a coat or pants pocket, then try the Tuff Products Quick Strips. Sold in pairs, the model 641 strips hold 6-rounds of .41 Mag.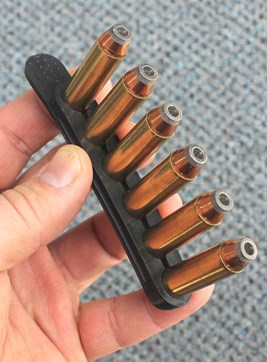 Parting Thoughts
I must confess that years ago, as a younger man, I thought the magazine articles I found about the less-common, softer-shooting calibers like the .41 Rem. Mag. were somewhat annoying. Why were the writers filling up valuable page space with this stuff when there were bigger, faster, hard-hitting cartridges to talk about?
But as time has passed and my shooting experiences have diversified, I'm developing a greater appreciation for cartridges designed to be well-balanced instead of more powerful. The .41 Rem. Mag. is a terrific cartridge in its own right that lives up to its designers' promises. It's accurate, enjoyable to shoot and provides a level of performance that will take a variety of game animals without excessive recoil. It's also a solid choice for camping and trail guns. Although I won't be selling off my other big-bore guns any time soon, I'm glad I took the time to get to know the .41 Mag. better. If I write about "favorite forgotten calibers" in the future, I'll be able to add this one to the list.