SOG Knives & Tools recently released the new Baton family of multi-tools. These tools have a sleek minimalist design which gives them in slim, straight shape that's as easy to carry in a pants or purse pocket as a marker or pen. Unlike most multi-tools, which tend to be large, blocky and on the heavy side, the Batons blend in with ordinary desk top items or slip into the pencil-shaped pockets of a brief case or backpack. The tough black and grey anodized housings swing open to reveal a variety of useful tools.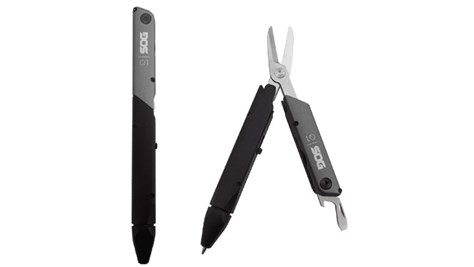 Weighing in at 2.4 oz., the 6" long Q1 Baton is designed to tackle everyday office and administrative tasks. The retractable pressurized ballpoint pen can be replaced with a D1 pen refill cartridge. At the other end of the casing is a fold out combination standard screwdriver tip and bottle opener along with a convenient pocket clip. Pull the black and gray sections apart to reveal a pair of spring-assisted scissors.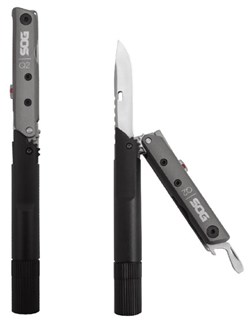 The Q2 Baton is equipped for the urban go-getter who needs a few essential tools in a compact, handy package. Weighing 3 oz. with an overall closed length of 6.5", this tool folds in half to reveal a 2.5" long plain edge 5Cr15MoV steel knife blade. Although this model has a pocket clip, bottle opener and screw driver like those of the Q1, the pen has been replaced with a bright white 75 lumen LED flashlight powered by a single AAA battery and a lanyard loop has been added.
MSRP: Baton Q1 (ID1001-CP) $54, Baton Q2 (ID1011-CP) $67