Throughout its history, Savage Arms of Westfield, Mass., has been able to identify new trends and pursuits among American rifle shooters, and build or adapt its platforms to meet the needs of its customers. The result has been accurate, reliable and thoughtfully designed firearms that offer real value to consumers thanks to their affordable price points.
Given that history, it should be no surprise that as shooters have embraced chassis-style rifles during the past few years, so too has Savage. Desired for their high degree of adjustability and customization, as well as the enhanced accuracy provided by a truly free-floating barrel, chassis rifles are well suited for extended range shooting competitions such as the Precision Rifle Series (PRS). Savage's entry into the field is its Stealth family of Model 10 and 110 bolt-action rifles, most recently expanded to include the Stealth Evolution models.


For the purpose of this review I had some range time with a Model 10 Stealth Evolution chambered in 6.5 mm Creedmoor. It's a bolt-action, center-fire rifle designed around Savage's Model 10 short-action and, as such, the platform is also available in .223 Rem., 6 mm Creedmoor and .308 Win. It's worth noting that long-action, or Model 110, versions are also available in .300 Win. Mag. and .338 Lapua. The 6.5 mm Creedmoor model features a 24" fluted barrel, 5R button-rifled with a 1:8" twist. The barreled action is built into an aluminum chassis, and Stealth Evolution rifles are distinctive for the chassis' bronze Cerakote finish.


The Stealth Evolution is designed for long-range accuracy. It's weight—around 11 lbs., 7 ozs., even before adding a scope—is itself a benefit in this regard. Paired with an impressive muzzle brake, recoil and muzzle rise are effectively dampened by the heavy rifle, allowing shooters to better stay in the scope, see their impacts, and adjust accordingly for follow-on shots. The rifle also features what Savage terms a "factory blueprinted" action. Such guns are built to very tight tolerances when it comes to the components and interfaces that connect the action to the bore. Savage is already known for the excellent mechanical accuracy of its guns thanks to features like the dual-lug floating bolt head, but factory blueprinted rifles are enhanced even further. Accuracy potential is also improved by the company's famous Accutrigger and a fully-adjustable PRS Gen 3 buttstock from Magpul, which improve the shooter's ability to fit and fire the rifle.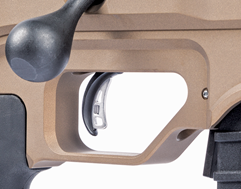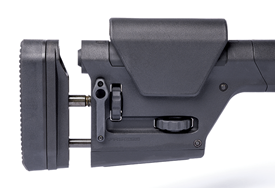 During my time with the rifle, I found it to be a good option for riflemen and -women who want to go long without break the bank.
Specifications:
Manufacturer: Savage Arms
Model: Model 10 Stealth Evolution Rifle
Chambering: 6.5 mm Creedmoor
Action Type: bolt-action, center-fire rifle
Receiver: carbon steel, matte black
Barrel: 24", carbon steel, fluted, matte black
Rifling: 5R button rifled, 1:8" twist
Stock: monolithic aluminum chassis, bronze Cerakote finish; Magpul PRS Gen 3 fully-adjustable buttstock
Magazine: Magpul detachable box
Sights: Picatinny rail for optics
Trigger: Savage Accutrigger, user adjustable
Overall Length: 46 7/8" to 48 1/4"
Weight: 11 lbs., 7 ozs.
Also available in .223 Rem., 6 mm Creedmoor and .308 Win.
Features and specifications vary based on chambering.

Additional Reading: 
True Pair: Two New Long-Range Rifles from Savage