by
posted on September 6, 2016
Support NRA American Rifleman
DONATE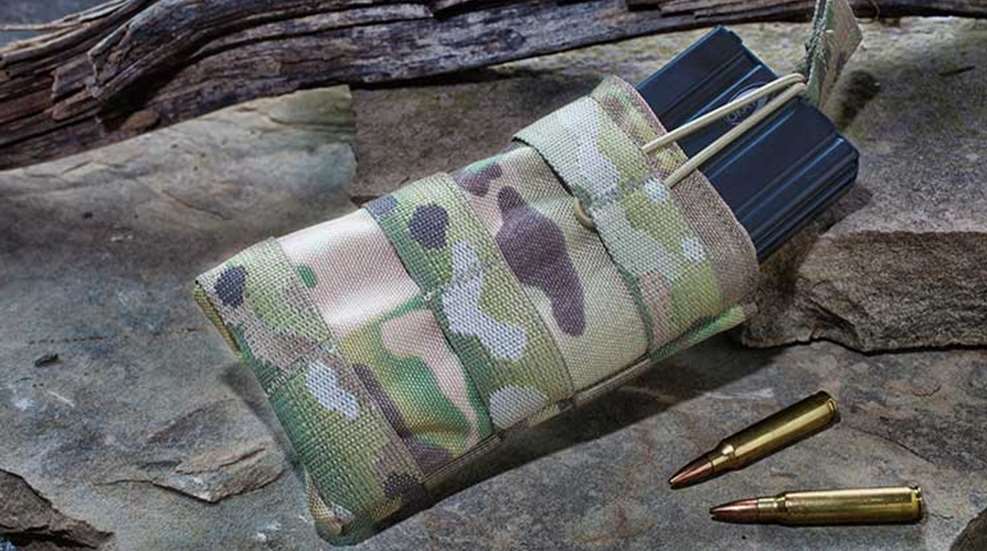 Not all AR-15 magazine pouches are created equal, and construction makes a huge difference in ease of use and longevity. Unfortunately, it's common to overlook small details when you're shopping for one of the least-expensive, non-recurring investments in your shooting gear.
Despite the fact the main function remains to keep a fresh load at hand, magazine pouch design has evolved significantly during the global war on terrorism. Flaps get in the way during a firefight, so those loose-fitting, multi-purpose Word War II-style designs evolved into snug and topless versions that often employ a pull tab on a bungee-style strap to secure the reload. 

When our troops anticipate trouble, they simply slide the tab/cord over to speed access. If the unexpected happens, the pull tab is quick in hand without looking.
It's a great system for competitive shooters, but the need for reload speed isn't quite as critical for the average shooter. Construction, however—if you prefer to avoid buying new pouches every few years—is.

The grit, grime and helicopter dust so common in the Sand Box take a toll on gear, and nylon/webbing is no exception. If it thrives there, it'll survive years here. Tac Shield's products are used by members of our military, and a look at the company's Speed Load Rifle Molle Pouch provides a few of the things to consider in your next purchase. 



Yes, it comes with the bungee securing system, but unlike some I've seen the pull tab is large enough to find under stress—with gloves. The Dernier nylon there is doubled, and where it's stitched, three layers thick.
The pouch is constructed of 1,000 Dernier, not 400 or 600. Ruggedness doesn't count as much in civilian life as it does in a war zone, but after you've drug it across benches for a few years, slammed it in a few doors, tossed it into the mud, and used it to toboggan your rifle bag to the firing line, flimsier nylon dies a painful death.
There's no seam or stitches at the bottom to fail—what a concept. There is, however, a drain hole to siphon off unexpected rain. It secures to molle systems quickly and efficiently, and offers more attachment webbing on the exterior. The pouch comes with a lifetime warrantee, is made in the United States and the company offers a program in which a portion of the profits from your purchase goes to benefit wounded warriors. The last three features may be the best.
I'll be the first to admit, magazine pouches are a boring blog subject. After last weekend, however—where my fishing rod and camera tripod broke in concert, leaving me with nothing better to do than critique cricket chirping at a remote and scenic trout stream—I'm taking a serious look at all my gear, even the stuff I thought would last forever with careful use.