Support NRA American Rifleman
DONATE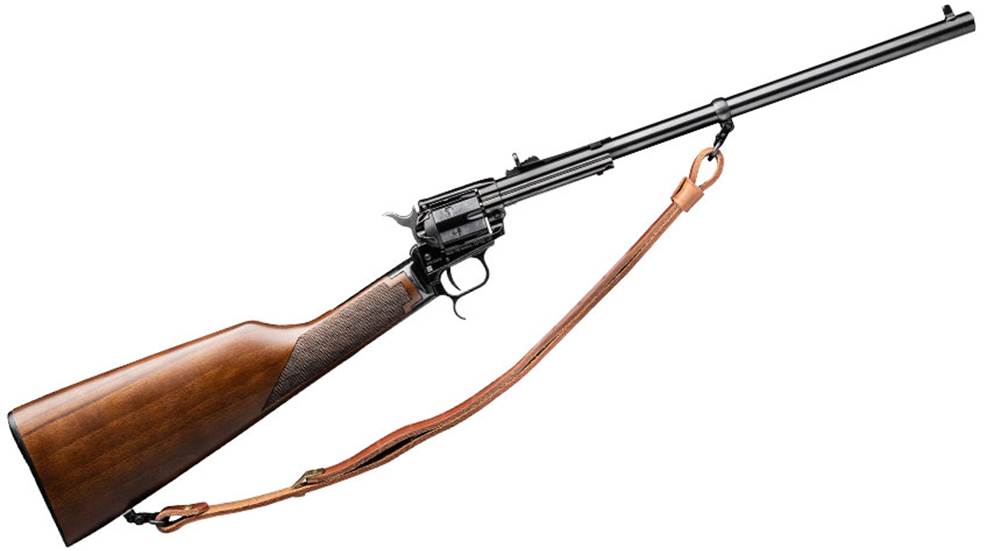 Heritage Manufacturing Inc. has offered a variety of budget-priced .22 Long Rifle and .22 WMR convertible rimfire Rough Rider single-action revolvers for quite some time. These handy little wheelguns are a favorite for casual plinking and small-game hunting with real-world prices below $200.

This year the company is taking this platform in a brand new direction, or an old one, depending on how you look at it. The new Rough Rider Rancher .22 Long Rifle rimfire revolver carbine is a handy little rifle inspired by the revolver carbines of the 19th century.

The Rancher features a 16.125" round-profile blued steel barrel with an adjustable Buckhorn sight system. The alloy grip frame has extensions to support a straight, checkered walnut shoulder stock.

Revolving carbines have been around for a long time, the Colt Model 1855 comes to mind, but this fun interpretation of the genre makes for a very affordable plinker. While he was in Georgia, the Taurus USA team let Editor-in-Chief Mark Keefe be one of the first to use their impressive new test range.

He opened his range session by shooting one of these new rimfire revolving carbines. One element he had to remember about the little carbine was that, unlike most revolvers, there is a safety on the left side. You can read more about his range experience with the Rancher in this review.

This rifle ships with an adjustable leather sling and sells at an affordable MSRP of $297.93. For more information on the new Rancher, visit shopheritagemfg.com.