Support NRA American Rifleman
DONATE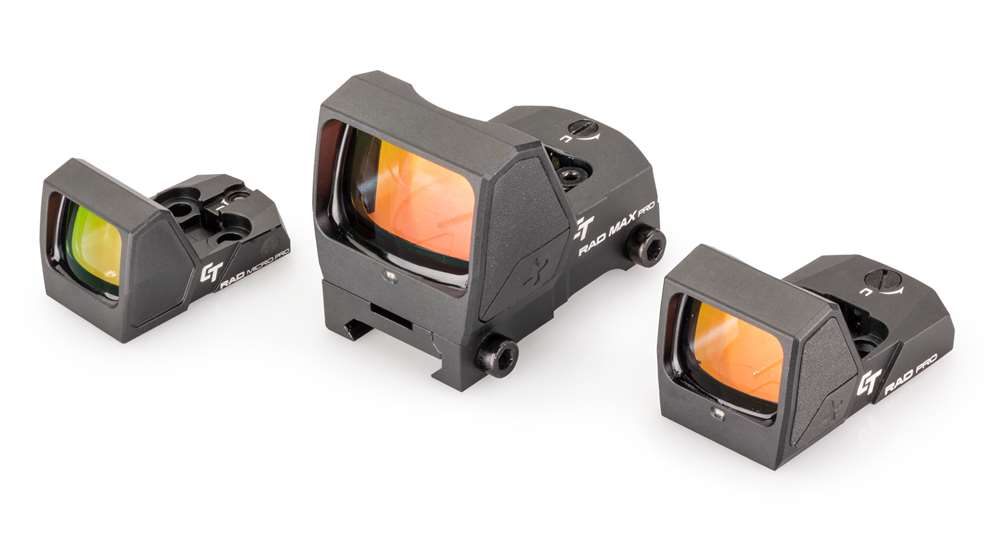 Late in 2021, Crimson Trace added the RAD (Rapid Aiming Dot) series of tubeless, reflex-style sights to its Electronic Sights lineup, quietly tripling the company's catalog of unmagnified red-dot optics. Boasting 10 new SKUs in all, the new additions fall into three basic sub-categories: the truly minuscule RAD Micros, primarily intended for use atop concealed-carry micro- and subcompact pistols; the mid-size RADs, still concealable but most at home aboard full-size semi-automatics; and the RAD Maxs, oversize, overbuilt models designed expressly for longarm use. The Micro models use the Shield footprint for direct mounting to optics-ready pistols, while mid-size RADs employ the prevalent Docter footprint and also come with a low-profile Picatinny mount; the Maxs are not set up for compatibility with optics-ready mounting plates but do come with both high and low Pic-rail mounts.
All versions of the RAD employ a 3-m.o.a. aiming point—large enough to quickly acquire but small enough to allow for pinpoint accuracy—and while the Max options are offered only in red, the two smaller designs are available with either a red or a green reticle. The new optics are also all built out of 7075 aluminum, making them far more durable and impact-resistant than comparable products with 6061 aluminum or polymer housings, and that ruggedness is immediately apparent upon handling the RAD units.
Each of the three size groups are also offered in base models or Pro versions that incorporate a suite of advanced features for a $50 upcharge. These include a forward-facing ambient-light sensor that automatically adjusts the dot's brightness to suit the surrounding lighting conditions and shake-awake and auto-off functionality. My impressions after extensive range time with three sample Pro models, one in each size, was highly favorable, and I was particularly impressed at the speed with which the Max's dot could be acquired when mounted atop a defensive carbine, thanks to its uncommonly large (1.5"x1") sighting window. Suggested retail pricing ranges from $225-$450 (varies by model).
For more information, please visit crimsontrace.com.